.
.
Jump right in -- things are happening today through the holiday weekend. And beyond. We're publishing with a LOT for you to enjoy! Plus, we'll let you know right up-top (above this intro) if we add more. Yes, we are offering a late nod to Canada Day, eh?
"We must dissent from the fear, the hatred, and the mistrust. We must dissent from a nation that buried its head in the sand waiting in vain for the needs of its poor, its elderly, and its sick to disappear and just blow away. We must dissent from a government that has left its young without jobs, education, or hope. We must dissent from the poverty of vision and timeless absence of moral leadership. We must dissent, because America can do better, because America has no choice but to do better."
~
Thurgood Marshall
, ~ US Supreme Court Justice, 32nd Solicitor General of the United States (born July 2, 1908, died 1993)
___
E Pluribus, but clearly not Unum...
L
est anyone think California is devoid of redneck racists, here's a post from the "Neighborhood" site. The context? It was a thread about reporting illegal fireworks in dangerously dry semi rural areas where a wildfire could explode into something major.
And then THIS comment appeared:
_ _ _
Re: Fireworks (I'm telling on yall)
Great idea bc I read a FB post these are Antifa pre-tests to numb public to explosions! Burning home & killing white people on the 4th... See more
_ _ _
"See more"-? Of
THAT
?! No, we've seen quite enough.
___
On this day
Historic & huge benefit concerts...
Today in 2005, the "Live 8" benefit concerts took place in the G8 states and in South Africa. More than 1,000 musicians performed and were broadcast on 182 television networks and 2,000 radio networks.
July 4th vs July 2nd...
There's a lot of discussion about this, so let's straighten it out. Today in 1776, the American Revolution went beyond dissent over British laws and became a fight for independence. That happened because the Continental Congress adopted a resolution that severed ties with the Kingdom of Great Britain. But the wording of the formal Declaration of Independence was not published until July 4th... but hold on... because it took time to hand-set type so a document could be printed for distribution, the people didn't see it until several days after that.
Human freedom & civil rights...
(1) Thirty-five slaves are hanged in South Carolina today in 1822. They included Denmark Vesey, all put to death after being accused of organizing a slave rebellion.
(2) As dramatized in the Hollywood movie named for the ship, today in 1839, twenty miles off the coast of Cuba, 53 rebelling African slaves led by Joseph Cinqué took over the slave ship Amistad.
(3) Today is the birthday of Medgar Evers (1925-1963), American soldier, hero of D-Day, and civil rights activist murdered by a KKK operative.
(4) Today in 1964 the U.S. Civil Rights Movement achieved one of its greatest milestones when President Lyndon B. Johnson signed the Civil Rights Act of 1964 meant to prohibit segregation in public places.
_
Presidential assassination...
U.S. President James Garfield was shot and fatally wounded by a frustrated office seeker on this day in 1881. Garfield would "die of complications from his wounds" on September 19 -- or more accurately from stupid unsanitary medical probing of the wound, by finger after finger of doctor after doctor, over and over, trying to find the bullet. Ironically, a revolutionary new machine called the x-ray was being displayed and demonstrated not far from where he was shot, but it was not used, and could easily have found the bullet -- and he likely would have lived.
It shoulda lasted...
Today in 1890 the U.S. Congress passed the Sherman Antitrust Act to prevent the bloated rich from controlling everything with monopolies. Where oh where did it go? Gradually eroded and withered by bought politicians who allowed their rich campaign donors to become oligarchs.
Patents...
Today in 1897 in London, British-Italian engineer Guglielmo Marconi obtained a patent for radio. When the Titanic was sinking, the first-ever use of "SOS" went onto the airwaves from the ship's "Marconi."
Speaking of patents... Thomas Savery patented the first steam engine today in 1698. But every book you can find credits Richard Trevithick and/or James Watt as inventors of the steam engine, both of whom came many years later, in the following century. (Ya gotta have a good publicist!)
She disappeared and assured her place as a legend...
On this day in 1937, Amelia Earhart and navigator Fred Noonan are last heard from over the Pacific Ocean searching for remote Howland Island while attempting to complete the first equatorial round-the-world flight.
The mystery of her disappearance has never been solved, though many a bluegrass band has performed the classic song written about her last flight. (Check out three very different versions:
The Country Gentlemen, the
Greenbriar Boys, and a Western Swing version by
Kinky Friedman, live in concert.
There's also the
Joni Mitchell song
, "one woman pilot to another," inspired by the idea of Amelia.)
ALSO NOTE
:
Friday, 1-2 pm, KCET re-airs the excellent "American Experience" episode about Amelia Earhart.
Postscript... today in 2002, billionaire adventurer Steve Fossett became the first person to fly solo around the world nonstop in a balloon. We don't know of a song about that one, though.
■☆
■
⊙
■
☆
■
⊙
■
☆
■⊙
■
☆■⊙
■
☆
■
We open our feature section with a fresh visit to a periodic & continuing series: Our take on these times...
Franz Kafka is spinning in his grave.
More Americans are going to theirs.
by Larry Wines
A
ll of us are beyond believing it can't get worse, or more tragically absurd. But it does. Relentlessly.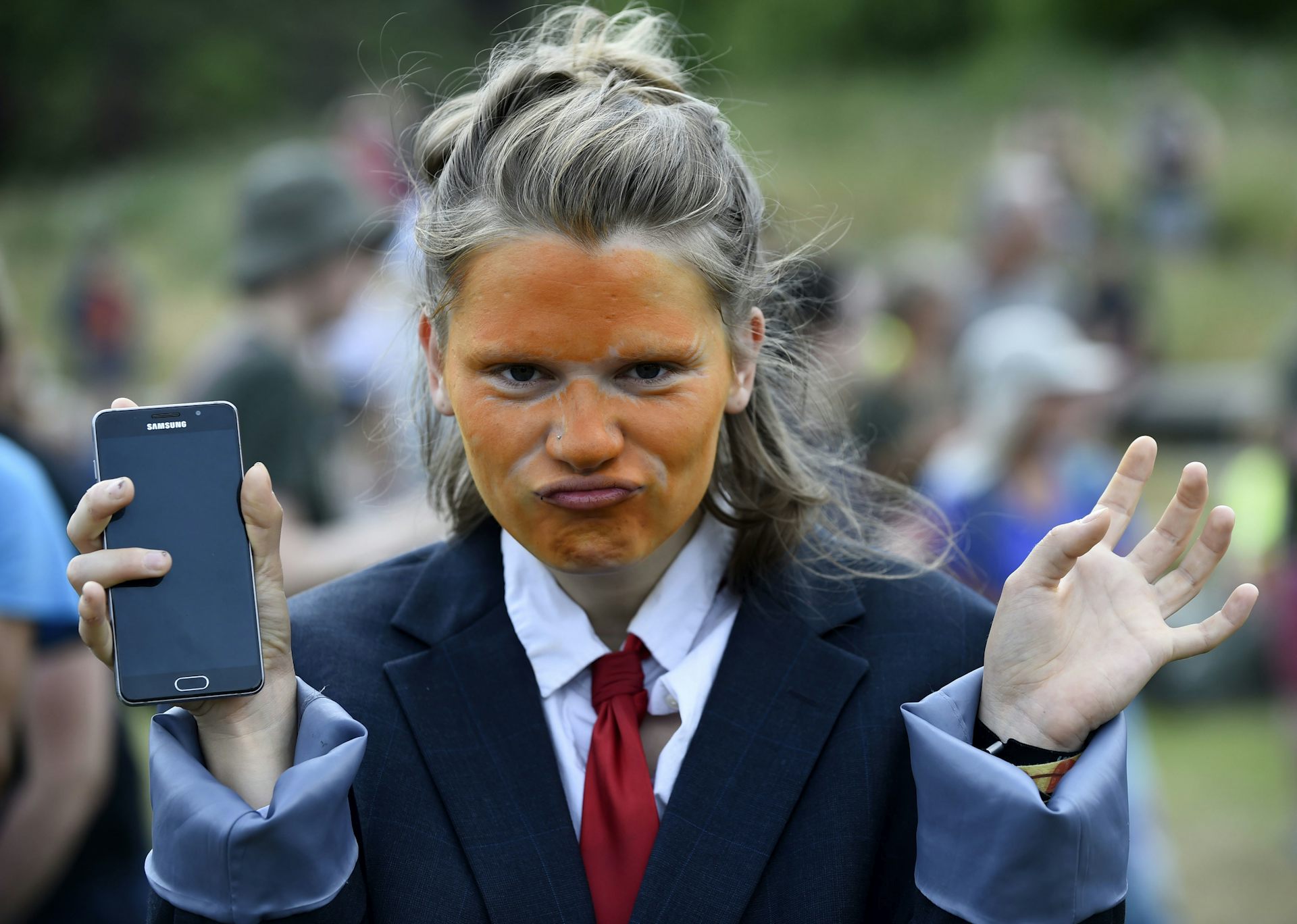 Face in the crowd, impersonating Trump (credit: The Conversation)
Somebody needs to buy a billboard to adapt the three-monkey "hear no, see no, speak no" carving to three Trumps. At least Dubya fit animated simian imagery as "Curious George." Okay, Trump isn't likely to be confused with a carving. He does move. His thumbs, anyway. It's how you can tell he's lying.
But does demonstrably incurious Oblivious Trump care about anything beyond troweling his orange makeup and leaving equal-sized pink eye holes? And accomplishing that daily feat between when "Fox & Friends" finishes and making his tee time? And being an intransigent maskhole because wearing one would smear his makeup?
Meryl Streep's Trump impersonation even nailed the pink eye holes. (Credit: Us magazine)
Meanwhile, Rome burns.
I
n addition to whatever portion of the 127,000-and-counting dead Americans who should still be with us -- if a national plan were in place on par with every European nation struck with Coronavirus -- now we learn he's running a cover-up on behalf of the GRU, after three years of denigrating the US intelligence community.
"
DOD Statement
attributable to Chief Pentagon Spokesman Jonathan Hoffman [Monday evening, 8:44 pm EDT]:
'The Department of Defense continues to evaluate intelligence that Russian GRU operatives were engaged in malign activity against United States and coalition forces in Afghanistan. To date, DOD has no corroborating evidence to validate the recent allegations found in open-source reports. Regardless, we always take the safety and security of our forces in Afghanistan — and around the world — most seriously and therefore continuously adopt measures to prevent harm from potential threats.'"
And yet... US officials briefed UK officials about the GRU paying bounties to kill US and UK soldiers. Wait. When there was "no corroborating evidence to validate the recent allegations" it was still worth briefing the UK. But if Orange Sgt. Schultz -- who might better now be characterized as Agolf Twitler -- is to be believed, it was not worth briefing the president or vice president.
Former National Security Advisor (and guy who never misses a chance to advocate launching a retaliatory military action) John Bolton has said he, personally, briefed President Donald Trump on Russia paying the Taliban to kill American soldiers. And he says he did it back in March of 2019. Too bad he didn't tell that to the House or Senate in January, when it could have been stopped.
Of course it isn't only Americans who are dying because the leader of the free world is actively abdicating that role. While the diversion, distraction, obfuscation, clutter, noise, transference, denials, bearing false witness, and assorted paranoid ramblings and Trumpertantrums may capture the bulk of the non-covid news cycle in America, they do more. It all serves as a great smoke screen for others to get away with their own atrocities.
As in, meanwhile, mister "Nobody is tougher on Ghina than me" has been woefully, and perhaps willingly, oblivious to Beijing reasserting its old hard line authoritarianism and officially extending it where they specifically agreed they would not. We're not referring to the Chinese military base on the manufactured island, placed to control international waters in the middle of the ocean -- though we could be.
No, we're citing how the attic bookcases of officially-approved literature will be slid aside and Hong Kong's pro-democracy movement will vanish into the concentration camps along with the Uighurs. Because that's where refuseniks and malcontents and others who must have mental disorders go. Until the bodies are carried out, beneath the Work Makes You Free signs, to the unmarked graves. To disappear with the guy who stood in front of the tank -- and his fellow Tiananmen Square protesters. Whispered about, by some who pass by a field where nothing grows, until new construction rises over the bones at microwave oven speed to glorify the Communist Party.
Not that they have a monopoly on selective exclusion and glorification of an official narrative. I had a pro-Trumper tell me two weeks ago that he supports the Orange Imbecile because his hero "is the only one who has ever been tough on China and he is rebuilding our neglected military."
Franz Kafka
is spinning in his grave like a rotisserie chicken.
This was intended to end with that line. It can't. Whether or not bitter sarcasm registers with you, circumstances require shifting to a deadly serious consideration: to think about what's going on in the homes that have lost an American member of the armed services in these endless wars, and specifically, in Afghanistan. And to the dignity afforded those dead as they go to their graves. For that essential perspective, let's turn not to a stop-the-war advocate, and not to a prominent voice of opposition from the Democratic Party, but to longtime Republican political strategist Steve Schmidt. Because the most powerful, most thoughtful, most moving thing you'll experience all week are these words from him,
right here
.
_
(This, written by the Guide's editor, originally appeared in the
LA Progressive
(with different art) on June 30, 2020.)
THOUGHT FOR TODAY from one born on this date
"A book must be an axe for the frozen sea inside of us."
~ Franz Kafka
, novelist (born July 3, 1883, died 1924)
___
Here's an excerpt from today's edition of
Garrison Keillor
's "Writer's Almanac":
Kafka has been made into an adjective, "Kafkaesque," a literary allusion dropped into conversation from time to time by people who may or may not be familiar with his work, which is actually full of humor. "Kafkaesque" has come to be used to describe things of a gloomy, bizarre, eerie, nightmarish, or doomed nature, and is often applied to bureaucratic or institutional situations.
...
Not much of Kafka's work was published during his lifetime. Kafka had instructed his friend Max Brod to set his manuscripts on fire upon his death, but Brod refused, and instead edited and published Kafka's work.
Kafka once wrote in a letter to a friend: "The books we need are of the kind that act upon us like a misfortune, that make us suffer like the death of someone we love more than ourselves, that make us feel as though we were on the verge of suicide, or lost in a forest remote from all human habitation — a book should serve as the ax for the frozen sea within us."
■☆
■
⊙
■
☆
■
⊙
■
☆
■⊙
■
☆■⊙
■
☆
■
"Hamilton," one the most successful Broadway musicals, goes online for one day
Subscribers to Disney Plus can watch it July 3rd, starting at midnight when the day arrives. Lin Manuel reassembled the original Broadway cast for this video version, and spent three days shooting the full production, plus two more days getting closeups and re-recording songs. You'll see a mix of late 18th century and contemporary costumes and hear the rap/hip-hop
soundtrack.
Watch on
Disney+
. You will need to create an account to access the webcast movie, and the cost is $6.99/month
.
Frankly, we've never understood the "Hamilton" phenomenon. Sure, he was a Revolutionary War combat hero in the war's last big battle. But beyond that? The real Alexander Hamilton would be easy to vilify in our time, given that he was the principal advocate and string-puller to assert the new American republic as a big-money capitalist-dominated power structure, to which everyone else was financially subservient. Yet the character as mega-hero, in Miranda's hands, eclipses every other Founding Father for devotees of this alternative telling.
■☆
■
⊙
■
☆
■
⊙
■
☆
■⊙
■
☆■⊙
■
☆
■
State-by-state, who's grilling what, this July 4th
■☆
■
⊙
■
☆
■
⊙
■
☆
■⊙
■
☆■⊙
■
☆
■
Friday, July 3, online...
All-star benefit virtual concert, 5 pm & 8 pm Pacific
TO SUPPORT FEEDING AMERICA'S COVID-19 RESPONSE FUND
B.J. THOMAS, LISA LOEB, GEORGE THOROGOOD, COREY TAYLOR ALONGSIDE GAVIN ROSSDALE, MYLES KENNEDY/ALTER BRIDGE, LZZY HALE & JOE HOTTINGER/HALESTORM, DON FELDER (A FORMER LEAD GUITARIST OF THE EAGLES), FILTER, CHRIS ROBERTSON/BLACK STONE CHERRY, BRANDON SALLER/ATREYU + MORE TO PERFORM; + TALENT INTERVIEWS BY ALICE COOPER & JOE SATRIANI, and APPEARANCES BY PETER FRAMPTON AND ADAM GONTIER/SAINT ANSONIA
New York, NY, July 2 —
B.J. Thomas, Lisa Loeb, George Thorogood, Corey Taylor
alongside
Gavin Rossdale, Don Felder
(a former lead guitarist of the Eagles),
Myles Kennedy
(Alter Bridge),
Lzzy Hale & Joe Hottinger
(Halestorm),
Jesse Hasek
(10 Years),
Filter, The Dead Daisies, Chris Robertson
(Black Stone Cherry),
Starset, Brandon Saller
(Atreyu),
Ricky Byrd, Bobby Whitlock & CoCo Carmel, Joe Grushecky, Kathy Sledge, Bones Owens, Danielia Cotton, Matt Bigland
(Dinosaur Pile-Up) and more set to perform during
United Stations Media Networks
and
Storic Media Podcast Network
present
"Rock For Relief"
benefit concert supporting
Feeding America's COVID-19 Response Fund
on
July 3
at
8pm ET
and again at
11pm ET
broadcasted
here
.
United Stations Media
and
Storic Media
are teaming up with
Feeding America
to raise awareness and donations for families in local communities across the nation. The
"Rock For Relief"
benefit show will be
hosted
by
Lou Brutus
and
Riki Rachtman
and talent
interviews
conducted by
Alice Cooper
and
Joe Satriani
with appearances by
Peter Frampton
and
Adam Gontier
of
Saint Ansonia
.
Feeding America estimates that an additional 17.1 million people could be food insecure in 2020 as a result of this crisis – for a total of 54.3 million people, or 1 in every 6 people. This is a 46% increase over the 37.2 million people who were food insecure prior to the COVID-19 crisis. "Many people are struggling with hunger during this unprecedented time, including children, families and seniors. Feeding America member food banks are on the ground helping to address the increased need in their communities," said Dan Nisbet, Vice President of Development at Feeding America. "We are so grateful for United Stations Media Networks and the talent involved in the 'Rock for Relief' benefit concert, which will raise funds to provide meals to people who need them most."
"We are so pleased to put on "Rock For Relief" in order to give back to our fellow Americans during such a tumultuous time," said
Kristin Verbitsky, Director of Storic.
"I want to thank the incredible talent who graciously donated their time to make this happen. I know that music lovers are missing live concerts, myself included, and I'm hoping we can fill that void just a little bit this July 4th weekend and raise funds for Feeding America."
About United Stations Media Networks & Storic Media Podcast Network
USMN is the country's largest privately held full-service audio content company. It syndicates national radio shows and creates compelling multi-platform audio and video entertainment. Over the past 40+ years, USMN has produced hundreds of programs and thousands of hours of music, entertainment, and information content. Our targeted networks and podcasts have national reach, allowing us to execute powerful audio campaigns that drive exceptional brand awareness and new business for our advertising clients.
United Stations was founded in 1981 by radio pioneer Dick Clark and his partner Nick Verbitsky, a veteran radio executive and former COO of Mutual Radio. USMN is headquartered in New York City, with regional offices in Chicago, Dallas, Washington, D.C., and Nashville.
Started in March 2020, The Storic Media Podcast Network is a podcast production and advertising company within United Stations Media Networks. It offers a wide-range of podcast subjects including originals, narrative, crime, thriller, lifestyle, fan-casts, comedy, comedy-thriller, mystery, drama, music, and children's content. For the latest on Storic, please visit:
Website
|
Instagram
|
YouTube
|
About Feeding America
Feeding America® is the largest hunger-relief organization in the United States. Through a network of 200 food banks and 60,000 food pantries and meal programs, we provide meals to more than 40 million people each year. Feeding America also supports programs that prevent food waste and improve food security among the people we serve; educates the public about the problem of hunger; and advocates for legislation that protects people from going hungry.
Watch the preview
here
.
Watch the concert at:
www.rockforrelief.net
We have brought you word of
JOLYNN J. CHIN
several times since she stopped us in our tracks, performing at the NAMM show. Here are some opportunities for you to learn, for yourself, why.
■☆
■
⊙
■
☆
■
⊙
■
☆
■⊙
■
☆■⊙
■
☆
■
Friday, July 3, on TV,
with more online for the 4th...
Watch Pacific Symphony's National Broadcast on PBS
T
he PBS series
"Great Performances"
and
Pacific Symphony
, led by Music Director
Carl St.Clair
, celebrate the historic American immigrant experience with a special Independence Day weekend program. It's composer
Peter Boyer's GRAMMY-nominated contemporary classical work, "Ellis Island: The Dream of America."
Tune in Friday, July 3 at 9 pm, nationwide. In L.A., it's on KOCE, aka PBS SoCal -- broadcast, cable, satellite, and if you hunt for it, on the web at 9 pm on some PBS affiliates livestream in whatever time zone.
Using texts from the Ellis Island Oral History Project and historic Ellis Island images in combination with an original orchestral score, "Ellis Island" features seven, first-hand stories of immigrants dramatically interpreted by guest stars
Barry Bostwick, Camryn Manheim, Michael Nouri, Lesley Fera, Lucas Near-Verbrugghe, Samantha Sloyan,
and
Kira Sternbach
.
Over 40 percent of the U.S. population can trace their ancestry through Ellis Island, and immigration remains at the forefront of global news. "Ellis Island" captures the emotions, elation and uncertainties of America's epic immigrant experience.
The special was recorded by "Great Performances" at the Renée and Henry Segerstrom Concert Hall in Costa Mesa, California, in 2017 during Pacific Symphony's 17th "American Composers Festival" (it was in the Guide at the time). It was performed and recorded before capacity audiences, including nearly 40 recipients of the Ellis Island Medal of Honor. Peter Boyer's composition, "Ellis Island: The Dream of America," premiered in 2002 to great acclaim. It has since received nearly 200 performances by more than 80 orchestras and earned a Grammy nomination for "Best Classical Contemporary Composition" in 2005.
___
There's more...
Zoom to join composer Peter Boyer talking about his composition, "Ellis Island"
E
njoy a special Independence Day weekend discussion with
composer Peter Boyer
talking about the making of this musical work.
Click here
to register for the Zoom event, brought to you by the Orange County Jewish Community Scholar Program.
☆
☆
☆
☆
A
n
d
t
h
e
n,
o
n
J
u
l
y
4
t
h
.
.
.
☆
☆
☆
☆
Catch the "Virtual Independence Day Concert"
T
hough we're not able to enjoy the Fourth in a crowd in the great outdoors,
Pacific Symphony
invites you to join them online for patriotic favorites, fireworks and musical festivities. Music Director
Carl
St.Clair
has re-imagined the Fourth, creating a streaming 50-minute program to celebrate America's birthday.
The program, hosted by
Music Director Carl St.Clair
and
Principal Pops Conductor Richard Kaufman
, opens with video footage of a rousing rendition of St.Clair conducting Pacific Symphony musicians in
"The Star-Spangled Banner"
at Angels Stadium last summer. Richard Kaufman conducts
John Williams' "Midway March"
from the soundtrack to the classic World War II motion picture "Midway." The program continues with
"76 Trombones"
from
Meredith Willson's "The Music Man,"
and Kaufman will read the results from this year's
Nathan's Famous Hot-Dog Eating Contest
, the traditional annual competition that takes place on Coney Island every Fourth of July. Selections from
Peter Boyer's "Ellis Island: A Dream of America"
follow as well as
a musical salute to the armed forces
. Renowned country music star,
Lee Greenwood
, who was the headliner for last season's popular "Hail to the Heroes" concert, makes a guest appearance with a special message and
song selection specifically for Pacific Symphony audiences
.
The concert concludes with a moving mosaic video featuring members of
Pacific Chorale
and
American Feel Young Chorus
singing
"America the Beautiful,"
accompanied by Pacific Symphony.
Then the grand finale: a spectacular
fireworks extravaganza
on your screen, orchestrated to
"The Stars and Stripes Forever" by John Philip Sousa
.
This July 4th Celebration is
dedicated to frontline healthcare workers
, who, as the symphony says, "inspire us with their strength and bravery in caring for their fellow Americans." They continue, "The program also recognizes two great Americans,
Charlie and Ling Zhang
, for the countless ways they have supported Pacific Symphony and the advancement of music education."
HOW TO WATCH:
Beginning July 4 at 6 pm PDT
, the concert goes-up online and can be viewed by signing-in with an email address at the dedicated page on the Pacific Symphony concert webpage,
here
.
It will remain available on demand for 45 days after that.
■☆
■
⊙
■
☆
■
⊙
■
☆
■⊙
■
☆■⊙
■
☆
■
July 4th music extravaganzas on TV
With the order in Los Angeles County to cancel all public fireworks displays due to concerns over public gatherings amidst 150% increases in COVID-19 infections, TV is the place to be. Especially because the music performances are broadly based, inclusive, coming from all over the country, and the sound should be good.
Here's what's on tv Saturday evening:
■ PBS offers
"A CAPITOL FOURTH"
with the new 2020 edition airing on KOCE from 8-9:30 pm and repeating immediately, 9:30-11 pm. It also airs edited-down to
one-hour
on KCET at 11 pm, repeating at midnight.
■ NBC airs
"MACY'S 4th OF JULY"
from New York City, 8-10 pm, then airs a pared-down repeat 10-11 pm.
■ ABC airs
"4th OF JULY BLOCK PARTY"
7-8 pm.
■ CNN gets the prize for
the most music performances
, with coverage starting at 5 pm Pacific and running until 9 pm.
■ Also remember the
PACIFIC SYMPHONY "VIRTUAL JULY 4th SPECTACULAR"
online
at 6 pm Pacific (see the feature above).
◇
If you opt for something else, do it safely. California does not need another wild fire caused by some zealous dimwit determined to have fireworks.
Fire Department hot line number

to report illegal fireworks:
888-654-3973
■☆
■
⊙
■
☆
■
⊙
■
☆
■⊙
■
☆■⊙
■
☆
■
Re-broadcast this weekend...
"The Brothers," the four-hour, sold-out, March 10 concert at Madison Square Garden celebrating 50 years of the music of THE ALLMAN BROTHERS BAND
The Allman Brothers Band

played their first show on March 26, 1969 and went on to embark on a Hall Of Fame career, which came to a close with their final performance on October 28, 2014 at the Beacon Theatre in New York City. Until this show.
■☆
■
⊙
■
☆
■
⊙
■
☆
■⊙
■
☆■⊙
■
☆
■
In time for the Fourth...
Home Free, Lee Greenwood & The United States Air Force Band collaborate on a special take of "God Bless The U.S.A."
1st Collaborative Release from the U.S. Air Force Band
NASHVILLE, Tenn. – Just in time for the 4th of July, all-vocal Country entertainers Home Free have teamed up with GRAMMY-winning icon Lee Greenwood and The United States Air States Air Force Band for a soulful rendition of Greenwood's "God Bless the U.S.A."

With years of covering the patriotic smash under their belts, Home Free was looking to elevate their traditional arrangement of "God Bless the U.S.A." to new heights, and they did just that. By joining together across the nation with Greenwood and The United States Air Force Band's official chorus – The Singing Sergeants, this new rendition of the timeless tune not only showcases over a dozen voices, but also serves as The United States Air Force Band's very first collaborative release.

"Being able to sing a song that has inspired our nation for years is such an honor," says Home Free's Austin Brown. "And then you add in the fact that we were able to do it not only with the original artist, but also The United States Air Force Band – such an incredible experience! I just hope it shines a little light into people's days, like it has in mine."
WATCH THE VIDEO FOR "GOD BLESS THE U.S.A."

HERE
"How wonderful to sing with Home Free - such artistic singers," shares Greenwood. "I've never before enjoyed such freedom to be able to sing 'God Bless the U.S.A.' – like you've never heard it. Thank you as well for the fantastic singers from The United States Air Force. They can really sing! Happy Independence Day, America."

Home Free, Greenwood and The United States Air Force Band hope to have the opportunity to perform their special rendition soon.
KEEP UP WITH HOME FREE
About Home Free
All-vocal Country entertainers Home Free have made their mark on the music scene, racking up nearly 600,000 album equivalents globally; embarking on major international tours; amassing 372+ MILLION YouTube views; and being declared "Country music fans' favorite a cappella group" (
Taste of Country
). Their fifth studio album,
DIVE BAR SAINTS
(Home Free Records) arrived at #2 on the Billboard Country Album Sales Chart. Home Free's extensive catalog spotlights five additional Top 10 albums, including
TIMELESS
,
FULL OF (EVEN MORE) CHEER
,
FULL OF CHEER
,
COUNTRY EVOLUTION
, and their breakout debut
CRAZY LIFE
(2014), which hit #1 on iTunes Country chart and #4 overall following their victory on NBC's
The Sing-Off
. With praise rolling in from the likes of
Perez Hilton
,
Country Living
,
FOX & Friends
,
Rolling Stone
, and
AXS.com
, the extraordinary showmen have continued to build a loyal fan base with their harmony-laden versions of hits by John Mayer, Blake Shelton, Keith Urban, Maren Morris, The Oak Ridge Boys, and more.
About Lee Greenwood
Throughout his expansive career, international country music icon Lee Greenwood has earned multiple CMA and ACM Awards, a Grammy Award for Top Male Vocal Performance on "I.O.U," in 1985, and a multitude of other prestigious award nominations. His discography includes twenty-two studio albums, seven compilation albums, seven No. 1 hits and thirty-eight singles including songs like "It Turns Me Inside Out," "Ring On Her Finger Time on Her Hands," "She's Lyin'," "I Don't Mind the Thorns if You're the Rose," "Dixie Road," "Somebody's Gonna Love You," "Going Going Gone," "You Got A Good Love Comin'," among others.
His stand-out hit "God Bless the U.S.A." has been in the top five on the country singles charts three times (1991, 2001 and 2003), giving it the distinction of being the only song in any genre of music to achieve that feat. It reached the Top 20 of the Billboard Hot 100 chart shortly after 9/11. Known for his stand-out patriotism and support of the U.S. Military, Greenwood has been honored with the Congressional Medal of Honor Society's National Patriot's Award, and entertained troops on more than 30 USO Tours. Greenwood was appointed to the council of the
National Endowment for the Arts
in 2008 by President George W. Bush, confirmed by the United States Senate, and continues to serve on the NEA at the pleasure of the President. His latest book release is a children's book called
Proud To Be An American
, which is currently available in stores, on Amazon and
leegreenwood.com
.
About The United States Air Force Band and The Singing Sergeants
The United States Air Force Band, Washington, DC is the Air Force's premier musical organization. The excellence demonstrated by the Band's Airmen musicians is a reflection of the excellence carried out 24 hours a day by Airmen stationed around the globe. Each member is proud to represent all Airmen, whose selfless service and sacrifices ensure the freedoms we enjoy as citizens of the United States of America. Since its formation in 1941, this world-class organization has inspired billions of listeners through its exhilarating music, engaging concerts and masterful recordings and continues to positively impact the global community.
The Singing Sergeants is the official chorus of the United States Air Force. Stationed at Joint Base Anacostia-Bolling in Washington, D.C., the group is one of six musical ensembles that form The U.S. Air Force Band. Featuring 23 active duty Airmen musicians, the Singing Sergeants presents more than 200 performances annually performing a wide range of musical styles, for military and civilian ceremonial and diplomatic functions, education outreach events, public concerts nationwide, and local performances throughout metropolitan Washington, D.C. area.
■☆
■
⊙
■
☆
■
⊙
■
☆
■⊙
■
☆■⊙
■
☆
■
■☆
■
⊙
■
☆
■
⊙
■
☆
■⊙
■
☆■⊙
■
☆
■
July 12 -- Accelerating Change: Music to Life House Concerts
Featuring Texas Accelerator Artists & Friends
featuring Jaimee Harris & Cheryl Cawood
Join us for an entertaining and inspirational series of Zoom-cast concerts, professionally produced by
OneFoot Productions
and featuring Music to Life's Accelerator artists and friends. Each hour-long show is curated to include live music sets, engaging talk-backs and captivating videos.
■☆
■
⊙
■
☆
■
⊙
■
☆
■⊙
■
☆■⊙
■
☆
■
Red Hen Press Poetry Hour
returns online
July 16
EPISODE 1: THU, JUL 16 at 6 PM PT
Finding Truths and Creating Art in Exile

Iranian-American poet/writer/playwright Sholeh Wolpé and Iranian playwright Nassim Soleimanpour are joined by other notable guests (t.b.a.) for readings and conversations on bridging the gap between perceptions and reality of cultural norms. The artists will dig deep into the lives they live and the lives that people in the West imagine for them.
Women's Audio Mission to launch first-ever WAMCON Virtual Recording Arts Conference, July 24-25
■☆
■
⊙
■
☆
■
⊙
■
☆
■⊙
■
☆■⊙
■
☆
■
Video Premiered on CMT.com and CMT Music Channel
NASHVILLE, Tenn. - Country music singer/songwriter
J.D. Shelburne
delivers every ounce of country sound needed to light up the airwaves with the release of his latest single "
Church Pew Bar Stool
." Coming in hot like a southern summer, Shelburne's single hits close to home while starring as a staple in every country playlist. The "Church Pew Bar Stool" music video exclusively premiered on
CMT Music and CMT.com
on
July 1st
to a worldwide audience. The single is now available on all streaming platforms for fans to enjoy.
"I am so thrilled and honored to get a World Premiere on CMT - the most well-recognized video platform in country music," says Shelburne. "I grew up watching CMT as a kid and all through college, dreaming of one day having my video featured. CMT was one of my top goals as an artist to reach when I moved to town back in 2008. Thank you to the staff at CMT for believing in my music. I am forever grateful for their support."
To watch the "Church Pew Bar Stool" music video on CMT click HERE.
The clever lyrics of "Church Pew Bar Stool" allow listeners to reminisce conversations with familiar faces on late nights in a whiskey soaked, southern bar lit by flickering beer signs. While drawing a line of symmetry between a church sermon and a honky tonk homily, Shelburne pulls fans into a timeless story-line just in time for careless summer nights where they may find themselves sitting on their own 'church pew bar stool.' In addition to this new release, Shelburne was named by
Texas Roadhouse
as May's 'Artist of the Month' nationwide. His latest single, "Straight From Kentucky" was featured in all locations seeing over 20,000 guests each month. With plans to release his next album, 'Straight From Kentucky' this fall, country music fans will not want to miss what this elite entertainer has in store for the coming months!
About J.D. Shelburne
Nashville-based country music artist J.D. Shelburne was raised on a tobacco farm in Taylorsville, Kentucky, just outside of Louisville. When J.D. was 19, he found a guitar after the death of his grandmother. He quickly learned how to play it, and began writing and singing songs on his own. By his sophomore year of college, he had found a few gigs at some local bars in Louisville & Lexington, Kentucky area venues, developing a large base of fans along the way. Fast forward to today, J.D.'s latest album
Two Lane Town
, is building upon his blossoming career as a modern country singer, songwriter and performer. His debut single and video for "One Less Girl" world premiered on CMT in 2018, and then went on to become a Top 30 Music Row charted song at country radio. CMT again world premiered his second song and video for "She Keeps Me Up Nights" in April of 2019, which peaked at #3 of their 12 Pack countdown series.
At the close of 2019, Shelburne joined international superstars
Lewis Capaldi
and
Billie Eilish
on BandsInTown's year-end fan favorites list — for playing more shows in 2019 than any other artist on their social networking platform. A global accomplishment for a country boy from rural Kentucky.

To keep up with new music and upcoming show announcements, follow J.D's socials linked at his website, www.jdshelburne.com.
We hesitated with this one...
T
he eagle isn't wearing a mask, and there has been no shortage of intransigently maskless Maskholes and Branch Covidians invoking "Constitutional rights" to recklessly infect others.
But we see this as an opportunity to remind them of something:
Their rights to drive on public highways require them to wear a seat belt and drive a safe distance from others on the road. So their right to wander around in public spaces during a deadly pandemic can certainly require they wear a mask and keep a safe distance.
Or they might recall another age-old American principle: your right to swing your fist ends where my nose begins.
God bless America.
■☆
■
⊙
■
☆
■
⊙
■
☆
■⊙
■
☆■⊙
■
☆
■
Closing thought... wearing lots of hats, above your mask...
Remember Marianne Williamson, who was running for President?
A
rtists readily identify with playing whatever role is needed to pay the bills between gigs, concert tours, or if we're lucky, residencies, or getting parts in something recurring. Of course no one expected such a long stint with Uber or Door Dash or whatever is putting scarey amounts of mileage on the car.
For some, new skill sets have been developed during quasi-quarantine. Like learning to play a new instrument, or mastering new cyber skills that let you produce Brady box performances on Zoom -- or even just participate in such things. Some have mastered podcasts and built followings in a time when overall numbers of podland viewers has declined.
We thought you'd enjoy seeing what someone else is doing. Someone who is a public figure and performer of another kind.
In addition to returning to her role as writer, author, lecturer, and spiritual guru / encourager of those who need it,
Marianne Williamson
has retained a role in the political arena where she impressed so many. In addition to all the other things she does, Marianne has undertaken a series of interviews with political office holders and seekers -- asking questions and pursuing topics that are
not
the standard line of partisan contentiousness. Here's the info & link for the latest one:
■☆
■
⊙
■
☆
■
⊙
■
☆
■⊙
■
☆■⊙
■
☆
■