.
.
This Earth Day special is so full, the only performance news in it are those events to celebrate Earth Day -- including the three-day event with musicians taking part.
___
LATE ADDITION... a Saturday participatory / interactive event...
Citizens' Climate Lobby

celebrates a

Virtual Earth Day

with a talk by climate scientist

Katherine Heyhoe

, followed by actions you can take to help deal with climate change, including your choice of FOUR breakout sessions. This is a Zoom meeting. If you haven't done a Zoom session yet, here's a great chance to try it out with something that matters. Click

here

ahead of time to register and see what it's about.
Additional content added to this Earth Day special edition
■ Added on Apr 25th: • added at 4:15 am Pacific

, "Earth, Climate & Corruption," from TRANSPARENCY INTERNATIONAL, the global coalition against corruption. LONG INSERT with interactive illustrations, just below the list of added content.

• 4:40 am Pacific,

■ Added on Apr 23rd:
Added at time shown: • 12:17 pm Pacific

, an "Inner Climate Change," following the feature on Greta Thunberg.

• 11:43 am Pacific

, from 350.org, on Day Two of the 3-day music & activism festival.

• 10:45 am Pacific

, from the

Washington Post

(story, links, and two cartoons). Also some reformatting of original content, for clarity / readability.

___

W

e are including the following two features, up-top, as an important late additions because an age-old admonition in journalism is "Follow the money if you want to know what's really behind anything." The sources of both pieces -- Transparency International, and

Fairness & Accuracy in Reporting (FAIR)

-- do exactly that, and they joined resources with others for Earth Day.

LATE ADDITION: Saturday, April 25, 2020

Earth, Climate & Corruption from TRANSPARENCY INTERNATIONAL, the global coalition against corruption.


(This is a LONG INSERT with interactive illustrations)




Even as we struggle to prevent the worst impacts of the current COVID-19 pandemic, it is important to mark the day of our planet – not only because it is our home, but also because we cannot ignore the need for urgent solutions to protect the environment and the lives that depend on it.

But even where politicians are not getting their hands dirty, fossil fuel and other industries spend billions to mislead the public and our elected representatives through climate-related branding and lobbying. This weakens climate legislation and prevents effective climate action altogether.

To really turn things around, we need to make sure climate funds reach those who need them and free global climate policy from undue influence.
News from Transparency International
The International Anti-Corruption Conference and Transparency International are looking to support two young journalists to cover investigative stories focusing on the COVID-19 pandemic from a social, economic, humanitarian and equality perspective.
News on Voices for Transparency
Authorities around the world are becoming concerned about new trends in financial crime during the COVID-19 pandemic. It is critical that more 'traditional' approaches to money laundering used by the corrupt do not get deprioritised, argues Maíra Martini.
A J Brown, our board member from Australia, writes: "Amid the many calls for accountability to return to government decision-making at this time, we must remember it is the frontline people who speak up and speak out, who are our best assets for transparency, and most in need of our support and protection."
It's been seven years since the tragic collapse of the garment factory in Bangladesh. Angela Reitmaier, board member of Transparency Germany, explains why due diligence on supply chains needs to extend to anti-corruption, human rights abuses and environmental damage.
Help put an end to corruption. Support our [Transparency International's] work:
______
LATE ADDITION: Saturday, April 25, 2020
From Fairness & Accuracy in Reporting (FAIR)
______
Now, back to the ORIGINAL
introduction and content
published on Earth Day,
April 22, 2020
___
Today is EARTH DAY, and that's a very big deal!
"A new Earth Day menu," April 22nd Washington Post editorial cartoon.
I
n the wildest dreams of everyone who cares about the planet, today is that glimpse we always wanted -- oil has a negative value, Los Angeles has the cleanest air of any major city in the world, and ALL the world's cities have cleaner air than anytime since pollution monitoring started! The lagoon in Venice, Italy has clean water and sea life can be see from windows and balconies for the first time in living memory.
___
Today being the 50th anniversary of the only day each year when sustaining our fragile blue sphere -- the orb that sustains us -- gets center-stage, we're going with a special edition.
You'll find this

filled with things YOU CAN DO, ways to make a difference, and inspiring voices and insightful (and "inciteful") perspectives

that are vital, essential, and absolutely needed if we are to hang onto any of the things we are inadvertently gaining while the smog-belching cars are off the streets.
Everywhere possible, we have invited spokespersons to deliver their messages in their own words.
ANY MONEY you donate to any environmental organization through the links found in the Guide? It all goes to them. We do not get "a piece of the action," nor do we know about anything you do when you click their link(s).
We were NOT able to represent every worthy organization or urgent need. We have done the best we can.
Enjoy
, and if you find something here you didn't know, we hope you make use of it while your homebound energy needs an outlet.
●
●
♡
●
●
●
♡
●
●
●
♡
●
●
●
♡
●
●
●
♡
●
●
Click to enlarge.
I
mage of the only world where any of us have ever lived. Courtesy of the European Space Agency (ESA). They have a message for all of us:
"Today
marks the 50th anniversary of Earth Day. For Earth-observing satellites, every day is Earth Day. While news of COVID-19 dominates headlines and many of us practice social distancing, there still remains the need for action on climate change – and satellites are vital in providing the key facts on this global issue."
●
●
♡
●
●
●
♡
●
●
●
♡
●
●
●
♡
●
●
●
♡
●
●
3 days of "Earth Day Live" includes online music performances
350.org among consortium of environmental organizations bringing cyber festival aspects to a multiday celebration of activism
LATE ADDITION...
●
●
♡
●
●
●
♡
●
●
●
♡
●
●
●
♡
●
●
●
♡
●
●
Climate Reality Project: another portal for the 3 days of "EARTH DAY

LIVE"
T
he 50th anniversary of Earth Day is a three

-day event! And while we all navigate the COVID-19 pandemic and practice safe social distancing, millions will still come together in a big way.
Performances from artists
Panels with activists who are on the front lines of the climate crisis
Trainings and teach-ins to give you practical tools to affect change
Conversations with elected officials to keep you informed and inspired during this difficult
We're excited to work with our friends at the StrikeWithUs coalition to help take the climate strike movement beyond what we achieved together during the worldwide climate strikes on September 20, 2019 – and reach people around the world to take action this Earth Day.
Thank you for all that you do,
- Your friends at Climate Reality
PS. This is an unprecedented and difficult moment for all of us. But the other crisis we face every day outside our doors and across the world remains the climate crisis. Together, we have been fighting for solutions for decades, and now, on this 50th anniversary of Earth Day, we stand ready to continue this fight.
Join us by making a gift of $5 today.
●
●
♡
●
●
●
♡
●
●
●
♡
●
●
●
♡
●
●
●
♡
●
●
Taking action by combining organizations
Contact your representatives and tell them we need a People's Bailout that includes a down-payment on a just, sustainable, clean energy economy.
Online or offline, the 50th anniversary of Earth Day is a day to demonstrate our collective power and unity through community building and storytelling. Social distancing doesn't have to mean collective disengagement.
Sincerely,
Kaniela Ing
People's Action
●
●
♡
●
●
●
♡
●
●
●
♡
●
●
●
♡
●
●
●
♡
●
●
3 days, interactive online, with champions of Utah's wild lands
Right now, Utah elder and activist Vaughn Lovejoy and youth climate striker Ari Grace are LIVE on UtahEarthDay.org showing how striking and nonviolent direct action have been tools for social and environmental movements throughout history.
Schedule April 22, 2020




Strike! Direct Action for Climate Justice10:00-11:00 AM MT

Learn how students & young people can organize school strikes for climate justice.

Go outside and draw your vision for Earth 50 years from now. What will it feel, smell, taste, and sound like? To win, we must know what we're fighting for. Imagine and draw the beautiful future we are creating together!




Intergenerational Action for Climate Justice5:00-6:00 PM MT

Join a conversation on activism, story, and faith with two of Utah's leading environmental figures, Terry Tempest Williams and Mishka Banuri. Williams will open with a reading from her new book, Erosion: Essays of Undoing.



Thursday, April 23
, Utah's Earth Day events are focused on divesting our education systems from fossil fuels! SUWA's own grassroots organizer Dave Pacheco will lead the evening's workshop. Please join us to sharpen your storytelling skills and strengthen your opinion writing impact.
10:00-11:00 AM MT - Divest! Students Rise for a Fossil Free Future

5:00-6:00 PM MT - Shift the Narrative: Divestment Writing Workshop

Anytime – submit your written opinion piece inspired by the writing workshop to your local newspaper.
On Friday, April 24
, we will conclude Earth Week by celebrating Earth mother and each other! Mark Maryboy, SUWA Board Member and lifelong Earth protector (who you may recognize from our film
WILD UTAH)
, will kick off the
Party for The Future!
RSVP to these sessions here.
Schedule April 24, 2020




Visioning Our Future: The People's Energy Movement10:00-11:00 AM MT

What urges you to action? How can our stories work to create positive change? Join for an interactive workshop to dive into the power of storytelling and the opportunity to envision a new future. Your story has a role to play in determining the path forward to a healthier Utah.

Call Your Representative: "Vote for Climate!"Anytime

Your elected officials need to hear from you about protecting life on Earth! Call them to ask for their endorsement of the 30 by '30 Resolution to Save Nature. A toolkit with guidance and info is on UtahEarthDay.org




Party for the Future! Art, Song, and Story for Climate Justice5:00-6:00 PM MT

Our three days together conclude by celebrating our wins and imagining a just and beautiful future. Listen to stories, sing songs, and see art from organizers across generations including two of Utah's leaders, youth climate striker Raquel Juarez and Diné Protector of Land in the Fourth World, Mark Maryboy.
Earth is our one home — it's all we have. It is our duty not only to protect it, but to stand for its regeneration and healing. Through these actions we believe that our communities will also find solace and restoration. We hope you'll find these events to be inspirational and healing amid this time of global crisis.
For the next 50 years and beyond,
SUWA Grassroots Organizers
●
●
♡
●
●
●
♡
●
●
●
♡
●
●
●
♡
●
●
●
♡
●
●
Get it right now, or you're looking at our future...
I
t's not as if we were very far away now, with the hegemony of corporate Big Media carrying water for the parent corporations' other profitmaking divisions, affiliates, and holdings.
●
●
♡
●
●
●
♡
●
●
●
♡
●
●
●
♡
●
●
●
♡
●
●
●
●
♡
●
●
●
♡
●
●
●
♡
●
●
●
♡
●
●
●
♡
●
●
A key state's Attorney General fights in court for the planet
"Well before the first Earth Day in 1970, my parents would say: "
¡
Apaga
la luz!
Turn off the light when you leave the room." I never stopped listening to them — doing my part to not just lower our energy bill, but to protect our environment."
_ _ _
C
alifornia Attorney General
Xavier Becerra
has filed over 40 environmental lawsuits against the Trump administration, securing dozens of wins to protect the air we breathe and water we drink. He continues to prioritize the health of families and communities during this pandemic. He's taking aggressive action to stop disgraceful price gougers, defend access to healthcare, protect immigrants, urge the Trump administration to do more to keep our families safe, and defend our housing, data, worker and reproductive rights during this public health emergency. Here is his Earth Day message.
●
●
♡
●
●
●
♡
●
●
●
♡
●
●
●
♡
●
●
●
♡
●
●
From Sunrise Movement
F
ifty years ago, twenty million Americans poured into the streets for the first Earth Day with a radical statement:
we only have one planet and we can't render it uninhabitable.
Fifty years ago was the time for incremental action on climate change. We have not taken the necessary actions since. Now, fifty years later, with time running out, the only option we have left is drastic action.
Let's make sure that in the next 50 years, there will be an Earth Day worth celebrating.
Mattias Lehman, Digital Director
●
●
♡
●
●
●
♡
●
●
●
♡
●
●
●
♡
●
●
●
♡
●
●
Help send 50,000 messages to Congress
For half a century, our country has set aside one day a year to gather together and call for a better future.
We aren't going to let that milestone slip by unnoticed.
When Earth Day began, America was in crisis – with rivers aflame, wildlife and people alike in danger, and a presidential administration that seemed to see no value in environmental protection.
But when we came together on Earth Day, Americans convinced Richard Nixon – who had, behind closed doors, called environmentalists "enemies" bent on "destroying the system" to sign 14 major pieces of environmental legislation and create the Environmental Protection Agency.
We have spent so much time lately worrying about the worst – but it's only brought out the best in most of us.

We've seen cities join together while isolated, opening up their windows to cheer and applaud the healthcare workers who are putting themselves on the front lines of this pandemic, day after day. We've left grocery bags outside our neighbors' doors, with the things we know they're struggling to find. We've stood together – even while we're six feet apart.

As Americans – and the world – move past this crisis, Congress will consider how to give a boost to our economy that will empower us to rebuild and put people back to work.
Thank you for standing with us,

Heather Shelby
Action Network Manager
●
●
♡
●
●
●
♡
●
●
●
♡
●
●
●
♡
●
●
●
♡
●
●
T
oday marks the 50th anniversary of Earth Day. And as the world grapples with a global health crisis, it's giving new meaning to the old adage "We're all in this together."
While life has changed almost unimaginably over the past few months, The Trust for Public Land's mission hasn't. We're still working hard every day to ensure everyone in America has a great place to get outside close to home, and that our shared public lands are protected from threats and accessible to all to explore.
Watch the video.
With parks closed during the pandemic, people are finding it harder to get outside. But for thousands of neighborhoods across America, it was never easy.
Before this public health crisis, one in three Americans—100 million people, including 28 million kids—did not have a park close to home.
Our commitment to you is that we won't stop working to bring green spaces to where they're needed most—because everyone deserves a park.
You can help.
Join us.
Sincerely,
The Trust for Public Land
●
●
♡
●
●
●
♡
●
●
●
♡
●
●
●
♡
●
●
●
♡
●
●
Late addition, from the Washington Post...
Fire burns near Bumbalong, Australia on Feb. 1. (Rick Rycroft/AP)
The danger is that we'll treat this virus-driven hiatus like another extended vacation — one from which we'll emerge refreshed to go on with business as usual. That would be exactly the wrong reaction. This may be the only time in our busy lives when we can stop, think, plan, organize and act on behalf of our precious biosphere. My hope is that we come out of this experience with new energy for change.
George F. Will: An enlightening lesson from nature
●
●
♡
●
●
●
♡
●
●
●
♡
●
●
●
♡
●
●
●
♡
●
●
●
●
♡
●
●
●
♡
●
●
●
♡
●
●
●
♡
●
●
●
♡
●
●
Rainforest Action Network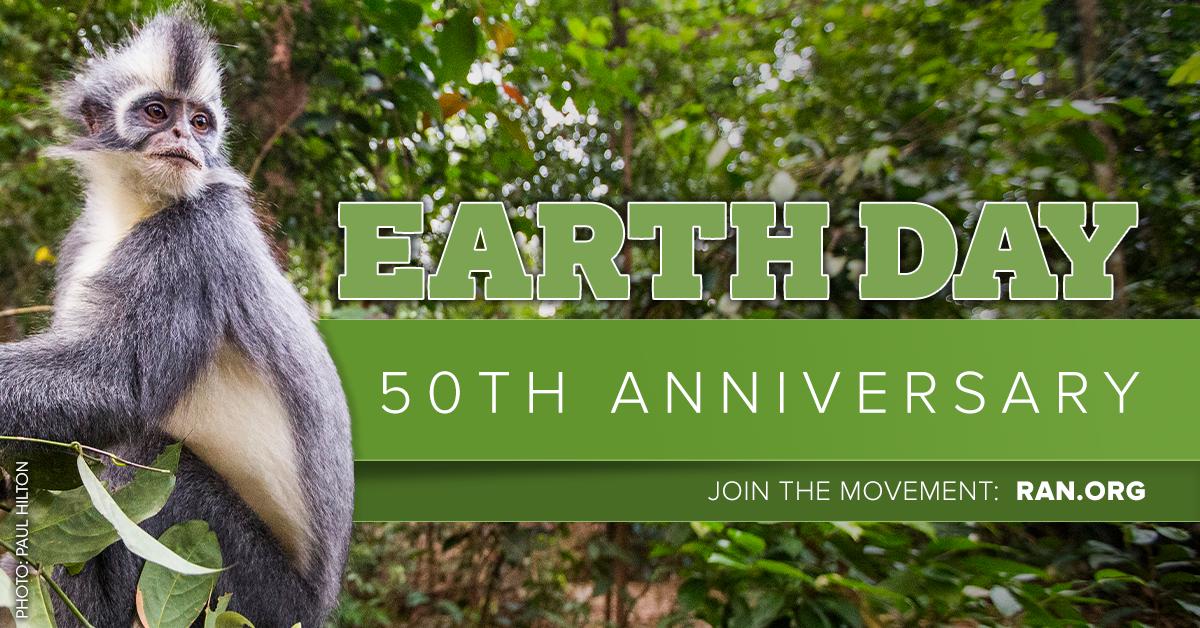 ●
●
♡
●
●
●
♡
●
●
●
♡
●
●
●
♡
●
●
●
♡
●
●
National Park Foundation
E
arth Day is a global holiday to celebrate the natural world and all that it provides.
During these uncertain times, we can rely on our earth's breath-taking beauty to remain constant.
There's no better time to learn about the planet or take an active role in the stewardship of the natural environment and special wilderness areas all around us.
Even if you cannot visit a national park, a socially distant walk during lunch or a few moments outside after dinner are great ways to take in some fresh air and relish all that our planet offers.
Friends are where you find them...
Battleship Iowa Museum
T
hough
temporarily closed, through the duration of the pandemic, they send Earth Day greetings and want you to know, "...we're hard at work with virtual programming, community outreach, and maintaining
your
ship with a tiny crew!"

The crew tells us, "Our Education Team has put together some really fun activities in celebration of Earth Day! Head over to our Virtual Education Facebook page where you'll find an Energy Home Walkthrough checklist and other nature-inspired tips for celebrating Earth Day all month!"

They continue, "Then check out what our community partner AltaSea is doing. Project Blue will inspire K-college students to get creative, ponder ocean solutions, and win prizes too!"

A US Navy hospital ship enters Los Angeles harbor to assist in the Coronavirus pandemic.
Assisted by tugboats, she moves past the Battleship Iowa museum.
●
●
♡
●
●
●
♡
●
●
●
♡
●
●
●
♡
●
●
●
♡
●
●
Help stop public bailouts of Big Oil

●
●
♡
●
●
●
♡
●
●
●
♡
●
●
●
♡
●
●
●
♡
●
●
Hurtling into the abyss of deregulation
O
ne very simple question today:
In the midst of a global health emergency unlike anything humanity has faced for at least a century, is now the time to do more to protect people, or less?
Foolishly — and just as predictably — mutterings are emerging from the White House of plans to suspend or even repeal a broad swath of federal safeguards.
On the chopping block are essential health and safety laws, consumer protections, workplace regulations, civil rights laws, environmental policies and more.
Trump — and the assorted grifters, charlatans and corporate fat cats that make up his administration — like to pretend that they are hurling into the abyss of deregulation for the sake of the economy.
Rubbish.
This is nothing but a flagrant attempt to exploit a crisis to get something Big Business and its political puppets have always wanted: zero restraints on their myopic quest for profits.

And they are more than willing to sacrifice the well-being of everyday Americans, our public health and the planet we live on to satisfy their greed.
Ironically, Monday marked 10 years since the day oil giant BP ripped a hole in the ocean floor, ultimately "spilling" 210,000,000 gallons of raw petroleum into the Gulf of Mexico during its Deepwater Horizon catastrophe.
That's what inadequate regulation and enforcement gets us.
Public Citizen is intently monitoring Trump's deregulatory maneuvers.

And we will not hesitate to sue the administration if it fails to follow appropriate processes or exceeds its authority.
Stay tuned, and stay safe.
- Robert Weissman, President of Public Citizen
P.S. This message is part of our ongoing outreach to help you stay informed and involved as our nation and the world grapple with the coronavirus emergency. Public Citizen — like many nonprofits and other small businesses — is feeling the financial strain as this crisis intensifies. If you can,
please consider donating to support the critical work we're doing together
. Thank you.
Public Citizen | 1600 20th Street NW | Washington DC 20009
●
●
♡
●
●
●
♡
●
●
●
♡
●
●
●
♡
●
●
●
♡
●
●
World Wildlife Fund
You have the power to make our critical global conservation work possible all year long. I hope you'll take the opportunity today to protect biodiversity and help WWF solve the world's greatest environmental problems.
Our work is focused around 6 ambitious goals with people at the center

When you become a WWF monthly donor for Earth Day, you will make a world of difference. You will help:

🌎 Build a future where people live in harmony with nature

🌎 Protect endangered species from extinction

🌎 Preserve critical habitats, from the rain forests to the Arctic

🌎 Reduce carbon pollution and prepare for the consequences of climate change

🌎 Feed the world sustainably and decrease food waste

Celebrate Earth Day with a monthly gift to protect wildlife and wild places around the globe. Every dollar will make a difference.

We will get through this together. And together we will protect our beautiful planet.
With deep gratitude,

Jessica Sotelo
Director, Online Membership
World Wildlife Fund
●
●
♡
●
●
●
♡
●
●
●
♡
●
●
●
♡
●
●
●
♡
●
●
Food and Water Watch
●
●
♡
●
●
●
♡
●
●
●
♡
●
●
●
♡
●
●
●
♡
●
●

I hope you're faring well and staying safe.
Earth Day is a great time to think about the bold ideas that will help curb the extinction crisis and ensure we have a livable climate in the future.
The Center is pushing a plan to protect 30% of wild places on land and in our oceans by 2030 and half of them by 2050.
Meanwhile, on this Earth Day, here are a few key things to do to help save the planet:
Stay in the fight: This movement is only as good as its people. We know that when people come together and speak in one voice to defend the wild, change happens. The world becomes a better place — not just for animals and plants but for everyone. It takes each of us to make that happen. And even better, tell everyone you know to get involved.
Help us hold polluters and politicians in check: We're what's standing in the way of those who would foul our air and water, poison our rivers, bulldoze our public lands, mow down our forests and ruin our climate. Resistance works, whether it's phone calls to Congress, rallies in the streets, emails to decision-makers or just telling your friends and neighbors what's going on.
Never lose touch with your love for the wild: It's easy to feel a little adrift in these difficult times. For me — and everyone at the Center — wild places and wild animals offer an anchor in this world, our reason for fighting to save the life that's around us. Even while we're isolating at home, it's important to connect with the wild via photos, videos, books or, if it's safe, a trip outside to somewhere close to your heart.
I'm grateful to spend Earth Day with you all, even if it's virtual.
I hope you'll join me later today to talk about how we can save life on Earth.
Sign up here.
For the wild,
Kierán Suckling
Executive Director
Center for Biological Diversity
●
●
♡
●
●
●
♡
●
●
●
♡
●
●
●
♡
●
●
●
♡
●
●
"This Earth Day, let's recommit to trusting the scientific community that works so hard to lead us down the right path."

~ US Congressman Joe Kennedy III, candidate for US Senator from Massachusetts.



This Earth Day looks a little different than those of the past.

But some things haven't changed:

This Administration continues to deny science and the advice of scientific experts, putting us all at risk. We've seen it with his attempt to throw the Paris Climate Accords in the trash, with his ransacking of environmental regulations, and his attempts to bail out big oil. Nothing has been done by this administration or Congressional Republicans to save our planet from catastrophic warming. And now we've seen it as we've attempted to combat the greatest public health threat of this generation – COVID-19.

In the U.S. Senate I will fight against this inaction and ineptitude and tackle the climate crisis with everything I've got – just like I have in the House.

From helping push the Green New Deal, to ensuring frontline communities all across Massachusetts are not taken advantage of by energy companies, to working tirelessly to provide cleaner air, safer drinking water, and right the wrongs of decades-long environmental racism. I am in this fight. It's my generation's future on the line, my kids' and grandkids' planet under siege.

Our Environmental Justice for All legislation is more essential than ever.

I believe this is one massive failure of the past generation's climate efforts — a blind eye to the disparate impact of climate and environmental threats on black and brown communities, immigrant communities, low-income communities, and indigenous communities. These frontline families have borne the brunt of the climate crisis. And now COVID-19 has made it clear how deeply connected the air we breathe and pollution we are exposed to is to our health, resilience – and survival. This is a fight I've led in the House and that I'll take to the Senate, where we need a leader.

This Earth Day, let's recommit to trusting the scientific community who is determined to lead us down the right path — and save our planet.




Let's take on the structural inequities of the climate crisis, fight for those ravaged by environmental injustice, and combat the disparities in adverse health effects, pollution exposure, and vulnerability to the threats of climate change that disproportionately affect frontline communities.




And let's work together to pass the mission statement we need to tackle this crisis: the Green New Deal, a bill I was proud to co-sponsor on day one. And then to put meat on the bones of that resolution and pass the actual policies and legislation we need to meet those goals.




I'm proud to be in this fight with you. I'm proud to be a part of the generation that will finally solve this crisis. And I'll be proud to be your champion in the U.S. Senate.




Stay well. Talk soon.

In the past month, we have raised tens of thousands of dollars for charity organizations supporting those on the frontlines. Today, if you are financially able at this moment, I'd be grateful if you pitched in to support the community of Chelsea, MA. This proud community is one of the hardest-hit cities in the country by COVID-19 and has suffered from the impact of environmental injustice for years:
●
●
♡
●
●
●
♡
●
●
●
♡
●
●
●
♡
●
●
●
♡
●
●
It's Earth Day.
Today, I want to take the opportunity to thank my friends at the League of Conservation Voters for taking notice of our campaign's efforts on climate change – we earned a 100% on their 2019 scorecard.
Advocacy from organizations like the League of Conservation Voters has been critical during the Trump presidency. Trump has sought to undermine each of our hard-fought environmental victories – even during the COVID-19 epidemic. In the midst of a global public health emergency, President Trump and the Trump administration continued rolling back environmental standards that were put in place to protect people's health and welfare.
He never misses a chance to put corporate greed ahead of the public interest.
Trump's Environmental Protection Agency has been using the coronavirus outbreak to push through controversial policy changes that are extremely harmful to the environment and our health. The EPA has just:
issued a sweeping suspension of its enforcement of environmental laws;
told companies they would not need to meet environmental standards during the coronavirus outbreak;
allowed bad actors to skirt environmental laws without penalties;
failed to set an end date, effectively creating an indefinite free-for-all.
Thank you for standing with me, on Earth Day – and every day.
●
●
♡
●
●
●
♡
●
●
●
♡
●
●
●
♡
●
●
●
♡
●
●
US Senator from Maryland needs your signature to make EPA do its job
This is urgent, so I'll be direct. While the American public is rightly focused on the COVID-19 outbreak, the Trump administration is engaged in a stealth campaign to rollback key environmental protections.




We have to let them know how outrageous this is: sign the petition, and urge the Environmental Protection Agency to reverse course.




Although it's a temporary policy, there's no set end date. During that time, polluters will be able to skirt enforcement. This is awful news, especially considering that this global health crisis directly impacts a person's ability to breathe.




The Trump administration must reverse these changes. This is no time to play politics—especially with the air we breathe, the water we drink, and our health as a nation and planet.



●
●
♡
●
●
●
♡
●
●
●
♡
●
●
●
♡
●
●
●
♡
●
●
From Climate Reality Project
Happy Earth Day!
FIGHT LIKE YOUR WORLD DEPENDS ON IT
While we are not physically together today, we are so inspired by millions of people in our community coming together to take action and speak up for the future of our planet.
We know these are unprecedented times we are facing. But the other big crisis facing us every day outside our doors and across the world – the climate crisis – is not going away. We must act now to create a better future for all of us.
Our planet's climate is changing dramatically – and scientists have been crystal clear that bold action is the only thing that will mitigate the worst impacts of the climate crisis.

To protect our planet for future generations, every day must be Earth Day.
●
●
♡
●
●
●
♡
●
●
●
♡
●
●
●
♡
●
●
●
♡
●
●
The essential Greta
W
ho could have predicted that a diminutive but determined Swedish teenager and her
"Fridays
for Future"
youth movement would eclipse
Al Gore
, a former Vice President of the United States, as the world's most important voice to make rulers and peasants, moguls and workers, students and artists, scientists and poets alike, confront the existential crisis of Global Climate Change?
By simply listening to, and learning to understand the validity of, science, scientists, research and data, she does what global industrialists and the current resident of the White House refuse to do. Her passionate ability to communicate and confront, to speak truth to power, and to focus on a future worth having, continue to make her a hero of her generation and a voice of conscience that will not be dismissed or marginalized.
___
Reprinted from our special edition last December 11th, including excerpts from the Guide from Dec 6th and November 29th.
Wednesday, December 11, 2019
●
●
♡
●
●
●
♡
●
●
●
♡
●
●
●
♡
●
●
●
♡
●
●
An "Inner Climate Change"-?
M
ost everything We present in this special 50th anniversary Earth Day edition is solidly based in science, and anything that does not conform to that is obvious parody.
This one feature is altogether different. During this uniquely shared stay-at-home time, many -- at least the thoughtful and creative -- are questioning the meaning, even the validity, of all we had been conditioned to accept as "normal."
That is empowering inner journeys for many we know. And suddenly finding the Earth clean and pristine has spiritual aspects that cannot be dismissed.
Thus, we bring you this from the "Findhorn Foundation":
INNER
CLIMATE CHANGE online premiere
The Findhorn Foundation's new documentary features speakers from our sell-out 2019 Climate Change & Consciousness Conference (CCC19) such as Charles Eisenstein, Polly Higgins, Jonathon Porritt, Vandana Shiva, Argaangak Angakkorsuaq and many more known and unknown climate activist
s.
●
●
♡
●
●
●
♡
●
●
●
♡
●
●
●
♡
●
●
●
♡
●
●
T

he Guide has long been committed to bringing our readers news of the real SCIENCE behind things, and the environmental battles and ways to get involved in the fight. Here are examples from our Earth Day coverage in 2019.
2019's EARTH DAY feature stories included these...
Plastic monster, made entirely of trash floating in the ocean.
In 2018 alone, Nestlé was responsible for creating nearly 4 billion pounds of single-use plastic packaging that in many cases is not recyclable or reusable — instead it will end up as waste forever haunting our planet!
We need to strike while the iron is hot. Will you help us tell Nestlé how dire the plastic pollution crisis truly is? Call Nestlé right this moment at 1-888-918-6672 and tell them they must phase out their reliance on single-use plastic packaging, and move to refillable and reusable options.
I cannot bear to see another headline about communities overrun by the global waste trade – or another dead whale with a gut full of plastic. So my friends and I called out Nestlé at its office with a giant monster made with discarded Nestlé packaging. If you feel like I do, please join us by calling out Nestlé over the phones.
Calling is easy, takes less than two minutes, and is one of the best ways to make sure Nestlé is listening. Just follow these simple steps:
Dial 1-888-918-6672
. Listen to a short message from Greenpeace. We'll then patch you through to Nestlé's customer service line.When you're connected, be polite and say what you think about Nestlé's plastic packaging. Here is a suggested script:
"Hi, my name is __________ and I'm calling from (your CITY & STATE). I'm very concerned by the massive amount of single-use plastic pollution and Nestlé is one of the largest global corporations that relies heavily on such packaging. I would like Nestlé to be an industry leader and phase out single-use plastic, while innovating bold, new solutions like refillable and reusable packaging. Thank you!"
You can also send a message demanding an end to single-use plastic on Nestle's Facebook.
Not on Facebook? No problem, you can send a message on Instagram or Twitter.
Nestlé needs to hear from you right now. You've already joined millions signing petitions demanding an end to its single-use plastic and spreading the word on social media. They know they've created a problem, but they don't want to be the ones to solve it. The solution, however, is in their hands, and the time is now. Nestlé must make the switch to systems of reuse.
For a plastic free future,
Kate Melges
Senior Plastics Campaigner, Greenpeace USA
info@greenpeaceusa.org
Editor's note: of course, it's not just one company.
EVERY MINUTE (of every hour, every day), a monster-sized load of plastic — the equivalent of a truckload — enters the ocean.
F
or a global map of plastic in the oceans, see the next feature.
ARTISTS: YOUR INNOVATIVE IDEAS ARE NEEDED FOR "SPACE FOR THE OCEANS"
ESA
-- the European Space Agency -- wants your ideas for applying space technology to Earth-based problems.
Really and truly, they do.
Pause a second and think: who, among our blue planet's infestation of human presence, is more passionately creative than our artists?
See why they're asking You?
History provides plenty of examples of artists with bold ideas that revolutionize everything, and collaborations (intentional or not) that allow designers, engineers, and scientists to use ideas that were hatched in the minds of artists. Quick example: comedian Steve Allen developed the design concept for the first artificial heart.
Astrophysicist
Neil de Grasse Tyson
has said, "Science without art doesn't mean anything, and therefore cannot sustain the motivation to go on. The artist who cares about science is essential to everything."
Through the "Open Space Innovation Platform," a new challenge-based website, ESA is hunting-out bright ideas in two areas. You may be the creative innovator with the key idea to:
(1) monitor the flood of plastic waste polluting the oceans, or
(2) to improve the self-steering abilities of ships.
Topic 1:
Detecting and monitoring plastic marine litter
With about ten million metric tonnes of plastic entering the ocean each year. Wildlife and ecosystems are suffering. And the economic impact on coastal communities, tourism and fisheries, is huge.
Monitoring this plastic is incredibly difficult from Earth's surface, as it's impossible to see a lot of the ocean at once.
Space represents a more promising vantage point; but satellites cannot detect plastic marine litter - at least, not yet.
Plastic litter in global oceans. Click to enlarge.
"We want to be able to directly detect and track seaborne plastic using satellites," explains ESA's Paolo Corradi, who is overseeing the hunt for new ideas to monitor plastic litter. "Not only would this have a drastic impact from a scientific viewpoint, but such an overview would also contribute to preventing the increasing amounts of plastic marine litter worldwide, and even reducing the amount that is currently in our oceans."
Solutions to plastic litter could include measuring plastic concentrations, identifying how the litter is transported around the world, and identifying sources and sinks of plastic marine litter. ESA welcomes innovative ideas that support the detection and monitoring of different types of plastic, both for the oceans and freshwater systems.
Topic 2:
Enabling harbor-to-harbor autonomous shipping
ESA is also seeking ideas that would contribute to enabling the increased adoption of autonomous shipping. This could significantly lower shipping costs, increase safety, solve anticipated crew shortages, and improve working conditions.
Leading the search for ideas, ESA's David Jimenez expands, "Autonomous shipping relies on accurate and continuously-available navigation support, as well as up-to-date information from Earth observation satellites. However, existing satellite navigation systems alone are not enough, especially for ships coming into highly-trafficked ports where precision is essential, as well as those in the Arctic."
Autonomous shipping supported from space.
Navigation satellites are only visible at low inclinations in high polar regions, and their signals can be disrupted by interference from the ionosphere, the electrically active segment of the atmosphere – the same phenomenon that creates the Northern Lights.
A variety of options exist for improving current techniques, including combining satellite data with terrestrial data to ensure worldwide coverage, and developing new satellite networks that can provide more accurate and guaranteed positioning. Furthermore autonomous shipping could be revolutionised with new systems designed specifically to monitor harbours, and through combining different systems using artificial intelligence.
"Ships are becoming increasingly independent, but so far complete autonomy has not been attainable," continues David. "Achieving this aim would lead to more efficient and competitive shipping, whilst reducing the industry's environmental impact."
Image: How to use ideas.esa.int. Click to enlarge.
GETTING INVOLVED
The Discovery & Preparation Program
OSIP -- the Open Space Innovation Platform -- is run through ESA's Discovery & Preparation program, which forms part of ESA's Basic Activities. Working with and across all ESA programs, Discovery & Preparation lays the groundwork for ESA's short- to medium-term future activities.
"Via OSIP, we are addressing the most relevant challenges in space, and enabling parnters to work with ESA on activities that seek the best solutions," concludes Ian Carnelli, Manager of ESA's Discovery & Preparation activities.
Carnelli continues, "These activities could include studies, early technology developments and research co-sponsorships addressing novel and innovative subjects. So share your ideas with us through OSIP and help shape the future of space research."
Really, check it out. We know an artist who, as an 11-year-old, invented the Auto Train concept years before the business world thought it up and built it. He was doing it with his American Flyer.
And we know an artist who drew pictures as a kid of balloon-launched and aircraft-launched space vehicles, decades before the aerospace industry envisioned and built them. (They work to save fuel because launch vehicle weight is reduced if you can get started for space from a high altitude where the air is very thin.)
Leonardo DaVinci
is remembered by history as a great innovator and inventor. In his time, he was regarded as an artist -- a great artist, but an artist -- not an inventor, and few of his inventions were built until hundreds of years after he was dead.
Do you want to be a DaVinci after you're gone, or now? Your ideas may change the world. Get started. What are you waiting for?
All the links are at:
https://m.esa.int/Our_Activities/Space_Engineering_Technology/Seeking_innovative_ideas_space_for_the_oceans
Each year the telescope dedicates a small portion of its precious observing time to take a special anniversary image, focused on capturing particularly beautiful and meaningful objects.
Launched April 24, 1990 from the space shuttle Discovery, the orbiting reflecting telescope was initially useless because of a minor, but crucial, flaw in its huge mirror. Another space shuttle mission had to do something that was never thought possible: partial disassembly of the telescope by spacewalking astronauts. They placed an array of tiny corrective mirrors inside Hubble that functioned like a person being fitted with vision-correcting glasses. And additional shuttle missions performed challenging and unprecedented tasks to extend its capabilities, as well.
Hubble has since revolutionized how astronomers and the general public see the Universe. The images Hubble provides are spectacular from both a scientific and a purely aesthetic point of view.
This new image adds a lot of science and changes our understanding of the nebula, even as it demonstrates the telescope's continued capabilities.
This peculiar nebula is one of the many objects that Hubble has demystified throughout its productive life. This, the Southern Crab Nebula, is so named to distinguish it from the better-known Crab Nebula, a supernova remnant visible in the constellation of Taurus.
The image reveals active, dynamic processes. It shows nested, hourglass-shaped, structures created by the interaction between a pair of stars -- a binary star system -- at its center.
The pair of stars is unequal and constantly changing. They are a red giant and a white dwarf. The red giant is shedding its outer layers in the last phase of its life before it, too, lives out its final years as a white dwarf.
Some of the red giant's ejected material is attracted by the gravity of its companion. When enough of this cast-off material is pulled onto the white dwarf, it also ejects the material outwards in an eruption, creating the structures we see in the nebula. Eventually, the red giant will finish throwing-off its outer layers and stop feeding its white dwarf companion. Prior to this, there may also be more eruptions, creating even more intricate structures.
But... Astronomers did not always know this. The object was first written about in 1967, but was assumed to be an ordinary star. That was until 1989, when it was observed using telescopes at the European Southern Observatory's La Silla Observatory. An image taken then showed a roughly crab-shaped extended nebula, formed by symmetrical bubbles of gas and dust.
These observations only showed the outer hourglass emanating from a bright central region that could not be clearly resolved.
It was not until Hubble observed the Southern Crab in 1999 that the entire structure came into view. That image revealed the inner nested structures, suggesting that the phenomenon that created the outer bubbles had occurred twice in the (astronomically) recent past.
It is fitting that Hubble has returned to this object twenty years after its first observation. This new image adds to the story of an active and evolving object and contributes to the story of Hubble's role in our evolving understanding of the Universe.
We noted that several space shuttle missions were tasked to perform rebuilds and maintenance that have kept Hubble functioning far beyond its designed lifetime. Sadly, with no similar manned space capabilities since abandonment of the shuttle program, Hubble's days are numbered, since no further maintenance can be performed.
Want more? Check out THIS:

INTERACTIVE 3D MODEL OF THE HUBBLE SPACECRAFT
:
http://sci.esa.int/hubble/31384-3d-model/
(Our thanks to Bethany Downer, ESA/Hubble Public Information Officer in Garching, Germany, for much of the information used here.)
■□●□■□●□■□●□■□●□■□●□■□●□■□●□■