.
.
Up-top: an important Op/ed added Wednesday morning. Everything else is still here, after it. Plus, our "Covidology 101" feature has fresh updates (
in red
), and there is added music news.
From the intro line above:
W
e present here, up-top, a feature op/ed today, Wednesday. The need for it has been developing for some time. So why now, added in the middle of the week, dropped atop an edition published back at the beginning of the week? It answers that for itself. Here it is.
___
A Guide Op/ed, Wednesday, June 8, 2020
Today's Protests and Intellectual Honesty
by Larry Wines
"A Letter on Justice and Open Debate" dated July 7, 2020, is slated for publication in Harper's Magazine, signed by prominent writers including J.K. Rowling, Noam Chomsky, Malcom Gladwell, Michelle Goldberg, Bari Weiss, Matthew Yglesias, and Olivia Nuzzi, and multirole people that include Wynton Marsalis and Fareed Zakariah.
Here's an excerpt:
"Whatever the arguments around each particular incident, the result has been to steadily narrow the boundaries of what can be said without the threat of reprisal. We are already paying the price in greater risk aversion among writers, artists, and journalists who fear for their livelihoods if they depart from the consensus, or even lack sufficient zeal in agreement.
"This stifling atmosphere will ultimately harm the most vital causes of our time. The restriction of debate, whether by a repressive government or an intolerant society, invariably hurts those who lack power and makes everyone less capable of democratic participation. The way to defeat bad ideas is by exposure, argument, and persuasion, not by trying to silence or wish them away. We refuse any false choice between justice and freedom, which cannot exist without each other."
A term has come about to label this "thing" about which they are cautioning. It is "cancel culture." Why that, instead of something more accurate, like "social wave pop censorship," or "woke conformity," we don't know. Perhaps these additional excerpts from the letter are more enlightening:
"The free exchange of information and ideas, the lifeblood of a liberal society, is daily becoming more constricted," the letter said. "While we have come to expect this on the radical right, censoriousness is also spreading more widely in our culture: an intolerance of opposing views, a vogue for public shaming and ostracism, and the tendency to dissolve complex policy issues in a blinding moral certainty."
The daily "Reliable Sources" e-newsletter by Brian Stelter was on it Tuesday night. Their feature includes these two points:
"As NYT's Jennifer Schuessler and Elizabeth Harris
reported
, 'On social media, the reaction was swift, with some heaping ridicule on the letter's signatories...'"
And,
"Kerry Flynn emails: After the letter published, historian Kerri Greenidge
tweeted
that she was 'in contact with Harper's about a retraction.' Harper's spokesperson Giulia Melucci told me the signees 'read and approved' the letter before it was posted and that 'no one is required to be in full ideological agreement with the other 150 (or so) signers.' But Harper's did end up removing Greenidge's name..."
Read the full multi-author letter
here
.
Here at The Guide, we find ourselves in agreement with the Harper's letter and its signers.
By default, that means we are prepared for criticism by the new movement that demands a singular perspective and finds multiple viewpoints intolerable.
Why are we jumping into the fray? Because there is no room for regimented, exclusionary "acceptable ideas" in the arts, and the arts reflect the highest aspirations of our species.
This has been coming for some time. This entire trend of sanitizing every aspect of culture to make it inoffensive to a lowest common denominator of the hypersensitive; it produces snowflakes incapable of seeing any other viewpoint. The sudden withdrawal of Aunt Jemimah pancake syrup and Uncle Ben's rice, when neither brand had a demeaning image, and in fact sold well because the products themselves were good, is illustrative. It's also a test, choosing those examples, to see who just got outraged.
Pulling-down a bust of Ulysses Grant, as happened last week, is likewise representative. Grant was the man who militarily won the Civil War for the Union and thereby ended slavery in the Southern slavocracy. So attacking him seems utterly incongruous. But look into it, and it illustrates the same new intolerance of puritan conformity.
Those who chose to deprive the public of that monument are enraged that "Grant had a slave!" Had they inquired at all, they would have learned that Grant was humiliated when given a slave by his father-in-law. Grant in turn embarrassed his in-law when he worked alongside the slave, in fact doing the same work, until he gave the man his freedom. And Grant did that, despite the fact that he desperately needed money and the emancipated man could have been sold for an appreciable sum.
The pulling-down of Confederate statues, though more complex, brings another example of a requirement for singular viewpoint. The accompanying rhetoric -- necessary to destroy any argument -- is suddenly, "These people committed TREASON against the United States and it is unacceptable that any image of them remain!"
No less than House Speaker Nancy Pelosi emotionally evoked the "treason!" line last week when referring to righteously making ex-Confederates disappear.
Given the current climate that the Harper's letter "outs," it is scant wonder that no historian has risked objecting to the sudden one-size-fits-all label of "treason!"
In fact, that question was settled at the time, when surrendering Confederates were neither tried nor executed for treason.
The one man who was tried and executed was the commandant of a prisoner of war camp where those penned-up perished of hunger, disease, brutality and abuse. And that wasn't a trial for treason. Otherwise, that charge was used only in the trials of non-military conspirators for the assassination of Abraham Lincoln.
Not only did ex-general Robert E. Lee become president of a university where he could influence the minds and loyalties of the impressionable young, but other former Confederate officers fought in the uniform of the re-United States in the Spanish-American War. This new requirement to paint with a broad brush and make every Confederate a reviled traitor is intellectually dishonest and denies the history of how those who defeated them treated them at the time.
The notion that the Confederacy is synonymous in all regards with slavery is likewise dishonest. The overwhelming majority of those who wore the grey or butternut uniforms never held another human being in bondage. Most were independent subsistence farmers who worked their land only with their families, or they were clerks or other townsfolk whose occupational experiences were indistinguishable from those who wore blue.
True, Southern macroeconomics were based on plantation agriculture that was built on a slavocracy. But the current demand for one viewpoint actually deprives us of considering the massive wealth disparities between the South's rich exploiters and the masses of poor. That would resonate in today's America if we could discuss the historical aspects without being shouted-down for trying.
In fact, even calling the conflict "The Civil War" has always been problematic for American history, because a true civil war is an insurrection against a government aimed at overthrowing it. The seceded states individually, and collectively as the Confederacy, never had any intention of overthrowing the government of the United States. They were separatists. Moreover, the Constitution as it stood at the time actually supported the argument that a state could secede -- and what state had already made that point, decades earlier? Try Massachusetts.
But modern writers are terrified of calling the conflict of 1861-1865 a failed war by separatists who wanted to establish their own nation and who, however imperfectly, saw their cause in the same light as the American Revolution.
Making such a statement is suddenly heretical, regardless of its historical validity. It will bring rabid attack and accusations that the one saying such a thing is either deluded by the myth of "The Lost Cause," and/or, an obvious racist. And the latter attack is almost guaranteed because arguments no longer ratchet-up based on evidence and exchanges. They immediately default to the nuclear option because outrage is the only criteria.
To which we counter, did any of those intolerant singularities of criticism ever see the award-winning, acclaimed-by-academics, Ken Burns' documentary series? In fact, it is doubtful that series could be made now, at all. Surely somebody would be offended that the names of Southern "traitors" were being glorified because of military prowess, when such names must never be spoken again within the hearing of the righteously outraged.
That comes with consequences. We deprive ourselves of making decisions to right wrongs -- things like taking the names of Ku Klux Klansmen off bridges and other public facilities -- when we revert to the Ancient Egyptian practice of chiseling names off everything that mentions them. In a larger sense, we will have no business being surprised when a younger generation is ignorant of how things got to be the way they are, if we seek to erase history by sanitizing it to remove our ability to consider and understand things.
These examples go beyond the generalities of the Harper's letter. But they are representative of why the letter was necessary and why so many prominent chroniclers signed it.
The Constitution itself beckoned future generations to pursue "a more perfect union." And there was plenty of reason to do so. But none among those authors -- the esteemed nor the scoundrels -- advocated a singular viewpoint as the only acceptable way that everyone must think. Want proof? Freedom of religion.
Demanding conformity without dialog, and with actual or anticipated reprisal if conformity is questioned, is fascism, plain and simple.
Consider it another way: take those participating in any given protest. Is everyone there for exactly the same reason? Is it fair to assume everyone is subscribing to the same agenda, with no allowance for diverse reasons that may, in fact, form the mosaic of motivations that cause individuals to become a crowd?
If there is resentment when certain conservatives attempt to claim protesters and looters and arsonists are the same singularity, then why isn't there consistency? Where is the resentment when equally ludicrous singularities are used to exclude the true range of diverse factors that are in play? Whether or not some pseudo thought police will allow recognition and consideration of the full picture isn't just intellectual honesty. It determines whether solutions are delusions.
Neither artists nor intellectuals can accept constraints that force creativity and inquiry into an eye of a needle through which society's camel must pass.
When free range, broadly exploratory inquiries are possible without offense, we will be an intellectually free society. It will enable us to default to evoking science and fully examining our foibles. Until then, we are constrained by fear, and deprived of voicing -- and acknowledging that we are dangerously pursuing -- free thinking.
Now we take you back to Monday's edition as published, plus things added to it in our usual chronology of day-by-day events.
The original intro is...
This is loaded with new material. Granted, it was an unplanned edition, but events on Monday made it necessary, just to keep up with events. So it quickly gained other material that was waiting for the next planned edition. It's nicely organized now that it's here. Just remember that our last edition has SO MUCH in it, and it's still there.
■ All the NEWS in the previous edition is still
here
, easily accessible, waiting for you to catch-up.
■ THIS EDITION has newly reported events and lots of fresh news, which
includes:
•
the
FREE, ONLINE 2-WEEK "MUSIC INDUSTRY EVOLUTION SUMMIT"
starts Monday
-- you can sign-up later in the week (!) -- see our feature story.
•
Ennio Morricone is dead at age 91. The a
ward-winning composer of "The Good, the Bad and the Ugly," over 400 scores for cinema and television, and more than 100 classical works...
• New in this edition: CHARLIE DANIELS died today. We look at the man and his importance to music and those in it.
• Additional stories are new here, for the first time.
• Events happening Monday or later have been updated as needed
(scroll down, it's chronological).
___
S
cheduled online concerts and events -- daily, starting Monday the 6th -- are reported after the news feature stories. They're chronological. Just scroll down.
News... fresh, this edition
Thursday morning news additions, up-top...
Six items from Brian Stelter, Wednesday night...
Facing COVID, Competing Film Festivals are cooperating
"The art form we love is in crisis"
"The Toronto, New York, Telluride and Venice film festivals, knocked sideways in their planning by the coronavirus pandemic, have unveiled a joint statement that commits the longtime rivals to cooperate and not compete for film titles and awards-season bragging rights in the fall," THR's Etan Vlessing reports.
The statement says the festival heads are "sharing ideas and info," part of a commitment to "collaboration." It's great to see this. "We're all in this together" is more than a slogan...
___
Rock Hall of Fame's new plan
Lisa Respers France reports: The Rock & Roll Hall of Fame announced Wednesday that it will be replacing its live induction ceremony with an HBO special because of the pandemic. Details here...
___
Hamiltuneage
"Thanks to 'Hamilton,' Live Capture Could Be Broadway's Next Act,"
Tatiana Siegel
writes... (
THR
)
___
Easy come, easy go
"Only 72,000 of
Quibi
's early subscribers have stuck around past their 90-day trial, according to new estimates" from an analytics firm. Quibi's statement implies that the true # is higher, but won't give specifics... (
Protocol
)
___
Paying for social media?
Kaya Yurieff
reports: "Twitter may be working on a paid product." Twitter shares rose 8% on Wednesday after folks spotted a "job posting that said the company is building a subscription platform codenamed 'Gryphon...'" (
CNN Business
)
___
The Supremes season finale
1) Supreme Court "season finale" on Thursday
"The Supreme Court is expected to issue opinions in two cases concerning access to President Donald Trump's financial records on Thursday, the final day of the term," per CNN's team.
2) Jeffrey Toobin's assessment
This is the year of Chief Justice Roberts -- his shocking embrace of the four liberal Justices in three major cases," CNN chief legal analyst Jeffrey Toobin told Brian Stelter. "The big question for Thursday is whether, in the Trump financial documents cases, it's a grand slam of repudiation for the President."
■☆
■
⊙
■
☆
■
⊙
■
☆
■⊙
■
☆■⊙
■
☆
■
• A record 60,000 new
US
COVID cases were reported overnight Tuesday for Wednesday morning.
• Early Wednesday, global cases neared 12 million, with over 3 million of them US cases.
• The US makes up 4% of the world's population. That's just 1 out of every 25 people on Earth. But the US now accounts for 1 out of every 4 reported cases of COVID-19 on the entire planet.

• The current 130,000 dead from COVID in the US is equivalent to the entire population of a city the size of Waco, Texas, or Gainesville, Florida, or Charleston, South Carolina, noted a disease specialist doctor on CNN Wednesday morning.
• New US urban-suburban cases are now 50%+ in the 18-40
year-old age group.
• Doctors are reporting that new COVID patients present themselves with far more serious symptoms, with many more requiring immediate hospitalization as a matter of life-and-death. Fewer patients can be sent home to recover in quarantine. Does that mean the virus has (as most viruses do) mutated, and into a more deadly form? Doctors say they're fighting a fire that's out of control and they don't have time to play arson investigator.
• Brazilian President Jair Bolsonaro has the virus, after spending months dismissing its seriousness.

• 31 US states are going in the wrong direction. Only four states are reporting declining numbers of new cases.

• Florida is becoming the new center of the pandemic, posting staggering numbers despite state-mandated reporting techniques that hide a lot of what's happening. Currently, 43 hospital ICUs are full there, with no capacity left, and 24 more have less than 5% capacity remaining. Yet Florida schools are set to re-open. In the past 13 days in Miami-Dade County, the number of COVID patients has increased by 90%.
___
To register
for a test at any of L.A. County's 34 testing sites, click
here
.
___
Avoiding maskless Maskholes and gatherings of
maskless Branch Covidians
I
n Texas, where the daily number of new infections is setting a record each day, the Texas Medical Association has enlisted the state's PBS stations to get this graphic into the public consciousness.
Note what is fourth from the bottom.
(Click or tap graphic to enlarge.)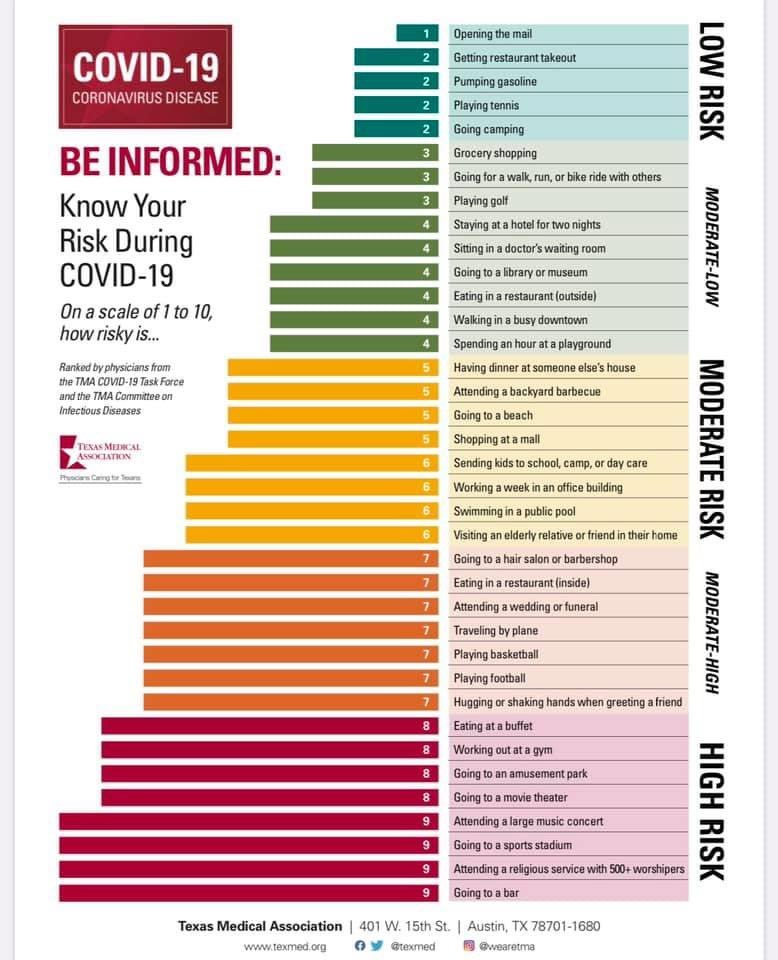 ___

Covidology reading list...


Charlie Daniels photo by Erick Anderson
Charlie Daniels died Monday at age 83
A Country, Americana, Bluegrass, Western, and Southern Rock music legend, fellow performers and others in music share memories of his influence
by Larry Wines and Jeremy Westby
NASHVILLE, Tenn. -- Country Music Hall of Fame, Grand Ole Opry member and southern rock and Americana legend Charlie Daniels passed away this morning, Monday, July 6th at Summit Medical Center in Hermitage, Tennessee. Doctors determined the cause of death was a hemorrhagic stroke. Daniels was 83.
In California, Guide editor Larry Wines recalls:
"Everyone should understand when they put themselves in front of the public, that every impression they make is determinative. Most artists 'get it' that the hardest think to fake is sincerity. But then there are those who really are sincere, and so absolutely genuine that nobody else could ever make you believe otherwise of them.
"When I first interviewed Charlie Daniels I was working as a newspaper political columnist who, oddly enough, also got all the choice musician interviews because I was the paper's 'go to' guy with the arts. I met Charlie when we did a phone interview that was set for twenty minutes. When I noticed we were at 22 minutes, I pointed that out to him. He replied, 'Well, thanks for letting me know. If you gotta go it's okay.'
"I assured him I would like to spend more time if he had it available. Somewhere past 35 or 40 minutes, a voice in the room on his end asked if he was 'still talking to that guy.' He said, 'Yes I am, and please go away,' and apologized to me for the interruption.
Well past an hour and a half, he said, 'I do need to go now. Are you coming to our show?' I said yes, and he asked if I had good seats. I said, yes, third row. He said, 'We can do better'n that.' Within seconds I was front row center, set for backstage credentials, and invited to join him in his tour bus after the show. He hung up saying, 'I'll look forward to meeting you in person, pard. I've really enjoyed this.'
"Fast forward two weeks. I was directed to where he was after sound check. I expected I'd get "Who?" But nope, he wanted to pick up where we left off, so we got a few minutes then, and another hour on the bus after the concert, before it was time to roll.
"So what did he find so compelling about our conversations? Sure, we had conscientiously covered his music including many hits and my own favorites of his from an ancient album -- "High Lonesome" -- whose songs he didn't remember how to play anymore. He chuckled at that, saying, 'Heck, I wrote it, and somebody likes it. You'd think the least I could do is remember how to play it!'
"He was intrigued when I told him that record was very much a folk album, and how he could easily get himself booked to play any folk festival he wanted. He said he knew he had "horsepower as a bluegrass guy when he talked to the right people," but 'nobody has ever confused me with Bob Dylan.' More laughter. I observed that he was doing original cowboy music, and that wasn't fashionable in Nashville any more.
"We had a rapport, and I knew it when he told me something. Charlie or his people had checked me out before agreeing to do the phone interview. He knew I was a political columnist so he had taken the time to read several of my pieces. He said that was to see if it was safe to talk to me. In turn, I told him I knew he did a political blog that was hardline conservative. He knew, going in, we didn't see things eye to eye. At all.
"But he said, 'I wanted to talk to you pard, because I knew we disagreed. I always figured nobody ever learns anything if you only talk to people who agree with you. I saw some of your interviews and knew I'd get a fair shake and it seemed like it would be fun. I can talk to anybody anytime just about music. All the big magazines and tv people. I enjoy that well enough and in my business I need to do it. But it gets old. So what else can we talk about?'
"What followed on the phone -- and resumed without missing a beat two weeks later, aboard his bus -- was what politics today wholly lacks and desperately needs. Two well-read people thoughtfully discussing the problems of society and the planet, with each thanking the other for raising things the other didn't know or hadn't considered. And it was fun.
"There's an old line about disagreeing without being disagreeable. Our conversations didn't even evoke that much tension. Each of the times we spoke, he always signed-off that he enjoyed talking with me. Not "to" me, but "with" me. Journalists need to preserve objectivity, of course. But each time, I found it enjoyable, and indeed, a full-on joy, to talk with him, too.
"Charlie kept doing his blog with his political views through that era. It always ended with, 'So, what do YOU think?' and he always read and politely commented on the comments, even when they were impolite.
"We talked a few more times on the phone, but the pace of his tours made for shorter conversations and waits of several days between call backs.
"I could have been a more persistent acquaintance after I left that newspaper, which wasn't long after my series of interviews that year with music luminaries. But it would have felt irresponsible, given his need to do advance work, including talking to media to promote upcoming shows in their markets. Besides, I knew by then that the pace of a tour is exhausting, and somebody could end up resenting you if you got underfoot.
"But some interview subjects become real people who always stay with you. Later, when I programned and hosted "Tied to the Tracks," the Acoustic Americana radio show on Los Angeles airwaves and global web simulcast, I spun Charlie's acoustic cuts and always got listener calls that they had no idea he had recorded any music like that, or that it brought back happy memories of what he played in concert that was never on the radio.
"More than anything, I always have, and always will, call Charlie Daniels a consummate gentleman and mindfully thoughtful human being. That comes first, before I get to the part about his songwriting, musicianship, and stage presence. Or how we politely disagreed with each other's politics."
Of course, others have more to say about Charlie Daniels
Charlie Daniels was a singer, songwriter and multi-instrumentalist known for his contributions to Southern Rock, Americana, and Bluegrass, in addition to Country.
From his Dove Award-winning gospel albums to his genre-defining Southern rock anthems and his CMA Award-winning country hits, few artists have left a more indelible mark on America's musical landscape than Charlie Daniels.
An outspoken patriot, beloved mentor, and a true road warrior, Daniels parlayed his passion for music into a multi-platinum career and a spotlight supporting the military, underprivileged children, and others in need. The Charlie Daniels Band has long populated radio with memorable hits such as the signature song, "The Devil Went Down to Georgia."
Over the course of his career, Daniels received numerous accolades, including becoming a member of the Grand Ole Opry in 2008, inductions into the Musicians Hall of Fame in 2009 and the Country Music Hall of Fame in 2016.
Charlie helped to shine the spotlight on the many causes that are close to his heart. He was a staunch supporter of the military and gave his time and talent to numerous charitable organizations including The Journey Home Project, which he founded in 2014 with his long-time manager, David Corlew, to help veterans of the United States Armed Forces.
Fellow artists have dropped whatever they were doing today to express their thoughts, as they mourn the loss of their friend and share fond memories. It may sound trite, but it is certain that he left them inspired for the duration of their lives.
"I will truly miss my friend and fellow Country Music Hall Of Fame member, Charlie Daniels. He was one of the most honest and genuinely nice people in the business. I will miss our talks. We shared lots of memories and supported each other. My prayers are with his family, friends and colleagues."
~ Charley Pride
"All of The Oak Ridge Boys are saddened and devastated by this sudden and immeasurable loss. Charlie was not only a dear friend but a Patriot who loved Jesus and loved the USA. It is all so very hard to process right now...We will miss Charlie, but we know where he is… The Everlasting Arms of HIS and OUR Savior hold him now…Until The Day Charlie…Until the DAY…prayers for Hazel."
~ Joe Bonsall of The Oak Ridge Boys
"One of the best friends, not only a peer, but a true friend. He was one of the most spiritual men. When we got together for a show in Oklahoma, we performed 'Will The Circle be Unbroken.' I never will forget that night."
~ Sam Moore
"What a loss and a shock - we can hardly put this in words. Charlie was such a beloved part of our community! He was a great friend and a fellow patriot. I will always cherish the countless shows we worked together over the decades and our backstage talks. He leaves an immeasurable mark on country and southern rock music. Charlie was a great leader and philanthropist, incredibly humble and one of the biggest supporters of our armed forces and veterans. I loved standing in the wings when he took the stage - he was powerful and magical - he left other artists in awe and every audience on their feet! We love you Charlie and will forever cherish our friendship."
~ Lee and Kim Greenwood
"I am very saddened to hear of Charlie Daniels' passing. I have known and loved Charlie since our early days when he appeared on one of my television specials and l played his Volunteer Jams. Charlie was a strong man who loved his family, fans and country. The music community and the world have lost an old friend."
~ Crystal Gayle
"Charlie Daniels has been a friend of mine for the last 40 or 50 years. He is one of the greatest artists in country music and an all around wonderful man. We will miss you Charlie."
~ B.J. Thomas
"I recall a show I played in West Texas with Charlie, what a great talent and personality he was, and so respected in the music world. He and his memory are cherished and loved by all."
~ Janie Fricke
"It was an honor to know Charlie. He was a Godly, family man and the U.S.A. didn't have a better friend. He always had an encouraging word and a firm handshake. Sheila and I pray for Miss Hazel, the family, the band and his entire organization. Rest in peace ol' pal!"
~ T. Graham Brown
"I am absolutely stunned and heart broken over the loss of our legendary friend, the great Charlie Daniels! You could not find a finer or kinder man! His giant talent paled in comparison to the phenomenal human being that he was! He was passionate and honest about what he believed in and unapologetically spoke his truth.There is a reason he was so loved by all who knew him and such an Icon in Country Music!!! He cut a wide path in our hearts! We love you Charlie! My prayers are with his family at this time of deep loss. Rest In Peace Charlie."
~ Deborah Allen
"My heart goes out to Hazel, Charlie Jr. and their family. I always loved Charlie, and his music. He was the real deal and one of the great ones."
~ Lacy J. Dalton
"I'm hurt. Charlie was one of the nicest guys in country music. He was always there to help anyone and he will be missed by all."
~ Johnny Lee
"I'm deeply saddened by the passing of Charlie Daniels, a true Country Music Legend. 'The Devil Went Down To Georgia' will live on as one of the most quintessential Southern Rock songs in history. My thoughts and prayers are with Charlie and his family. Rest in peace Charlie and God bless you."
~ Deana Martin
"What a huge loss not only in the music industry, but in the world. Charlie was simply one of the kindest, most loving patriotic friends I've ever had the pleasure of knowing. He loved his friends and country so deeply. I was honored and blessed to perform on his infamous Volunteer Jam. My heart is broken today and I send my prayers of comfort up for his precious family."
~ Kelly Lang
"It's hard to imagine country music without Charlie Daniels and the world will never be the same. Thankfully he left a legacy like no other that we can reflect on. You are loved and you will be missed!"
~ Shane Owens
"Charlie Daniels was a music icon, yet every time I played piano for Charlie he made me feel like I was part of the Charlie Daniels' family. He loved our country and devoted much of his time to encouraging and performing for our men and women in uniform. When my son Torre was in the Army, and he was about to ship out for his first tour in Iraq, Charlie met with Torre before he left, and he prayed with him. You have no idea what that meant to me. The devil can stay down in Georgia for all I care, because Charlie Daniels is heaven bound!"
~ Tim Atwood
"Rest in Peace to Country Music Hall of Famer Charlie Daniels. He was one of the true icons in country music and will forever be remembered. Charlie Daniels was a True American. Country Music has lost one of its finest ambassadors today. Prayers to the family of Charlie Daniels."
~ J.D. Shelburne
"It truly breaks my heart to hear of the passing of Mr. Charlie Daniels. As a fellow NC native, he was included in the soundtrack of nearly every road trip, bonfire night, and any other occasion! He was an extraordinary musician and such a joy to watch onstage - his spirit for music and performing was truly incredible! His family are in my thoughts and prayers during this hard time. He will truly be missed by fans all around!"
~ Paige King Johnson
"When I was a kid at boarding school listening to my roommate's Charlie Daniels albums, I had never been exposed to country music, and I didn't know what I was hearing, I just knew that it grabbed me. So I transported the feel of it to my rudimentary songwriting on the grand piano in the common room of that dorm, and it has stayed with me ever since. Classic songwriting and musical authenticity can reach across a culture like nothing else. Thanks to Charlie for waking a powerful spirit, all over the world."
~ Carrington MacDuffie
"A pioneer that stood for so many great things outside of music, a true patriot. He taught us all what a fiddle truly was while never being afraid to voice his opinion. He's going to be deeply missed but his legacy will no doubt live on. Prayers and thoughts are with his family, friends and fans."
~ Vonn Kiss
And finally, this personal note from Jeremy Westby, former publicist for Charlie Daniels:
"I had the pleasure of representing Charlie Daniels and his charity The Journey Home Project for many years. He headlined a concert at the Air Force Academy back in 1998 when I was road managing the opening act -- the Clark Family Experience -- who were managed by Jim and Sherman Halsey. I'll never forget how Charlie could shred that bow and keep the audience at the edge of their seats. I didn't have the pleasure of talking to him then but as the years passed and my career came full-circle, I did - and then some.
"Charlie was much more than a client. He welcomed me and my family into his home on holidays, we had media junkets to New York and more wonderful experiences than I can count. To say he leaves an indelible mark on our community is an absolute understatement. I will forever cherish the moments we had, and being part of the team to help guide his induction to the Country Music Hall of Fame will never be forgotten!
"My heart goes out to Hazel, David, Bebe, Paula, Angela, Charlie Jr. and the rest of The CDB. Love to you all."
~ Jeremy Westby
Funeral arrangements will be announced in the coming days.


___
Hear two tracks from the editor's favorite Charlie Daniels' album, mentioned in the story:
Published pre-dawn Monday morning as l
ate breaking news
/ obituary...
Ennio Morricone, award-winning composer of innovative music for cinema, dies at age 91
Ennio Morricone directed a concert in Rome in January.
Credit: Roberto Monaldo/LaPresse, via Associated Press
by The Guide overnight staff
"T
he Good, the Bad and the Ugly" solidified Italian composer
Ennio
Morricone's
international fame, already developing through his creation of atmospheric scores for preceding spaghetti westerns. His approximately 500 works include film soundtracks by a Who's Who of Oscar winners and international directors, including "The Mission" and "Cinema Paradiso."
The Italian composer, orchestrator, conductor, and former trumpet player wrote in a wide range of musical styles. Since 1961, Morricone composed over 400 scores for cinema and television, as well as over 100 classical works.
Often his orchestral compositions featured operatic voices or soaring, yet haunting choirs, always effective on listeners without regard to the language they speak.
His artistry and long career -- he was still conducting orchestras this year -- made him one of the world's most versatile and influential creators of music for the modern cinema. In 2018, Morricone conducted concerts on his "60 Years of Music World Tour." He died on Monday in Rome, following complications from a fall last week in which he fractured his femur. He was 91.
His score for "The Good, The Bad And The Ugly" (1966) -- considered one of the most influential soundtracks in history -- is among his several successful collaborations with director Sergio Leone, including the 1960s "man with no name" series with the young Clint Eastwood.
Morricone's glittering filmography extends through more than 70 award-winning films, including all of Leone's films, all of Giuseppe Tornatore's films from the much-loved "Cinema Paradiso" onwards, "The Battle Of Algiers," Dario Argento's "Animal Trilogy," "Days Of Heaven," "The Thing," "The Mission," "The Untouchables," "Bugsy," and "Ripley's Game."
In 2016, he won the Oscar for his score for Quentin Tarantino's film "The Hateful Eight," making him, at the time, the oldest person ever to win a competitive Oscar. He has been nominated for a further six Academy Awards.
Born in 1928, Morricone was, early in life, an enthusiastic soccer player and passionate AS Roma fan. But he quickly turned to music, playing trumpet in jazz bands in the 1940s. Then he became a studio arranger and started ghost writing for film and theater.
Andreas Wiseman writes in the "Deadline":
"From 1966 to 1980, he was a main member of Il Gruppo, one of the first experimental composers collectives and from the 1970s his career took off in Hollywood, composing for directors including Don Siegel, Mike Nichols, Brian De Palma, Barry Levinson, Oliver Stone, Warren Beatty, Quentin Tarantino and John Carpenter.
"His European collaborators also included Bernardo Bertolucci, Roland Joffé, Roman Polanski and Henry Veneuil. The cinema great would also compose music for singers such as Zucchero and Andrea Boccelli."
"By 2016, Morricone had sold more than 70 million records worldwide and a year later he received the Academy's Honorary Award 'for his magnificent and multifaceted contributions to the art of film music.'"
Over the span of his storied career, Ennio Morricone won three Grammys, three Golden Globes, six BAFTAs, ten David di Donatellows and two European Film Awards.
Even coming in the middle of the night, the news of his death began an avalanche of tributes online, including these:
Edgar Wright, English director, screenwriter and producer, said:
"Where to even begin with iconic composer Ennio Morricone? He could make an average movie into a must see, a good movie into art, and a great movie into legend. He hasn't been off my stereo my entire life. What a legacy of work he leaves behind. RIP."
C. Robert Cargill, American screenwriter, novelist, podcast host, and former film critic, wrote:
"Ennio Morricone. You always know when it's a Morricone score, even before you see his name. With just a few notes he evokes images of a whole genre. There aren't any others like him. One of the titans is gone."
Don Winslow, NYT bestselling author & Raymond Chandler Award recipient, said:
"Over the next few days, a lot of good people are going to tell you how great Ennio Morricone was and how much he meant to film music. But I would like to invite you to just listen to this for yourself."
~
he included a link to hear Ennio Morricone's theme song for Sergio Leone's film "Once Upon a Time in the west" (1968).
___
Listen to Morricone's iconic theme for

"The Good, The Bad And The Ugly":
https://m.youtube.com/watch?v=tWGEveSseDg
⊙ In
a fun version
with 18 1/2 million views, performed by
The Ukulele Orchestra of Great Britain.
Show biz lost a third giant Monday, this time to COVID-19...
RIP Broadway star Nick Cordero
Lisa Respers France writes: Amanda Kloots took us on a journey of hope for her husband, Nick Cordero, through her Instagram postings. His resilience -- and Kloots' seemingly endless reserve of positivity and faith -- were inspirational to many. Now Kloots and an online communit
y are mourning the death of the Broadway actor.
Nick Cordero before he spent 95 days in intensive care, fighting the Coronavirus that killed him. That's his wife,
Amanda Kloots, fitness trainer & former Broadway dancer, and their one-year-old, Elvis.



Good listens
Eliot Bronson

lets a lover go on "Good for You," a tender goodbye taken from

Empty Spaces (out July 24). Listen here
Los Coast

tap

Gary Clark Jr. for "A Change Is Gonna Come," a poignant rendition of the Sam Cooke classic. Listen here
Cinder Well

finds strength in isolation on "Fallen," a melancholy folk preview of

No Summer

(out July 24).

Listen here
___
Three assorted items from Brian Stelter...
SiriusXM is near a deal to buy Stitcher from E.W. Scripps "for around $300 million."
Anne Steele
has
the scoop,
citing "people familiar with the matter." She says Sirius is "working to expand into the rapidly growing podcasting industry," just like Spotify and iHeartMedia. No comment from the parties involved... (WSJ)
On July 27 the House Judiciary Committee will bring four leaders of FAANG together: Facebook's Mark Zuckerberg, Amazon's Jeff Bezos, Apple's Tim Cook, and Google's Sundar Pichai. The hearing, announced on Monday, will be titled "Online Platforms and Market Power, Part 6: Examining the
Dominance of Amazon, Facebook, Google, and Apple..."
Two more projects about the lives of veteran actors: "Olympia," an intimate portrait of
Olympia Dukakis
that lands later this week; and "
Kaye Ballard
– The Show Goes On!" next week, billed as being devoted to "the greatest star you never knew." For an industry that exalts youth and often dismisses age, that's
a pretty welcome hat trick...
___
🎶 Five "Hamilton" notes 🎶
-- Take these #'s with lots of grains of salt 🧂but two analytics firms say Disney+ enjoyed a big bump in downloads around the time "Hamilton" the musical debuted on the streaming service... (Yahoo)
-- Per Google Trends, search interest in Hamilton reached "an all-time high, both in the US and Worldwide..."
-- Michelle Obama sent congrats to the #Hamifilm team on Monday, and added, "We've seen recently that the young and diverse America that you all represent and bring to life on screen is still here, still hopeful, and still blowing us all away." (Twitter)
-- Brian Lowry writes: In case you were wondering, Marc Malkin points out that "Hamilton" won't be eligible for the Oscars, whenever those already-delayed awards actually wind up happening... (Variety)
-- On Sunday's "Reliable Sources," he (Stelter) showed how "Hamilton" on Disney+ intersects with the economic struggles caused by the pandemic... (CNN)
The Guide also heard from
Farrell Hirsch, CEO of the Muckenthaler Cultural Center
on the subject. He writes:
"Did you happen to watch Lin-Manuel Miranda's 'Hamilton' on Disney Plus this weekend? What had been a theatrical must-see for the past half decade, suddenly became a bonafide national phenomenon. Trending on Twitter, seen by millions, on the front page of every major newspaper and periodical. In fact, right here in Orange County it was viewed by more than 80,000 people.
"That's remarkable for a piece of art about a historical figure. Wouldn't you say?"
Plus, our thanks to
"Wired Women" Pasadena, CA for three items...
Daily online musicality...
Neil Sedaka
has written over 800 songs in his long career. Each day he performs a mini-concert of 3-4 songs as a gift to us all. Find them on
YouTube.
Keb' Mo' says...
Think this country (or the whole world) would be a better place with women in charge? Keb' Mo' thinks so. Listen up
here.
Timeless voice speaks to our tumultuous time...
If you missed hearing Frederick Douglass's famed 4th of July speech, read by his descendants, find it
here.
New watchable tuneage



The Allman Betts Band
"Magnolia Road"




The Avett Brothers
"We Americans"




Charley Crockett
"Run Horse Run"



Arlo McKinley
"Die Midwestern"




Bones Owens
"Lightning Strike"




Whiskey Myers
"Bury My Bones"
Will Geer's Theatricum Botanicum has delightful online learning experiences
T
he good folks at the Theatricum tell us, "
New Adult Classes Enrolling Now! Shakespeare, Music, Movement, and More!
They continue, "We have put together a BREATHTAKING menu of classes for all age groups. Below you'll find our adult classes, and you can see everything we have to offer at
www.theatricum.com
. We hope you will join us, online this time, for our Summer Academy of the Classics!"
Click any class title below for details and to enroll
Multiple
Enrollment Discount:
Enroll a student in multiple classes, and save $25 off your tuition in
every additional class!
Contact us for details.
COVID Relief:
If your family is facing economic challenges because of the COVID crisis, but your student is passionate about participating in Theatricum programs, contact your program manager, as the Geer has some COVID scholarships they are able to share.
Or call their office at (310) 455-2322
Late addition -- extra -- feature story
From Wildlife Refuge to Air Force Bombing Range?
Nearly ONE MILLION ACRES of the officially preserved "Desert National Wildlife Refuge" is about to be turned into an off-limits militarized zone to become an Air Force bombing range
by The Guide staff
T
his is unbelievable (like too damn much else of late), but it is literally a "save it or lose it forever" moment.
"In the mountains of Nevada, desert bighorn sheep are just beginning their breeding season. These stocky, powerful animals have adapted to their habitat, able to go weeks without water and use their unique hooves to climb steep and rocky terrain. But they can't outrun the U.S. Air Force — and now their desert refuge could turn into a bombing range," declares Kierán Suckling, Executive Director of the Center for Biological Diversity.
His Arizona-based Center is fighting to save them and protect these public lands in the safe status they have enjoyed. To do that, the Center has issued an urgent public appeal to support this particular part of their lifesaving work through the "Saving Life on Earth Fund."
Bighorn Sheep in the Desert National Wildlife Refuge, suddenly endangered by conversion to a bombing range. Photo, nevadawilderness.org
For years the Air Force has wanted to expand its Nevada Test and Training Range — and it just got its wish. How they did it will make you scream inside your mask.
The Senate Armed Services Committee voted last month NOT to allow this expansion. But then, public lands opponent Congressman Rob Bishop, a Utah Republican, sneaked-through an amendment to the Democratically-controlled House of Representatives version of the "National Defense Authorization Act." And that Act was approved last week on one of those devil-filled-details-be-damned voice votes -- by the Democratic-majority House Armed Services Committee.
We want to organize an expedition to DC to administer multiple ass kickings.
But what they've done requires us to focus of fixing the damage. Because, otherwise, as it is now, almost ONE MILLION ACRES of the Desert National Wildlife Refuge will be turned into a militarized zone. This must be stopped.
The Desert National Wildlife Refuge is the largest wildlife refuge in the lower 48 states. It's home not just to desert bighorn sheep but also to threatened Mojave desert tortoises.
"We're already mobilizing to overturn this decision. We're grateful for our supporters, who so far have submitted more than 20,000 comments since last Friday in defense of the Desert National Wildlife Refuge and the wildlife that call it home," says the Center for Biological Diversity, which is accustomed to acting very quickly.
This summer has seen a spate of ugly attacks on wildlife refuges. The Trump administration has finalized rules that allow cruel hunting methods in refuges in Alaska, and is proposing expanding those tactics into Kenai National Wildlife Refuge.
A separate Trump proposal aims to open to hunting -- for the first time ever -- federally-protected wildlife refuges from Arizona to Massachusetts.
"Refuges are supposed to be safe havens for wild creatures. We can't turn back the extinction crisis while refuges are turned into trophy-hunter amusement parks and military bombing ranges. When it comes to saving wildlife, we can't let our guard down at any moment. And we won't. Please support the 'Saving Life on Earth Fund' today," says the Center for Biological Diversity.
They do good work. Vital work. The Guide supports and endorses this critical cause and this initiative. You can help. Find out how, by clicking
here
.
(our thanks to A.Word.A.Day for the quote)
___
"As we all know, the world and the music industry are not the same as they were 3 months ago. Touring is on hold. Streaming is alive. Collaboration and creation are ramping back up and adjusting to new ways and operating online. You may find yourself excited by the changes, but I am guessing, it is putting a major damper in your plans," says Debra Russell, Certified Master Business Coach who works privately with arts and entertainment industry professionals, professional athletes and small business owners. She is a presenter at the summit.
The focus of the summit is on how musicians and artists can be more creative and productive in these times, and how they will make more money to replace lost or changed revenue streams.
Musicians, creatives and the industry at large need information, support and community to learn how to increase their business and how to increase their output, inspiration and creativity.
Especially in this moment of transition in the world and in our industry, we can all benefit from learning new ways of reaching more people, getting our message out, creating more outlets to be seen, heard and having an impact through music.
● Michael Elsner, Master Music Licensing
● Harriet Schock, Solo Artist, Songwriter, Songwriting teacher
● Judy Stakee, Artist Development Specialist, formerly with Warner Chappell
● Kris Bradley, Produce Like a Boss
● Ronan Chris Murphy, Record Producer and Engineer
● Michelle Lewis, Songwriter and co-founder of SONA
● Mike Warner, Author- "Work Hard, Playlist Hard" - Chartmetric
● Xavier Keyz, Artist & Creator of "W.I.R.E" Blueprint
● Bill O'Hanlon, Songwriter, Author and Publication Coach
● Durell Peart, Double N Management & Marketing Group, LLC
● Tiffany VanBoxtel, Vocal Coach
● Roxie & Lucas Francis, Artist Development Specialists - I Heart My Voice
● Rob Seals, The Songwriting School of Los Angeles
● Brad Schreiber, Literary Writer and Consultant
● David Browning, Crowd Music
● Elliot Tousley, De Novo Agency
● Debra Russell, Certified Business Coach and owner of Artist's EDGE®️
● Mike Meiers, Songwriter, Producer & Teacher
● Joe Wadsworth, The Online Recording Studio
It begins July 6th, and will be live for two weeks.

Monday-Friday, you will receive an email in your inbox with that day's offerings (2 great interviews per day). You will hear from 20 speakers who are music industry leaders with valuable insights to share. They will share their insider tips and will also be offering

a FREE gift from their business to you. You will want to sign up to claim yours.

Decide what you need in your music career right now, and show up to get it. Participate in the FaceBook group to put yourself out there, meet new collaborators and find the information you are looking for.




Together, participants and presenters will share perspectives and steps you can be taking to further your music career. They promise, "You won't want to miss this if you are feeling unsure of your next steps."
(Our thanks to A.Word.A.Day for the quote)
And,
___
In this one-hour live workshop, we'll get an in-depth look at how Perseverance will explore the science of Mars, building on the understanding of the Red Planet and preparing for future human missions.
Get an overview of the rover's science goals and the science instruments it will use to search for signs of habitability and ancient life, collect samples and prepare for future astronauts.
With a focus on the Next Generation Science Standards (NGSS) science practices, learn how lessons and activities from JPL's Education Office can get you -- and if you are a teacher, your students -- excited about Mars and Earth science, whether they are learning in a traditional classroom, summer camp or online.
07-07-2020 08:30 AM CEST
Featuring Texas Accelerator Artists & Friends
featuring Jaimee Harris & Cheryl Cawood
Join us for an entertaining and inspirational series of Zoom-cast concerts, professionally produced by
OneFoot Productions
and featuring Music to Life's Accelerator artists and friends. Each hour-long show is curated to include live music sets, engaging talk-backs and captivating videos.
Red Hen Press Poetry Hour
returns online
July 16
EPISODE 1: THU, JUL 16 at 6 PM PT
Finding Truths and Creating Art in Exile

Iranian-American poet/writer/playwright Sholeh Wolpé and Iranian playwright Nassim Soleimanpour are joined by other notable guests (t.b.a.) for readings and conversations on bridging the gap between perceptions and reality of cultural norms. The artists will dig deep into the lives they live and the lives that people in the West imagine for them.
Video Premiered on CMT.com and CMT Music Channel
NASHVILLE, Tenn. - Country music singer/songwriter
J.D. Shelburne
delivers every ounce of country sound needed to light up the airwaves with the release of his latest single "
Church Pew Bar Stool
." Coming in hot like a southern summer, Shelburne's single hits close to home while starring as a staple in every country playlist. The "Church Pew Bar Stool" music video exclusively premiered on
CMT Music and CMT.com
on
July 1st
to a worldwide audience. The single is now available on all streaming platforms for fans to enjoy.
"I am so thrilled and honored to get a World Premiere on CMT - the most well-recognized video platform in country music," says Shelburne. "I grew up watching CMT as a kid and all through college, dreaming of one day having my video featured. CMT was one of my top goals as an artist to reach when I moved to town back in 2008. Thank you to the staff at CMT for believing in my music. I am forever grateful for their support."
To watch the "Church Pew Bar Stool" music video on CMT click HERE.
The clever lyrics of "Church Pew Bar Stool" allow listeners to reminisce conversations with familiar faces on late nights in a whiskey soaked, southern bar lit by flickering beer signs. While drawing a line of symmetry between a church sermon and a honky tonk homily, Shelburne pulls fans into a timeless story-line just in time for careless summer nights where they may find themselves sitting on their own 'church pew bar stool.' In addition to this new release, Shelburne was named by
Texas Roadhouse
as May's 'Artist of the Month' nationwide. His latest single, "Straight From Kentucky" was featured in all locations seeing over 20,000 guests each month. With plans to release his next album, 'Straight From Kentucky' this fall, country music fans will not want to miss what this elite entertainer has in store for the coming months!
About J.D. Shelburne
Nashville-based country music artist J.D. Shelburne was raised on a tobacco farm in Taylorsville, Kentucky, just outside of Louisville. When J.D. was 19, he found a guitar after the death of his grandmother. He quickly learned how to play it, and began writing and singing songs on his own. By his sophomore year of college, he had found a few gigs at some local bars in Louisville & Lexington, Kentucky area venues, developing a large base of fans along the way. Fast forward to today, J.D.'s latest album
Two Lane Town
, is building upon his blossoming career as a modern country singer, songwriter and performer. His debut single and video for "One Less Girl" world premiered on CMT in 2018, and then went on to become a Top 30 Music Row charted song at country radio. CMT again world premiered his second song and video for "She Keeps Me Up Nights" in April of 2019, which peaked at #3 of their 12 Pack countdown series.
At the close of 2019, Shelburne joined international superstars
Lewis Capaldi
and
Billie Eilish
on BandsInTown's year-end fan favorites list — for playing more shows in 2019 than any other artist on their social networking platform. A global accomplishment for a country boy from rural Kentucky.

To keep up with new music and upcoming show announcements, follow J.D's socials linked at his website, www.jdshelburne.com.
For some, new skill sets have been developed during quasi-quarantine. Like learning to play a new instrument, or mastering new cyber skills that let you produce Brady box performances on Zoom -- or even just participate in such things. Some have mastered podcasts and built followings in a time when overall numbers of podland viewers has declined.
We thought you'd enjoy seeing what someone else is doing. Someone who is a public figure and performer of another kind.
It's simple:
(1) Go to your archive and get images from your reporting on Americans' reactions when the overseas SARS and EBOLA outbreaks were reported and quickly contained, all during the previous administration.
(2) Specifically, get images of all those panic-fomenting protesters holding signs reading "Obama will kill us all!"
(3) Use your biometric software on those images and on your current images of pro-Trump zealots loudly claiming that their constitutional rights are being violated by masks and social distancing in the middle of a pandemic. It'll be easy to do, since the latter are the only ones not wearing masks.
(4) Then prove our hypothesis is wrong, when we say those people are the same ones. The ones who were terrified of dying from a disease until a real one was called "A hoax" by their ochre ogre.
.