.

.

UPDATES: latest -- Tuesday, April 21st cyber concerts




Updates before that




• Monday, April 20th.


• SUNDAY AFTERNOON AMERICANA CYBER MUSIC FESTIVAL, and more added to Sunday's listings, AND some mark-your-calendar events!


• Sat, Apr 18, 10:15 am PDT, with MORE live shows from the Cyberian realm.

___

Late additions are in the day/date chronology.

___

W

e know. Most people can't tell the difference between one day and another of late. Of course, if you STILL SUBSCRIBED TO A NEWSPAPER, you could walk down the driveway, and you'd know.
So here's your Friday-Saturday-Sunday edition. Because it's like, uh, the weekend. ×+×+×+×+×+×+×+×+×+×+× THOUGHT FOR TODAY by one born on this date (April 17th)... "Everybody's talking about people breaking into houses but there are more people in the world who want to break out of houses."

~

Thornton Wilder

, writer (born April 17, 1897, died 1975)

×+×+×+×+×+×+×+×+×+×+×

Cyber performance schedules follow the news features.

×+×+×+×+×+×+×+×+×+×+×

Will more be added, as more notices arrive? Maybe. Check back from time to time. We'll tell you in a new first line if we do.

×+×+×+×+×+×+×+×+×+×+×

News Features for Friday and the weekend...

___

Hear a John Prine performance from last year

L

egendary singer-songwriter

JOHN PRINE

died of COVID-19 complications last week, as we reported at the time. The tributes keep coming, including some based on live performances by John, performance-interviews he did, and both narrative remembrances and performances of his songs by those fortunate enough to know him.

Our friends at the

Pasadena Folk Music Society

observe, "John certainly represents the kind of music the Folk Music Society believes in, and everybody has their favorite videos of this great songwriter, with plenty of great ones to chose from."

Fortunately, they continue, "We can recommend a live show he did a year and a half ago at the

'House of Strombo' in Canada

(with

Gordon Lightfoot

in the audience!). We just happened to hear singer-songwriter, Joe Henry, interviewed the day after John died, doing a 10-minute interview with A. Martinez on KPCC [a Los Angeles radio station], talking about John. Joe really nailed it in this interview when he described what was special about John. Catch the interview (audio only) here. You will find this segment at the 42:50 point of the show, and you can go directly to it."

There's more. The Folk Society also adds, "He did a very informative 90 minute interview with

John Dickerson of CBS

a year ago, well worth watching."

As their e-newsletter concludes, "John was a very special songwriter and performer, and his music will be around for a long time."

Wait a minute. "Around for a

long time"-? No.

Forever, baby. Forever.

___

"A Prairie Home Companion" meets the COVID age

G

arrison Keillor

, bestselling author of the "Lake Woebegone" books and chief representative for their perspective, is even better known among most Folk-Americana radio audiences for his long-running weekly show, "A Prairie Home Companion."

We frequently include quotes and tidbits from him these past few months, and note each time that he has been active of late. Whether you've seen or missed that content, we want to emphasize that Mr. Keillor is supplying people with fresh "sheltering in place" entertainment, including some

ALL NEW MATERIAL

that features just-produced skits with many of the old "Prairie Home Companion" radio cast. If you were a follower of the show, you'll really enjoy it, and if you weren't, you will surely like it, too.

You'll see (not just hear) the original cast folks performing from their homes, doing some very funny stuff. Our friends at the Pasadena Folk Music Society made certain we knew about all this, and they note of the talented original cast, "It is great to hear them again and to see them live."

Garrison Keillor also makes available recorded-live videos of "A Prairie Home Companion" shows, one each week, for a week. The current episode (until Tuesday) is from April 16, 2016, when the show featured

CHRIS THILE

, now host of the successor show,

"Live From Here."

(That show airs in Los Angeles and as far as the signal reaches on KPCC,

Saturdays at 7 pm, replayed Sunday nights at 10 pm

, and also archived for on-demand listening for a one-week interval at the station's site.)

If you want to receive bulletins and read Garrison Keillor's current writings on a regular basis -- "regular," with options ranging up to clicking one for "daily" -- you can get on his mailing list, here.

___

"FolkScene" is broadcasting best performance-interviews from 50 years on-air

K

PFK's "FolkScene" radio show

-- on both broadcast and web radio -- has been celebrating 50 years (!) of great live music these past four weeks, and on those four shows, they have culled the best 40 (or so) of the hundreds of great performers they have had over the years. Each gets a 10-15 minute segment.

You can hear two songs from each, plus just a bit of dialog from the original interview, to give you a bit of the personality of each artist. Working within the format of only four of the series' 2-hour shows, they had to leave some very fine shows out. But they're letting us hear EIGHT straight hours of outstanding live music.

You can access these shows most easily at their Folkscene Apple Podcast site or at the FolkScene Soundcloud site. You can also fish-out the two most recent shows for a limited time (for 2 weeks after the broadcast) from the KPFK "Audio Archives" site. (All three of these links are repeated at the bottom.)

These shows are hosted by current co-host Allen Larman and longtime sound engineer Peter Cutler. The series is dedicated to the late and legendary duo, Howard and Roz Larman, founders and longtime hosts of what was always a groundbreaking show.
The Larmans -- Howard & Roz -- the late founders, with Peter Cutler at right.
The "50 years of FolkScene" performances are quite memorable, together with brief anecdotal comments from Allen and Peter about their memories of these shows when they were first recorded. Music history, culture, the context of their times, and stunning live performances. Very highly recommended! There's a list of the performers at the bottom.
Current "FolkScene" shows can be heard on KPFK, 90.7 FM simulcast online from 6 pm to 8 pm Pacific every Sunday. Allen and Kat Larman host the show and feature newly recorded performance-interviews as well as guest segments from the past, along with some recent recordings. Tune-in when you can.
Also on KPFK: it is worth getting-up early on Saturday mornings just to hear "Roots Music and Beyond," 6-8 am every week. Featuring a revolving set of hosts, each with a different slant on folk music, you can hear some great music and for many, songs and tunes they've never heard before. These shows are also available at KPFK's "Audio Archives" for 2 weeks.
Performers on "50 years of FolkScene" specials:
Part 1
1. Don McLean (5-31-70)
2. Steeleye Span (11-12-72)
3. Maria Muldaur (1972)
4. Dion DiMucci (9-16-73) John Hartford (1- 28-73)
5. Merle Travis
6. Utah Phillips (4-74)
7. Steve Goodman (7-25-76)
8. Leon Redbone (11-16-75)
9. Chieftains (11-23-75)
Part 2
1. SonnyTerry & Brownie McGhee (7-30-72)
2. Mance Lipscomb (10-22-72)
3. Jimmy Buffet (8-26-73)
4. Janis Ian (1974)
5. Tom Waits (1-12-75)
6. Randy Newman (4-27-75)
7. Rosalie Sorrels (1-15-78)
8. Tom Paxton (5-27-79)
9. Rodney Crowell, accompanied by Roseanne Cash and Ricky Skaggs (2-11-79)
10. Stan Rogers (11-18-81)
Part 3
1. Kate Wolf (2-10-85)
2. Phil Alvin (12-14-86)
3. John Gorka (5-1-88)
4. Townes Van Zandt & Guy Clark (11-13-88)
5. Butch Hancock & Jimmy Dale Gilmore (5-22-88)
6. Lucinda Williams (2-26-89)
7. Altan (3-12-89)
8. Richard Thompson (4-16-89)
9. Shawn Colvin (12-3-89)
10. Bryndle (10-16-94)
Part 4
1. Dave Alvin (8-28-94)
2. Lowen & Navarro (8-10-94)
3. Kate and Anna McGarrigle (2-26-97)
4. Jackson Browne (8-15-99)
5. Tom Rush (11-21-99)
6. Nickel Creek (5-21-2000)
7. Loudon Wainwright (1-15-02)
8. Eric Andersen (5-18-88)
9. John McEuen (2-12-99)
10. Dom Flemons (4-15-19)
Links...
● Listen live to whatever is on-air at KPFK.
● "Folkscene" Apple Podcast site.
● "FolkScene" Soundcloud site.
● KPFK "Audio Archives" site has only the two most recent shows (for 2 weeks after the broadcast) both "FolkScene" and "Roots Music and Beyond."
● Broadcast in Southern California at 90.7 FM KPFK, and on several regional repeaters at other frequencies (check for where-on-the-dial at www.kpfk.com).
(Our thanks to our friends at Pasadena Folk Music Society for most of whst was used in this feature.)
___
The Reverend Shawn Amos releases debut album
"Blue Sky," recorded with The Brotherhood, is acclaimed by Billboard, No Depression, American Songwriter, Elmore, and More
O
ut today, April 17, 2020,
American roots artist The Reverend Shawn Amos
has released his new album "Blue Sky," his debut with the newly formed Brotherhood band. The new album is a full-circle moment for the Rev, featuring a group of masterful musicians that includes drummer Brady Blade (Dave Matthews, Indigo Girls), bassist Christopher Thomas (Norah Jones, Carly Simon, Macy Gray) and longtime Rev guitarist Chris "Doctor" Roberts.
Shawn Amos has been featured on
NPR Weekend Edition
and
ABC News
, with accolades from
Relix
,
Purevolume
,
Elmore,
and more. Prior to emerging as "the Reverend" in 2013, he made a name for himself as a producer (Solomon Burke's
Live in Nashville
, and Shout! Factory box set
Q: The Musical Biography of Quincy Jones
), and as an Americana singer-songwriter who'd grown up in a dramatically dysfunctional L.A. home, a story the Rev details in his serialized "
Cookies & Milk"
feature with
The Huffington Post
.
The album marks a major step forward for The Reverend Shawn Amos, both sonically and personally. With a recent move from his hometown of Los Angeles to Texas, he found himself immersed in a world wildly different from his own, yet still somehow familiar. Surrounded by a variety of new sounds and genres, the Rev injects his bluesy, gritty sound with a revitalized creative energy while embracing a newfound sense of home.
"On this one I really wanted to cede control to the guys," Amos recently told Billboard in a feature interview. "It's the first album I've made where I've shared so much space and shared songwriting. I wanted to be part of a band rather than a solo artist -- that was a big motivating factor for me."
While his previous release, 2018's politically-charged Breaks It Down, reckoned with the calamity of our current society, the new album looks inward as the Rev explores his own identity and embraces his singer-songwriter past.
"On this album, I wanted to connect the dots between my current love of blues and my singer-songwriter past," says The Rev. "When I first started recording blues material, I pulled up the bridge behind my Americana catalogue. Five years into this blues journey, I was ready to revisit that terrain, but in the end, I really believe that blues music is roots music. Making this album has allowed me to bring both sides of myself as a writer together."
The Rev is also embracing collaboration in a new way – unlike past Shawn Amos collaborations, the Brotherhood is in it for the long haul. More than a band, they have become a tight-knit group of brothers, who provide critical emotional and spiritual support as the Rev reckons with loss, dislocation, reinvention, and his own lifelong journey in understanding his blackness. "I sound free, because I'm as free as I've ever been as an artist," explains the Rev. "I'm around people who make me feel safe, people I can lean on emotionally. It's very much a collaborative experience...I couldn't imagine making this music with people who are not friends."
Facebook
-
Twitter
-
Instagram
-
Youtube
-
Official Website
___
Pasadena Folk Music Society persists -- fortunately -- with content for you
A
mong the longtime regular performers in their series on the Caltech campus are
STEVE
GILLETTE
and
CINDY MANGSEN
. The Missouri-based trad-folk duo has a mailing list, and if you get on it, they will occasionally let you know about
their online series, "About the Song."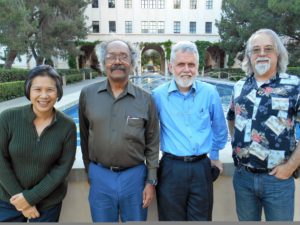 Stalwarts of the Pasadena Folk Music Society,
on the Caltech campus outside a frequent venue.
In it, Steve writes about the inspiration and life of one of his fine original songs -- and he's authored many made famous by other recording artists.
His newest exploration is of the song,
"Healing Hands,"
which might make you feel better in these troubling times.
He includes lyrics and links to video performances of his songs, including
"Back
on the Street Again," "Darcy Farrow,"
and more. You can get on their mailing list, here.
___
Bob Dylan's 17-minute surprise song
Bob Dylan, accepting the Nobel Peace Prize.
I
t has now been almost 2 weeks since
Bob Dylan
surprised everybody by posting a never-before released 17 minute song,
"Murder Most Foul"
(this version is the same recording, but includes lyrics), with the following message that he later took down:
"Greetings to my fans and followers with gratitude for all your support and loyalty across the years. This is an unreleased song we recorded a while back that you might find interesting. Stay safe, stay observant and may God be with you."
As always, there are some detractors of the song. For many who hear it, it is a fascinating composition, predominately about
John F. Kennedy
's assassination --
but there has been much discussion opining what it is really about.
The song features lots of allusions and is very open to interpretation. Somehow it captures our uncertain times, as a haunting song by a great writer. See what you think, here.
___
Mystery video link
H
ere's a humorous video made by a creative couple during their quarantine. Sent to us by the Pasadena Folk Music Society, who notes, "Its pretty funny, and short."
It's also spawned hundreds of imitators, worldwide. And, no, the photo ain't it. Or an imitators. But it does point you in the correct direction.
It's right here.
https://www.instagram.com/p/B-C2RLBhZec/?utm_source=ig_embed&utm_campaign=embed_video_watch_again
___
Winning "StudentCam 2020" documentaries
T
une in Saturday for another winning "StudentCam 2020" documentary. Watch (or use your recording device) at 3:50
am
Pacific, and continuing throughout the day on C-SPAN.
They'll air the top documentaries from the competition
EVERY DAY THROUGH APRIL 21st
.
Get the full "StudentCam 2020" schedule by clicking each day's pages at:
https://www.c-span.org/search/basic/?query=StudentCam+2020+schedule
___
C-SPANnery...
S
unday is the 25th anniversary of the murderous
Oklahoma City bombing
, an atrocity committed by right-wing domestic American terrorists.
On Sunday
, C-SPAN offers several programs that enlighten what brought that darkness to the heartland.
___
6 am Pacific: LIVE - Oklahoma City Bombing 25th Anniversary
On April 19, 1995, a truck bomb exploded outside the Murrah Federal Building in Oklahoma City, killing 168 people. Washington Journal and American History TV look back at the events of that morning, the investigation and arrest of the perpetrators, and how the attack has been remembered, C-SPAN, C-SPAN3 & C-SPAN.org
Included is:
Oklahoma City National Memorial & Museum Executive Director Kari Watkins
discusses the 25th anniversary of the Oklahoma City bombing.
___
7 am Pacific: Oklahoma City Bombing 25th Anniversary Commemoration
The Oklahoma City National Memorial & Museum created this video to commemorate the 25th anniversary of the April 19, 1995 bombing of the Alfred P. Murrah Federal Building in Oklahoma City which killed 168 people, C-SPAN3 & C-SPAN.org
___
1 pm Pacific: Reel America "Managing Terrorism Events - the Oklahoma Experience" - 1996
This 1996 Emergency Education Network (EENET) broadcast details the aftermath of the April 19, 1995 Oklahoma City bombing with five leading first responders, C-SPAN3 & C-SPAN.org
___
6:30 pm Pacific: Oral Histories - Oklahoma City Bombing FBI Interviews
This is a compilation of seven oral history interviews conducted and edited by the FBI in 2015, 20 years after the Oklahoma City bombing killed 168 people, C-SPAN3 & C-SPAN.org
___
No cable? You can download C-SPAN's free app to listen to C-SPAN Radio and the many C-SPAN podcasts
anywhere, anytime.
___
×+×+×+×+×+×+×+×+×+×+×
_________________________________
Friday
, April 17
___
______________________________
"UnCancelled Music Festival" ensues...
T

his is frustrating to track-down. There does not seem (at press time, anyway) to be a site with a master list of everyone who is performing across all the days, how many days it lasts, or even a complete lineup on any one of its days. Each artist is left to tell their own list about the date and time their set goes-out.
Try this source for more, in case they add more:
https://www.grammy.com/grammys/news/watch-list-livestreaming-concerts-coronavirus-quarantine
Here's the ONE show for which we received all the partic'lars... It's in the artists' words.
Fri, Apr 17:
4 pm Pacific --
Andy Hill & Renee Safier play the "UnCancelled Music Festival"
Get your tickets early at: https://www.stageit.com/…/uncancelled_music_festival_…/77225
We hope you will join us on the UCPAC Virtual Stage for the "UnCancelled Music Festival"
To participate, you need to create an account on StageIt and then purchase (using PayPal as a member or guest) $5 worth of StageIt Notes. 10 notes = $1.
You can then buy a ticket to any of our shows for 1 note, which is 10 cents. Yes, just 10 cents. Although you can choose to pay more and tip during the show, this event is using the "pay what you want" feature to maximize access to the shows in these difficult times.
Get your tickets NOW! https://www.stageit.com/…/uncancelled_music_festival_…/77225
During the show, you can chat with the other fans and with us, when we're not actively playing. The show will be 30-45 minutes long, and it starts on the hour.
For those with the means, "the pay what you want" feature is also designed to raise money for the musicians and venues who are participating and for the greater music community. A portion of the proceeds from each show goes to MusiCares, the Recording Academy's Foundation, which provides financial support and addiction help for struggling musicians all the time, but has a special relief program going on right now during this unprecedented pandemic to help all of the music professionals who have lost work.
Share, tell your friends, make the benefit for musicians HUGE! #livemusicisbetter
Union County Performing Arts Center, Hamilton Stage, @UnionCountyPAC
@uncancelledmusic
@uncancelled_
and Facebook UnCancelled
___
Jim Brickman
Releases 25th Anniversary Greatest Hits Album; Set To Perform Entire Album TONIGHT on Facebook LIVE
___
Fri,

Apr 17:
5:30 pm Pacific --
___
_________________________________
Saturday
, April 18
___
_________________________________
Sat, Apr 18:
10 am-noon Pacific --
MOIRA SMILEY's "VERMONT BIG SING ALONG" with SIX OTHER professional artists
You don't have to be in Vermont to join your voice
...
Poetry, Music, and a John Prine tribute...
The Vermont Big SingAlong Continues!
I want to send a giant THANK YOU to all who tuned in (& also generously donated) last week for the first-ever Vermont Big SingAlong.
With so many thanks to everyone who joined us, we raised almost $3,000 for the artists and Meals On Wheels! If you missed last week (where Béla Fleck made a surprise appearance!) or want to watch again, I've added the video on my private YouTube
here
.
The series continues TOMORROW 4/18 from 1-3pm EDT.
6 featured artists with close ties to Vermont will connect with me live on Instagram one-by-one to bring a song/chorus/text to teach you, and lead us together in moments of singing & listening from home.
Tomorrow, I'll be joined by:
If you live in a small neighborhood or cul de sac, might I suggest that you and your neighbors all watch together (separately & safely) from your porches/yards and join your voices from afar? Gather your fellow house-dwellers on the couch and connect for a couple hours! Share photos/videos of your SingAlong set up by tagging me (@moirasmiley) or use
#vtbigsingalong
for a little surprise :)

I am collecting donations
through PayPal
here
to support our featured artists, whose livelihoods (like mine) have been quelled by COVID-19 for the next few months. Please tune in, add your voices to ours, and contribute if you can!
All six featured artists have provided music for you to sing along with from home (in GennaRose's case, a poem to join your voice to). This week will feature original songs, poems, and a tribute to the forever fabulous John Prine.
Download/open your copy of the SingAlong Songbook for free and start singing! This will also be available on the SingAlong page on Saturday.
98 likes
4 comments
moirasmileyThe Vermont Big SingAlong series continues! This Saturday, 4/18, join me LIVE from 1-3pm EDT with: @indrariosmoore @musicforsprouts @maggiewheeler_official @lissafiddle @turtledovesings @_gennarose_ ! 💛 . Like last week, you'll be able to join the singalong on my Instagram, Facebook, or website LIVE! There will (very soon) be a free singalong songbook for you on moirasmiley.com. Forever thankful to @stayhomefestival for lending their beautiful broadcasting skills to this series! . If you live in a small neighborhood or cul de sac, might I suggest that you and your neighbors all watch together (separately & safely) from your porches/yards and join your voices from afar? Gather your fellow house-dwellers on the couch and connect for the afternoon! Tag me in photos/videos of your #vtbigsingalong set up for a sweet surprise coming soon. . I am collecting PayPal donations to support our featured artists, whose livelihoods (like mine) have been quelled by COVID-19 for the next few months. Please tune in, add your voices to ours, and contribute if you can! There's a link in my bio for more information ☝️ . . #vtbigsingalong #makemusic #sing #concert #livestream #choir #indrariosmoore #chrisdorman #musicforsprouts #maggiewheeler #lissaschneckenburger #brendantaaffe #gennarosenethercott #moirasmiley #stayathomefestival
___
Tough choice today at 1 pm...
Sat, Apr 18:
1 pm Pacific --
JESSE MALIN
plays "The Fine Art of Self-Distancing Livestream," at:
https://www.youtube.com/watch?v=fYKAY0Vgahg&feature=youtu.be
- & -
Sat, Apr 18:
1 pm Pacific --
MICHAEL McDERMOTT
performs with guest artist MATTHEW SZLACHETKA on the show, "House Arrest -- The Recidivist Show," at:
https://www.stageit.com/michael_mcdermott/house_arrest_the_recidivist_show/77486
___
Sat, Apr 18:
5 pm Pacific --
Watch the Grand Ole Opry -
Live
Watch the live stream on the Circle All Access

Facebook

or

YouTube Page.

Tune in early at 4:30 pm Pacific for a special pre-show featuring "Artists at Home."

Watch

on the Circle TV Network, Sling TV, or Dish Network. (Go to

CirclePlus.com

to check your local listings.)

Listen

on 650 AM or on web radio at

WSMonline.com

, or the

WSM app
___

Sat,

Apr 18:

5:30 pm Pacific --

Facebook

"Americana Highways"

___

Sat, Apr 18 -- on Tee-Vee Two times to watch: • LIVE 5 pm-7 pm Pacific on MSNBC • On EVERY network (CBS, NBC, ABC, KTLA) 8 pm-10 pm Pacific --

"ONE WORLD: TOGETHER AT HOME"

co-hosted by usual late night competitors STEPHEN COLBERT, JIMMY FALLON, & JIMMY KIMMEL, with 70+ music stars & recording artists, in a massive celebration of our medical heroes AND a benefit for W.H.O. -- the WORLD HEALTH ORGANIZATION that Trump just de-funded in the midst of a global pandemic.

* Most performances will be

ACOUSTIC

, since the musicians are all performing from HOME!

*

EXPECT MORE

than the initial lineup, below.

___

Sat, Apr 18:
7:30 pm Pacific --
"VINYL RECIPES"

show, featured in Ditty TV's 'Americana Connection'

Link.

* Watch it many places -- via Circle Network/ Ditty TV or on with these cable providers: WOW!, Comcast / Xfinity, Optimum by Altice, COX, Mediacom and Charter / Spectrum

___

___

______________________________

Sunday, April 19

___

______________________________

T

his morning, US deaths from COVID-19 went over 40,000. That is more than DOUBLE what it was one week ago. Remember that, so you can cite it, the next time some Trump Cult / Fox News Fool gets going with the mantra of how "This is overblown. It's more important to save the economy."


With distancing and mask protocols in place, the death toll STILL DOUBLED in just one week. Ask them what the number would be without protective measures -- or what it will be if protective measures are suddenly dropped. Of course you won't get a coherent answer, but ask them anyway. It's the kind of question that's good for civilization.

___

Oh, this is good. From Garrison Keillor:

In jail, West was forced to turn over her silk stockings, but allowed to keep her silk underwear. She got her own private cell, and she charmed the warden and his wife so much that they invited her to eat dinner with them in their home each night. She befriended the other inmates while she made beds and dusted. In her down time, she read business articles comparing various Hollywood studios. She was released two days early for good behavior.

Thanks, Garrison. (We told you it was good!)

___

THOUGHTS FOR TODAY from two born on April 19th...

■ From Dar Williams, American singer-songwriter and guitarist:

• "Sometimes life gives us lessons sent in ridiculous packaging."

• "In the laughing times we know that we are lucky, and in the quiet times we know that we are blessed. And we will not be alone."

• "And where does magic come from? I think that magic's in the learning."

• "Sometimes I see myself fine, sometimes I need a witness. And I like the whole truth, but there are nights I only need forgiveness."

• "How I long to fall just a little bit, to dance out of the lines and stray from the light."

• "Therapy was the biggest romance of my life."

■ From Ashley Judd, American actress, singer-songwriter, and activist:

▪ "I think what unites all my characters is that they are hurt; it's most accurate to say I play characters that are hurt but are responding to their environment."

▪ "I have a lot of love to give, and when I give that love and others are able to receive it and show me their vulnerability, I believe that God inhabits that space, which means I basically hang out with God a lot, and that's why I feel hopeful."

▪ "It's unconscionable to breed with the number of children who are starving to death in impoverished countries."

Regarding her "Me, too" revelations...

▪ "I think the courage comes from the little girl inside of me and my commitment to doing right by her."

▪ "We've just flung the barn doors wide open and the horses have run out. And the joy of the stampede has surprised me. I didn't know that it would be so joyous."

___

On this day, April 19th...

"Where once the embattled farmer stood, and fired the shot heard 'round the world"...

As the poet's line celebrates, the American Revolutionary War began today in 1775 in the colony of Massachusetts outside Boston. First, with a pile of American patriot volunteer corpses on Lexington green, then with a victory on the bridge at Concord that sent the mighty British army scurrying back to Boston while continually being picked-off from the woods. The battles of Lexington and Concord began the most improbable colonial rebellion to thst time.

A crowd of populist insurrectionists that would have brought-down the Nation's Capital...

The Baltimore riot of 1861 happened on this day, when a pro-Secession mob in Baltimore attacked US Army troops marching through the city en-route to join the Union Army massing to the South outside Washington, D.C. President Lincoln would prevent Maryland from joining the Confederacy by blocking the state's legislature from meeting for the entire duration of the American Civil War. Had Maryland left the Union, the US capital city woyld hsve been entirely behind enemy lines.

Spaciness...

Today in 1971, in the midst of America's six successful Apollo Moon landings, the Soviet Space program launched Salyut 1, humanity's first Earth-orbiting space station.

D'oh!...

Today in 1987, "The Simpsons" first appear as a series of shorts on "The Tracey Ullman Show," first starting with "Good Night."

Dark anniversary for local floating museum...

Today in 1989, a gun turret -- one of three rotating turrets that each contains three giant steel rifles that shoot sixteen-inch-diameter explosive shells -- explodes aboard the USS Iowa, killing 47 sailors. The Navy initially botched the investigation, maligning some of those sailors. The turret was never restored to operation and remains sealed to this day.

Wacko-nut-job intentionally-repeating mass-murder day...

First, today in 1985, two hundred ATF and FBI agents lay siege to the compound of the white supremacist survivalist group "The Covenant, The Sword, and the Arm of the Lord" in Arkansas; the militants, who possessed a huge illegal arsenal, surrendered two days later.

Today in 1993 -- may be by coincidence, maybe not -- the 51-day FBI siege of the Branch Davidian building in Waco, Texas, USA, ends when a fire breaks out inside the rambling fortress/residence during the culminating assault. 76 Davidians, including eighteen children under the age of ten, died in the fire.

Today in 1995, the infamous Oklahoma City bombing happened -- its perpetrators citing the other two anniversaries as their chosen date. The Alfred P. Murrah Federal Building in Oklahoma City, USA, was half blown into a collapsed pile of rubble, half violently gutted, by a massive improvised bomb inside a rental delivery truck parked at the curb out front. The blast killed 168 people, including 19 children under the age of six.

Cuba libre...

On this day in 2011, Fidel Castro resigns as First Secretary of the Communist Party of Cuba after holding the title since July 1961.

___

Sunday's cyber music

___

Sun, Apr 19:
Noon Pacific --
ALICE WALLACE

does a cyber concert she's calling "Alice Wallace LIVE - Covers Edition"

* She's a longtime Guide favorite. Tune-in and see/hear why.

* Watch at:

https://www.facebook.com/alicewallacemusicpage/

___

Tough choices today at 1 pm...

Sun, Apr 19:

1 pm-1:45 pm Pacific --

BUDDY MONDLOCK

, professional acoustic guitar-playing singer-songwriter, plays live from isolation somewhere, at:

https://www.facebook.com/BuddyMondlockMusic

* Buddy says, "I'm happy to have you just come listen for a bit, but if you want to buy a 'virtual ticket' to the show, that's wonderful too. What ever feels okay, it's all good. I know it's tight for everybody at the moment, not just me, so no pressure! Here's where you can throw a little in the hat if you want --"

https://www.paypal.me/BuddyMondlock

or @Robert-Mondlock on Venmo

- & -

Sun, Apr 19:
1 pm Pacific --
JENNY O and VETIVER

perform on the show, "Mama Bird Records Coop-to-Coop Livestream," at:

https://linktr.ee/mamabirdrc

- & -

Go hear their comedic hit song, and catch 'em live, online...

ON-DEMAND CONCERT

...

3,600 watched their

Shelter in Singing Series concert

live last Friday, too, and 4,400 more have watched it, since. You can still watch the concert on their

Facebook page

(no Facebook account needed) or on their

YouTube channel

.

* Re

the 1 pm workshop

... there's

room on Zoom for 500, plus unlimited capacity for the simultaneous livestream to their

Facebook page

. They'll also post the session video on their

YouTube channel

, afterwards.




Dial by your location

Note: this next one is dee-lightful IF YOU WATCH THE RECORDED PERFORMANCES, one or two acts behind the live feed.

Attempting to watch it live brings constant lock-ups and needs to close everything and restart cold. Word to the wise so you can ENJOY IT.


Sun, Apr 19:

3:25 pm-7 pm Pacific -- BENEFIT FESTIVAL

Guitar Girl Magazine Presents: "

Ladies of the Canyon - A SoCal Americana Special,"

a fundraiser for

Masks For Docs

, who get PPE into the hands of those who need it most.

* Singer-songwriter ANNETTE CONLON, who is performing a set, tells us, "Iam volunteering with this organization during this time of crisis and greatly appreciate the support of my friends organizing this event. Please join us!" Annette plays

at 6:15 pm PDT time.

* WATCH HERE: Livestream link: https://www.facebook.com/GuitarGirlMagazine

* All tips and donations benefit Masks For Docs * DONATE HERE: https://masksfordocs.com/donate Schedule / lineup:

3:25 pm PDT / 6:25pm EDT - Welcome by Nikki O'Neill - Music

3:30 pm PDT / 6:30pm EDT - Nikki O'Neill - Music

3:45 pm PDT / 6:45pm EDT - KP Hawthorn

4 pm PDT / 7:00pm EDT - Ann-Marita Garsed

4:15 pm PDT / 7:15pm EDT - Amilia K Spicer

4:30 pm PDT / 7:30pm EDT - Pi Jacobs

4:45 pm PDT / 7:45pm EDT - Molly Hanmer & The Midnight Tokers

5 pm PDT / 8:00pm EDT - Deb Morrison Morrison & Co. Band

5:15 pm PDT / 8:15pm EDT - Emily Zuzik

5:30 pm PDT / 8:30pm EDT - Francesca Brown

5:45 pm PDT / 8:45pm EDT - Tawny Ellis

6 pm PDT / 9:00pm EDT - Manda Mosher

6:15 pm PDT / 9:15pm EDT - Annette Conlon

6:30 pm PDT / 9:30pm EDT - Heather Lomax Music & Aubrey Richmond Music

___

Sun, Apr 19:
4 pm Pacific --
EILEN JEWELL

plays the show, "Solo & Acoustic," at:

https://www.facebook.com/events/987245045005814/?active_tab=about

___

Check previous editions for recurring Sunday and daily

cyber performances. We just can't re-list everything. It takes hours, as it is, to prepare FRESH content for you each time!

___

___

There's more...

TUNEALITY IN THE WEEK AHEAD

Add these worthy options to the listening list you've been building from our reports and all that you've compiled from everywhere else.

DAILY, WEEKDAYS...
8 am Pacific --
TOM CHAPIN and THE CHAPIN SISTERS

do their live cyber show, "Mornings with Papa Tom Chapin and the Chapin Sisters"

* It goes-out over both Facebook & Instagram, via their site link:

https://www.tomchapin.tv/

___

DAILY, WEEKDAYS...
9:30 pm Pacific --
SUGARCANE JANE

goes live to the Cyberian realm at:

https://www.facebook.com/sugarcanejanemusic/?eid=ARB2IW4ChLya16qhDirMrPJLi2Yd1DtHwCNsSvYU-vS75uzjggGGpvepgWmtWKUHTNYkXGYu-3oZO4nZ

___

Monday, April 20th

___

A THOUGHT FOR TODAY from one born on April 20th...

"Oh, the comfort -- the inexpressible comfort of feeling safe with a person -- having neither to weigh thoughts nor measure words, but pouring them all right out, just as they are, chaff and grain together, certain that a faithful hand will take and sift them, keep what is worth keeping, and with the breath of kindness blow the rest away."

~ Dinah Maria Mulock Craik

, poet and novelist (born April 20, 1826, died 1887)

(with thanks to A.Word.A.Day)

___

On this day, April 20th...

We bring you one from

Garrison Keillor

:

"It was on this day in 1939 that Billie Holiday recorded the song 'Strange Fruit,' which describes the lynching of a black man in the South. The song began as a poem written not by Holiday, but by a Jewish schoolteacher from the Bronx named Abel Meeropol (using the pseudonym Lewis Allan) who was deeply disturbed by a picture he saw of a lynching. Meeropol set the song to music with his wife, Laura, and performed it at venues in New York City. Holiday met Meeropol through a connection at a nightclub in Greenwich Village. She wanted to record the song, but her record label refused to produce something so graphic and she was forced to record it on an alternative jazz label.

"Holiday's recording of 'Strange Fruit' is unique in American music for its unflinching look at one of the darkest periods in national history.

"The lyrics begin:

Southern trees bear a strange fruit

Blood on the leaves and blood at the root

Black bodies swingin' in the Southern breeze

Strange fruit hangin' from the poplar trees"

___

See the "daily" cyber music listings for Monday's tuneality.

___

___

THOUGHT FOR TODAY from one born on April 21st...

"When we try to pick out anything by itself, we find it hitched to everything else in the universe."
~ John Muir

, naturalist, explorer, and writer (born April 21, 1838, died 1914)

___

Toosdee tunes...

___

Tue, Apr 21:

Noon Pacific --

TRACY GRAMMER & JIM HENRY

TRACY tells us, "Jim Henry has engineered pristine-sounding broadcast sound and the set list is largely by request. It's gonna be a fun one!"


As always, the show is free -- anyone can watch from anywhere, no ticket required -- but donations for the duo are welcome! There are two options:

paypal.me/tracygrammer

or via the Venmo app @tracygrammer.

___

EVERY TUESDAY & THURSDAY...
4:30 pm Pacific --
​RORY BLOCK

"Home Concert Series" at:

https://www.facebook.com/roryblockblues/

___

Tue, Apr 21:

Noon Pacific --

TRACY GRAMMER

does an online live show via YouTube.
She tells us, "The online show was so much fun last month that we've decided to do it again!

Broadcasting live from

Jim Henry'

s Rubytone Studio

— and keeping a safe distance apart at all times, of course — we will stream a full show via

YouTube at 3pm Eastern on Tuesday, April 21

. Jim Henry has the sound and video dialed in beautifully so that you can be assured of a concert-quality experience wherever you are. No cost to listen; donations for the duo are welcome via

paypal.me/tracygrammer

or by Venmo @tracygrammer."
___
Tue, Apr 21:
6 pm Pacific --
BETTMAN & HALPIN
play a fiddle-based acoustic concert from their Denver home.
* Stephanie Bettman tells us, "
As of Friday - in the normal world - we were scheduled to been on the East Coast playing shows in NY, PA, CT, and MD. On the one hand, it would've been so good to see you all in those areas and share music with you. On the other hand, I'm so grateful for the time at home. Time to reflect. Time to relax. Time to create and meditate. And I'm not sorry to miss the 6 long days in the car. I hope you are all healthy and staying well."
* TUNE-IN
Tuesday at
7 pm Mountain Time, 6 pm Pacific, 8 pm Central, and 9 pm Eastern. It's live
on Facebook.
Click here.
* Stephanie and Luke say, "Please make an event of it... Invite your friends and family in other parts of the US or world, and connect with them while you listen to us via a watch party!"
*
For those of you who do not participate in Facebook,they've got us covered, saying, "We will be posting the concert on our YouTube channel in the days following the concert. Our first two Facebook Live concerts are there now.
Click here for the first concert.
Click here for the second concert.
* They add, "
Thank you all for your continued good wishes and support. We are looking forward to cyber connecting with you Tuesday!"