.

.

Thursday CONCERT listings including A BIG CYBER SHOW TONIGHT (& more) added Thu, 11:34 am.

Before that, news & event updates added Wednesday,

Tuesday,

Monday, Sunday, and Saturday.

And before THAT, real-world, cyber, & teevee info were variously added on 5/17 & 5/16.

These editions are often "organic," growing frequently in the days after they're first published. Why do we do things like that? Because there are NEWS FEATURES and/or reviews, and links to click to hear music, and we want to give you a few days to find and enjoy them!

(Things kicked-off

with a trio of 11 am FRIDAY cyber concerts, including a CD release party, and we had all that news in here, in-time for you to partake.)

FRIDAY and the WEEKEND's live cyber performances are here,

following our short "Cyber online: daily live" and "almost daily live" performance listings.

We also have Friday's

MUSIC-ON-TV

listings for our Southern California readers -- and we note that some of that programming is available via network coverage (including PBS and RFD), or online globally, or at least in other cable / satellite or broadcast markets.

___

Summer in L.A. won't be the same...


THOUGHT FOR TODAY

from one born on this date

(May 15th)...




"A

s a leader, you have to have the ability to assimilate new information and understand that there might be a different view."



~ Madeleine Albright

, American diplomat, immigrant from Czechoslovakia (1948), became the first female Secretary of State in U.S. history (1997 to 2001), and author (born May 15, 1937).

(our thanks to A.Word.A.Day for the quote)

___

Re-run of yesterday's




THOUGHT FOR TODAY

from one born on this date (May

14th)...




Easily one of the best-of-the-year nominees:





"W

hen wealth is passed off as merit, bad luck is seen as bad character. This is how ideologues justify punishing the sick and the poor. But poverty is neither a crime nor a character flaw. Stigmatize those who let people die, not those who struggle to live."

~ Sarah Kendzior

, journalist and author (born May 14, 1978)

(with thanks to A.Word.A.Day)

___

Update / status report

O

bviously we're back after contemplating a very serious hiatus. Honestly, that may still happen. But it isn't happening today.

So, what can we tell you about what IS ahead?

We have a special edition in the works, with a look back at the final month of the music and arts scene before the world changed.

Much of what's in there will surprise you -- whether to know that it was happening, or to realize what we were taking for granted while endless statically kinetic variety operated all around us. It'll be here for you when it's ready.

That

wasn't

our way of dodging the question about going forward. Because we can tell you to look at this edition. There's good stuff and useful information in it, but it isn't as comprehensive as you're accustomed to finding here. We didn't bust our ass to bring you this one. And it's still good. Not "in the running for a Pulitzer" good (like some of our past editions should be) but still worthwhile good.

We'll try out new formulas for content. We'll make hard reckonings about whether we even want to try to report on upcoming online live shows, when the majority of them don't announce themselves until the "day-of." Despite our many thousands of readers in places like Turkmenistan and the United Arab Emirates -- all of whom we are grateful to welcome! -- we need to determine whether busting our ass to list same-day live performances even gets the word out in time to those who want to watch them. Frankly, our hour-by-hour page view counts tell us most people come here to read our

news features

,

not so much

our

events listings

, and they (you) do that when it's convenient in your own time zone -- from India to Ireland, New York to New Brunswick, the USA to the Union of South Africa, Los Angeles to Louisiana, Denmark to Delaware, France to Franconia, Virginia. And those hourly site visitor numbers don't correspond well to a whole lot of folks learning, in time, about online concerts listed the same day.

E

ven

trying

to stay on top of this new cyber concert scene is like chasing the white rabbit who keeps looking at his watch and announcing "I'm late!" as he scurries in and out of the portals to Wonderland. It takes mote time than any other aspect of bringing you The Guide, and It's mechanical and exhausting.

The editor wants his life back, and he's tired of being in that population of journalists who still hasn't had time to be bored, or clean out the closet, or go through all the DVDs on the shelf, or see what movies are on-demand in the cable box, or click those interesting links that artists keep sending for new songs or projects or assorted amusements. (Geez, music and the arts is only a little piece of what he covers, and it's supposed to be the fun part!) He's going to stop there because he doesn't want you to think he's on a rant. But he has vowed to go backpacking this summer and to climb some semi-serious High Sierra peaks. So some kind of hiatus (one or more of those blessed breaks) is inevitable.

Meantime there are still all those reviews and previews and all that new music that keeps arriving daily... heaps and mounds and cyber stacks of new music that still keeps pouring in, pandemic or not... and the need to make time to actually listen to it. And share word of what it is and who is doing it. We'll try, okay? We'll try.

As for today, we know about things happening that you'll enjoy knowing, if you find 'em in time.

___

MUSIC FEATURE STORIES / NEW RELEASES YOU CAN HEAR ONLINE / AND MORE / FOLLOWING THE DAILY EVENT LISTINGS

___

So... drum roll... here's the...

ALL-NEW GALLERY OF CLICKABLE, WATCHABLE, LISTENABLE DELIGHTS
organized by day, starting with everyday, then THIS WEEKEND, then the days beyond...

___

Cyber online: daily live performances Marc Bosserman

, pianist-singer-songwriter-composer, performs

live daily 5:30-7:30-ish Pacific, on four platforms:

https://www.twitch.tv/marcbosserman

;

https://www.facebook.com/marcbossermanmusic

;

YouTube (where you can subscribe)

; and something else he forgot to send us.

Live Nation Live From Home

For a comprehensive look at upcoming events by both California-based and national musicians, check out

Live From Home

, which provides a helpful updated performance schedule by date.

Melissa Etheridge

Pioneering rocker

Melissa Etheridge

is playing daily ConcertsFromHome at 3 p.m. on

Facebook Live

. The Grammy and Academy Award–winner (you can see the Oscar on a shelf behind her as she performs from her Los Angeles–area home) plays a selection of classic songs in sets that combine the intimacy and intensity for which Etheridge is famous.

Katharine McPhee Foster and David Foster

Live from Southern California, actress and singer

Katharine McPhee

and her producer husband

David Foster

perform from their house. Bantering and sometimes even appearing in their bathrobes, the couple plays an eclectic mix of songs that has included "Proud Mary," with McPhee channeling her inner Tina Turner. The shows are available around 5:30 p.m. on the couple's individual Instagram feeds:

Katharine Foster

or

David Foster

.

Jackie Greene

Onetime lead guitarist for The Black Crowes and a frequent performer with the Grateful Dead spinoff Phil Lesh & Friends, versatile musician

Jackie Greene

is playing occasional live sets, available on his

Facebook page

. The California native who grew up in the Sacramento area streams his shows from his

San Francisco

home, and a recent session included renditions of Grateful Dead and Bob Dylan songs.

Shelter-In-Place Sessions Moonalice

, a band of veteran Bay Area–based musicians, many with ties to the Grateful Dead, has been hosting livestreamed

Shelter-In-Place Sessions

along with multi-instrumentalist

Jason Crosby

, who also performs as part of the duo the

Doobie Decibel System

. The musicians stream their sets from San Francisco's Howling Moon Studios.

___

Almost daily

live performances

Tuesdays-Fridays
6 pm-7 pm Pacific --
"AT HOME WITH GUSTAVO" brings live Symphonic Sounds
TODAY ~ This Friday live online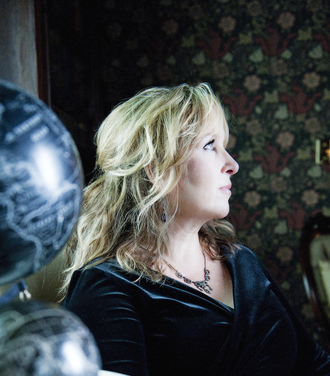 Gretchen Peters, in a Gina Binkley photo.
Fri, May 15:
11 am Pacific --
GRETCHEN PETERS
releases
"THE NIGHT YOU WROTE THAT SONG: THE SONGS OF MICKEY
NEWBURY"
in a Livestream Release Party today on the Americana Music Association's Facebook Page, via:
https://americanamusic.org/
(See our feature story in this edition)
Fri, May 15:
11 am Pacific --
https://www.facebook.com/theyoungwolfetones
Fri, May 15:
11 am Pacific --
"24 HOURS AND A DOG"
presented live by the
L.A. Music Center's "OFFSTAGE
series, as a "Digital Student Performance" by
MALPASO DANCE COMPANY
from The Music Center, 135 N Grand Av, Los Angeles, CA 90012
Fri, May 15:
3 pm-5:30 pm Pacific --
GAELIC STORM
performs "Songs, videos, banter, guests & drinking" on a Facebook live event at:
www.facebook.com/GaelicStorm/
Fri, May 15:
4 pm Pacific --
Fri, May 15:
6:30 pm Pacific --
___
Every Saturday at 5pm, Online "Dinner Party" concerts with Brad Colerick & Friends. Get your seat at the table now: http://deepmix.thundertix.com
This
Sunday
/ Sundays live online
___
The largest of the 82 pieces of the
Antikythera
Mechanism found so far, Fragment A has four spokes that would've rotated once per year, tracking the Sun relative to background stars. (Brett Seymour / Woods Hole Oceanographic Institution WHOI )
Sunday online
Sun, May 17, webinar:
Noon-1:30 pm Pacific --
___
Sundays, EVERY SUNDAY:
2 pm Pacific --
Spreckels Organ Society presents
San Diego
civic organist Raúl Prieto Ramírez. He plays
hour-long concerts
from the historic Spreckels Organ Pavilion in the city's
Balboa Park
. The eclectic concerts, which range from classical music to show tunes, have a little something for everyone's musical taste. A recent program included Queen's "Bohemian Rhapsody" and a piece by Claude Debussy.
___
Sun, May 17:
3 pm Pacific --
KEN O'MALLEY
, one of the great Irish Balladeers and acoustic multi-instrumentalists, does songs and stories and takes your requests in a live performance from his home
(6 pm EDT and 11 pm in Ireland and UK)
* explore ahead of time:
www.kenomalley.com
* contribute to the tip jar, either:
Venmo: @kenomalley (4 digit code 1062)
or PayPal: paypal.me/twlord
*
WATCH LIVE at:
www.facebook.com/kenomalleyirishmusic/live
* The show is free of charge.
___
Sun, May 17, EVERY SUNDAY:
3 pm Pacific --
THE CELTIC ARTS CENTER
of Southern California now does ONLINE "Sunday Sessions" on Zoom, but through Facebook; you need to have a Facebook account / your device must be infested with Facebook spyware, to take part.
* Times vary each week; "slow session" follows regular session.
* Details at (Facebook link):
https://bit.ly/2YogGXP
___
Sun, May 17:
4 pm Pacific --
LEE CAMP
, host of
"REDACTED TONIGHT,"
with
ELEANOR GOLDFIELD
, doing a livestream Q&A. These two are knowledgeable about 'purt near everything that's going on in this crazy world, and they can make you laugh instead of cry about it. Plus, you'll know more than you did when you got there. Lee says, "We'll be answering viewer questions and a lot more."
* Two places to watch / participate:
at
www.YouTube.com/RedactedTonight
or at
www.Facebook.com/LeeCampComedian
___
This Monday /
Mondays
live online
Happy Birthday today to singer-songwriter
KAREN NASH
, who doubles as a legal-eagle Public Defender and as the spouse of another musician,
Bob Malone
.
___
THOUGHTS FOR TODAY from two born on this date...
"It is an impressively arrogant move to conclude that because you don't like something, it is empirically not good. I don't like Chinese food, but I don't write articles trying to prove it doesn't exist."

~ Tina Fey
, American comedy writer and actress, creator of "30 Rock" and alum of "Saturday Night Live," where she famously portrayed dimwit Alaska Governor Sarah Palin.
And our second quote:
"I wanted to glorify the average man, not the guy at the top, not the politician, not the banker, just the ordinary guy whose strength I admire, whose survivability I admire."

~ Frank Capra
(1897-1991), three-time Academy Award-winning Italian-American filmmaker, director, and producer whose work included "It Happened One Night" (1934), "Mr. Deeds Goes to Town" (1936), "You Can't Take It with You" (1938), "Arsenic and Old Lace" (1944) and "It's a Wonderful Life" (1946). Born in Italy and raised in Los Angeles from the age of five, his rags-to-riches story and work that celebrated "everyman" heroes has led film historians, including Ian Freer, to consider him the "American Dream personified."
___
On this day...
Earth-Shaking Public Safety vs Nature Taking its Course
T
oday marks 40 years since
MT. ST. HELENS
exploded in southern Washington State, blowing a cubic mile of itself into the stratosphere, devastating 220 square miles, and killing 57 people. Some of those who died had screamed "The government wants to take away our freedom, and we're not doing what they tell us to do!" So they're still there. Somewhere.
Before and after what happened on May 18, 1980
Thar she blows, in a May 18 time-lapse over a few seconds. The blast was
more powerful than any nuclear weapon in any nation's arsenal.
The mountain, once so beautiful it was called "America's Mt. Fuji," is now a crescent-shaped shell of what it was. Its sad summit is a bump on the crater rim 1,500 feet lower than its vanished central peak that once hosted multiple alpine glaciers. But as corpse-like as things seem, it threatens to erupt again. Seismologists working there with volcanologists have predicted an earthquake of 9-plus Richter magnitude that could happen any time.
Forests cooked and blown over, miles away
The crescent-shaped shell of the once conical mountain. The beds of ash have been
dissected by rain, snowmelt, and runoff. Huge mudslides and flood-driven walls of
rock and ash -- exacerbated by earthquakes -- are still deadly threats in area river valleys.
Despite the very objective threats and many warnings? Once again, there will be those who defy public safety instructions when things are deadly, and some will insist on staying. Of course, there is a critical difference: if you choose to die in an exploding volcano, you aren't killing unknown numbers of innocent others by infecting them with something invisible.
___
Monday
online
Mon, May 18:
Noon Pacific --
"Demanding Women: Quarantine Conversations About Gun Violence,"

the 4th event in "Everytown for Gun Safety" and "Moms Demand Action" virtual series.
* RSVP for the online conversation happening today at Noon Pacific
, with Moms Demand Action Founder
Shannon Watts
and former Presidential Candidate
Senator Kamala Harris
.
Over the course of this new series, Shannon Watts will be speaking with leading women in American politics on how to demand a better, safer world for every person in the United States. This fourth discussion will focus on fighting community gun violence in the age of the COVID-19 pandemic.
___
Mon, May 18, EVERY MONDAY:
7 pm-7:30ish Pacific --
"Live From Home"
San Jose Jazz
presents livestreamed concerts on Mondays and Thursdays as part of its
Live From Home
series on Facebook Live. Shows typically last 30–40 minutes and have included performances by the likes of
Bennett Roth-Newell
, an acclaimed Bay Area pianist and keyboardist.
___
This Tuesday live online & on tv
THOUGHT FOR TODAY from one born on this date...
"The thing that makes you exceptional, if you are at all, is inevitably that which must also make you lonely."
~ Lorraine Hansberry
, American playwright and painter, and the first African-American female author to have a play performed on Broadway (born May 19, 1930, died 1965).
(our thanks to A.Word.A.Day)
___
Listen or read items from NPR
Are there zombie viruses — like the 1918 flu — thawing in the permafrost?
As if the pandemic isn't enough, people are wondering if climate change will cause pathogens buried in frozen ground to come back to life as the Arctic warms. How worried should we be? (
Listen here
or
read the story
)
Not many people can say they have lived through the Spanish Flu pandemic and the coronavirus crisis.
But 102-year-old Sophie Avouris is a survivor of both. She was a newborn in Greece when the 1918 influenza pandemic spread through Europe. Avouris' doctor and daughter attribute her recovery from COVID-19 to her strong constitution and also maybe her lifelong Mediterranean diet — but the true reasons still remain a mystery. (
Listen here
or
read the story
)
Plus an NPR video...
COVID-19 is not the first coronavirus outbreak we've experienced this century.
There was SARS in 2003, and MERS in 2012. If coronaviruses have been around for years, why don't we have a vaccine already? This
Planet Money
video looks at
what it takes to produce a national vaccine supply
.
___
You can lead a fool to Atwater, but you can't make him think
This morning's New York Times "California Edition" reports:
___
Online & tv Tuesday
Tue, May 19:
Noon Pacific --
TRACY GRAMMER & JIM HENRY
ONLINE SHOW TODAY (Tues 5/19)
Hello friends!

I hope this finds you well and happy, wherever in the world you are! This little note is to remind you that Jim Henry and I have yet another great live show planned for you today, Tuesday, May 19 via YouTube. If you've attended in the past, you know that thanks to Jim Henry's attention to our video and audio setup, we are producing one of the finest live streams you'll find, with concert-quality sound and smooth visuals. And each show is a bit better than the last!
As always, the show is free -- anyone can watch from anywhere, no ticket required -- but donations for the duo are welcome. As you likely know by now, our in-person shows, workshops, and festivals have been canceled and *this* monthly show is our main source of income. If you can chip in, fantastic! There are two options:
paypal.me/tracygrammer
or fee-free via Venmo @tracygrammer.
Hope to "see" you in just a few hours for our third "Six Feet Apart" show.
___
Tue, May 19; DAILY, weekdays:
1:30 pm Pacific --
Josh Fox

, the director of

"GASLAND,"

says, "As the ruling class and 1 Percent prepare to open the economy in spite of a continually rising Covid death toll it's important to remember the systemic causes of our government's failure to protect WE THE PEOPLE. Over and over again political cronyism and corporate greed have led to truckloads of subsidies and relief money (our tax dollars) being directed to the largest corporations and their million dollar executives. And over and over we find Big Oil in the shadows taking it's unfair share while willfully moving the planet closer to the brink of climate destruction."
* Catch the show at: www.TYT.com/live
Tue, May 19:
3 pm Pacific --
___
Camp-out tonight on PBS. Here's why...
___
Tue, May 19, on tv:
7:30 pm Pacific -- (L.A. only)
"BOOTLEGGER TUNNELS: A JOURNEY THROUGH L.A.'s PROHIBITION LORE"
(2019) is a fun exploration, especially if you ever ever performed or caught a show at Cole's downtown, where the music was in the old speakeasy. On KOCE, aka PBS SoCal.
___
Tue, May 19, on tv:
8 pm Pacific --
"NOVA: DEADLIEST TORNADOES"
(2012) is a special encore to accompany the new show at 9 pm.
On KOCE, aka PBS SoCal.
___
Tue, May 19, on tv:
9 pm Pacific --
"AMERICAN EXPERIENCE: MISTER TORNADO"
(2020) is the premiere of a new show profiling pioneer meteorologist
TED FUJITA
who transformed peoples understanding of the deadly storms in the age of Climate Change. Catch a
n
extended preview here.
On KOCE, aka PBS SoCal.
___
Tue, May 19, on tv:
10 pm Pacific --
"FRONTLINE: INSIDE ITALY'S COVID WAR"
(2020) is the premiere of an investigative profile of one of the nations hardest-hit by the pandemic, and how they responded.
On KOCE, aka PBS SoCal.
___
This Wednesday / Wednesdays online or on tv
THOUGHT FOR TODAY from one born on this date...
"Kindness is not without its rocks ahead. People are apt to put it down to an easy temper and seldom recognize it as the secret striving of a generous nature; whilst, on the other hand, the ill-natured get credit for all the evil they refrain from."
~ Honore De Balzac
, novelist (born May 20, 1799, died 1850)
(our thanks to A.Word.A.Day)
___
Wednesday news...
Failure of two dams is another result of Climate Change
T
wo Michigan dams failed Tuesday night amidst unprecedented torrential rainfall, and the downtown area of the city of Midland, Michigan is expected to be beneath nine feet of floodwater today. Midland is the home of a chemical plant, so what gets into that floodwater is of concern both locally and to all those downriver.
Evacuation of 10,000 residents from Midland County communities became an immediate need, negating the previous concern about social distancing due to Coronavirus. More widespread loss of utilities, including a clean water supply, will expand the impacts to the larger region.
Thus the theme of Michigan and poison water -- in the wake of the ongoing health impacts from Flint's poisoned domestic water -- will play out with renewed visibility on a broader geographic and hydrologic scale.
Local officials already have cited the long neglect of infrastructure and critical urgency for public-sector investment to handle present and future human needs -- including exacerbated impacts from climate change-driven weather events that continue to break records throughout the Midwest, nationwide, and globally.
Meanwhile, a devastating cyclone made landfall Tuesday on the border of India and Bangladesh, and the death toll, scale of destruction, and need for humanitarian and financial relief will not be known for days. Like hurricanes in the Americas, megastorms striking land from warming oceans are a fact of the new normal of chaos in planetary systems undergoing human-driven climate change. And still, Fox News feeds a certain element of science denial that claims it isn't happening.
___
The age of Covidiocy
"W
ith the coronavirus death toll in this country well over 91,000 with well over 1.5 million cases, the President, as he always seems to do, lashes out with distractions and disinformation. His haphazard and reckless approach to this crisis shows that he is not taking it seriously. Even after more than 91,000 Americans have died, he is making it about himself..." -- Don Lemon's show intro.
Latest #s per Johns Hopkins University: There are at least 1,527,723 cases of coronavirus in the United States; at least 91,872 people have died...
This morning's New York Times and Washington Post's front-pages both focus on Steven Mnuchin and Jerome Powell's warnings about the economy.
___
Music online & on tv Wednesday
Wed, May 20, EVERY WEDNESDAY:
10 am Pacific --
Jason Mraz,
the Grammy Award–winning singer-songwriter and owner of
Mraz Family Farms
, an avocado and fruit farm in
San Diego
County, performs Wednesdays at 10 am during his
La La La Livestream
sessions on YouTube. Mraz also fields questions and even offers a brief primer on how to choose an avocado.
___
Wed, May 20, on tv:
12:30 pm-1:30 pm Pacific --
"WOODSONGS OLD TIME RADIO HOUR"
brings last Friday's (5/15/20) edition (taped before the shutdown) brings the 1930s string sounds of
BILL & THE BELLES
from Johnson City, TN, plus Bluegrassers
VALERIE SMITH & LIBERTY PIKE
. With performing host
MICHAEL JONATHAN
. On RFD TV.
*
NOTE 1: NEW EDITIONS PREMIERE every Friday, 3 pm-4 pm
Pacific time on RFD TV, and repeat the next Wednesday.
*
NOTE 2:
this is no longer currently airing on KLCS in Los Angeles, so you need to watch on RFD or hunt for it online.
___
Wed, May 20:
3 pm Pacific --
ROCK 'N' ROLL FANTASY CAMP
goes LIVE to announce a new program that allows you "to interact with today's top touring Rock Stars from home."
* Join Rudy Sarzo (Quiet Riot/Whitesnake), Britt Lightning (Vixen) and Miles Shulman (iHeart Radio) as they unveil the latest RRFC program.
* David Fishof of RRFC adds, "...all of us at RFFC and in the live music business have lots of empathy towards the artists and musicians who for years have given so much of their talents to mentor and entertain us all."
* Questions for them at: 888-762-2263
* Tune-in at:
www.Facebook.com/RockFantasyCamp
___
Wed, May 20:
4 pm Pacific --
Times shown in the graphic are EASTERN time. PACIFIC time is three hours earlier.
___
Wed, May 20:
5 pm Pacific --
Final episode of

"Whiskey Sour Happy Hour"

coming your way tonight
*

Thanks to listeners, they raised over $50,000 for COVID-19 relief.
* They want us to to thank you, and tell you, "We can't say goodbye without one more jam session. Tonight at 7 pm CT / 5 pm Pacific, tune in to a BONUS episode of Whiskey Sour Happy Hour, our online variety show presented with our friends at The Bluegrass Situation. Hosted by Ed Helms, you'll catch performances by

Rodney Crowell, Madison Cunningham,

Davíd Garza

, Ben Harper,

Valerie June

,

Matt The Electrician,

Buffy Sainte-Marie,

Billy Strings and

Watkins Family Hour

.
* They continue, "Thanks to you, we've been able to raise over $50,000 to benefit MusiCares' COVID-19 Relief Fund and provide medical supplies to those on the frontline via Direct Relief. We appreciate your support."
* As they sign-off, they add, "

If you know of someone who can also help this cause, there's still time left to contribute."

Donate here
___
Wed, May 20, on tv:
5 pm-6 pm Pacific -- & 9 pm-10 pm Pacific --
DON McLEAN
, singer-songwriter of "American Pie" and "Vincent" guests on a new edition of
"THE BIG INTERVIEW with DAN RATHER"
on AXS tv.
* How did Don McLean write a song that became an iconic rock anthem? Find out tonight on AXS TV.
___

Wed, May 20; & EVERY DAY (first listed today):

5:30-7:30-ish Pacific --

___

This

Thursday /

Thursdays live online

THOUGHT FOR TODAY from one born on this date...

(Quite appropriate for this age of constant parsing, equivocating, risking instataneous judgement, and after-the-fact-qualification of what was said.)

"Be thou the first true merit to befriend, his praise is lost who stays till all commend."

~ Alexander Pope

(born May 21, 1688, died 1744), English poet and satirist of the Augustan period, best known for his poems "An Essay on Criticism" (1711), "The Rape of the Lock" (1712-14), "The Dunciad" (1728), and "An Essay on Man" (1733-34). He is one of the most epigrammatic of all English authors.

(our thanks for the quote goes to A.Word.A.Day)

___

On this day...

T

oday's passage comes from

Garrison Keillor

. He writes:

On this day in 1881,

Clara Barton

founded the

American Red Cross

.

As a girl, Clara was shy and had a stutter. Barton began teaching in 1839 at the age of 18. She overcame her shyness, became a sought-after teacher, and believed in the value of her work. She once said, "I may sometimes be willing to teach for nothing, but if paid at all, I shall never do a man's work for less than a man's pay."

In 1854, she gave up teaching and took a job in the United States Patent Office in Washington, D.C. She worked hard, got promoted, and within a year was making a salary equal to the men in the office (which angered the men). By 1861, war was breaking out, and when supporters of the Confederacy attacked Union soldiers in Washington, D.C., Clara helped nurse wounded soldiers in the same way she had nursed her brother when they were young.

During one of the first major engagements of the war, the Battle of Bull Run, the Union suffered a staggering defeat and as Clara read reports of the battle she realized that the Union Army had not seriously considered or provided for wounded soldiers. She began to ride along in ambulances, providing supplies and comfort to wounded soldiers on the frontlines.

After the war, she traveled to Geneva, Switzerland, where she learned about the International Red Cross and its mission to be a neutral organization that helped wounded soldiers. When Barton returned to the United States, she pressed for the creation of a national branch of the Red Cross. But many people thought there would never again be a war as monumental and devastating as the Civil War and didn't see the need for the Red Cross. Barton finally convinced the Arthur administration that the Red Cross could be used in other crises.

The American Red Cross was officially incorporated on this day, with Barton as its president.

Clara Barton said, "I may be compelled to face danger, but never fear it, and while our soldiers can stand and fight, I can stand and feed and nurse them."

And she said, "The door that nobody else will go in at, seems always to swing open widely for me."

She also said, "Everybody's business is nobody's business, and nobody's business is my business."

___

New tunality today...

(Paste magazine)

Watch Wilco Perform New Single on The Late Show With Stephen Colbert

-- By Jack Meyer | May 21, 2020 |

JUST RE-OPENED FOR CURBSIDE BIZ

World-famous

McCABE'S GUITAR SHOP

in Santa Monica.

Call 'em at

at (310) 828-4497 to place an order for instruments, strings, books, or whatever it is you need to fill the musical void in your life.


They add, "Got time on your hands? Interested in learning to play? Many of our teachers are teaching remotely." Contact their music teachers here for details

.

___

Thursday's

Cyberian Stage

live performances...

Thu, May 21:

3 pm Pacific --

"MARTIN GUITARS JAM IN PLACE"

series today features

SETH AVETT of THE AVETT BROTHERS

* Times vary with this series.

* Watch on Facebook Live, at:

https://www.facebook.com/martinguitar/

___

Thu, May 21:

5:30 pm Pacific --

PETER HIMMELMAN

live from New York

The latest installment of

"Songs & Stories From West 89th"

is on FB LIVE.

* Peter says, "Feel free to ask questions about cooking, songwriting, and raising Leopard tortoises during the scintillating Q&A section!"

* Tune in at:

___

Thu, May 21, EVERY THURSDAY:

7 pm-7:30ish Pacific --

"Live From Home"

San Jose Jazz

presents livestreamed concerts on Mondays and Thursdays as part of its

Live From Home

series on Facebook Live. Shows typically last 30–40 minutes and have included performances by the likes of

Bennett Roth-Newell

, an acclaimed Bay Area pianist and keyboardist.




___


☆ Tonight's big-deal Southern Cal Cyber music event...



Thu, May 21:




7 pm Pacific --




"LEAN ON ME: SONGS OF FRIENDS, FAMILY AND STAYING CONNECTED"

is a hefty and impressive live lineup tonight

for

"GRAND ANNEX SONG CIRCLE #2"

as a Zoom & Facebook Live event

* For the

charming San Pedro, California

venue's second livestream concert, they're bringing you a group of musicians from their stage roster, singing original songs based on the theme.

* LINEUP:
⊙ JANET KLEIN (of Janet Klein & her Parlor Boys) finds the best of "the obscure, naughty and lovely songs from the 1910s, '20s and '30s." Bringing back the ones you miss or missed...A smorgasbord of hot jazz, Yiddish novelty numbers, and other old-time tunes.
⊙ CHRIS STILLS is as comfortable playing singer-songwriter-style folk and as he is playing gritty rock and blues. His music and stellar vocals have been featured on many soundtracks including I, Tonya where he sings the Bee Gees classic, "How Can You Mend A Broken Heart."
⊙ PAUL GIVANT is frontman for the roots-rock band ROSE'S PAWN SHOP. As a solo artist, he's turned to a more lyric-driven style. L.A. Music Critic praised his album, "Fashion District Adjacent," saying: "The lyrical imagery is amazing, and his choices of instrumentation are out of this world."
⊙ CHRIS PIERCE, aka THE REVEREND TALL TREE, is a songwriter, blues singer and when the time is right, a bonafide Howlin' Wolf-style soulman. Chris recently returned to the Annex with his band to perform his original piece, "Reverend Tall Tree's Blues Opera."
⊙ CHRISTA BURCH is a regular favorite in the West Coast contradance scene. Whether she's playing with her own band, the SYNCOPATHS, or as a guest vocalist for countless Celtic groups, her warm expressive voice soars above the music and her bodhrán keeps the dancers on the floor.
* TUNE-IN EARLY to get your FREE TICKET (click "Buy"). They'll email you the Zoom link at 6 pm to watch the show:
https://grandvision.secure.force.com/ticket/


* If that fills-up, hunt 'em up on Facebook to watch it.

___




Thu, May 21:




7 pm-9 pm Pacific --




"HERMOSA ONE SPRING FEST's VIRTUAL BEER GARDEN"

presents LIVE music all week promoting local South Bay breweries and nonprofits, as the build-up to this Sunday's Main Event broadcast May 24 starting at noon.


* HermosaOne is an all volunteer, not-for-profit, and completely free resource for the people and businesses in Hermosa Beach.

* They tell us, "The idea behind the Beer Garden is that you can order beer during the week to kick back and enjoy during our Main Event." Uhh, seems like it would go flat. And to get in on the beer part, you need to live near the South Bay. The music part works globally.

* Come back each night this week to watch the webcasts. Here's what they told us about what's coming through Friday.

*

THURSDAY

:

⊙ Hermosa Brewing Company

⊙ Music by Barclay Roach

⊙ Hermosa Beach Rotary

*

FRIDAY

:

⊙ Music by Project Barley and Nate LaPointe

⊙ Music by Adam Lawson of The Lucky Ones

⊙ Leadership Hermosa Beach

* Live links at:

www.hermosaone.com

*

More coming on each day of this event, through Sunday.

___

This

Friday /

Friday

s live online

Fri, May 22:

1 pm Pacific --

"MARTIN GUITARS JAM IN PLACE"

series today features

DANNY SCHMIDT

* Times vary with this series.

* Watch on Facebook Live, at:

https://www.facebook.com/martinguitar/

___

Fri, May 22, EVERY FRIDAY:

5 pm Pacific --

"Fridays At Five"

SFJAZZ

hosts weekly showings of concerts from its archives as part of the

Fridays at Five

series. The one-hour performances are free for SFJAZZ members or you can purchase one-month

digital memberships

($5) that are good for four shows. Recent concerts included jazz and gospel singer

Lizz Wright

on April 3 and the eclectic group

Pink Martini

on April 10.

ALSO: Scroll-down to find

"Friday's MUSIC-ON-TV"

...

___

On-demand / especially produced for the pandemic
Wine & Song Podcast Episode 8. Features Gráinne Hunt, Melody Walker & Jacob Groopman, Rob Laufer, Lipbone Redding, Chauncey Bowers, Sally Dworsky, Tom Corbett, Sofia Talvik, and Jeanne Newhall.
Jazz at the Blue Guitar Podcast Episode 4. Features Mark Hatch, trioKAIT, Riner Scivally, Dave Tull, Acoustic Asylum, and Carey Frank
MICHAEL FEINSTEIN LIVE WITH CARNEGIE HALL
Grab some popcorn and a glass of wine and watch Principal Pops Conductor Michael Feinstein as he goes Live with Carnegie Hall. The Ambassador of the Great American Songbook explores Gershwin's enduring influence in this hour-long special, with special guests including a live performance with Christine Ebersole.
PLAY AT HOME WITH THE POPS
Enduring songstress
Marilyn Maye
takes you over the rainbow for this "Play at Home with the POPS." The most frequently heard singer on the "Tonight Show with Johnny Carson," Maye performed on the program a whopping 76 times, and was deemed "the greatest white female singer in the world," by Ella Fitzgerald.
Visit their website
for more "Play at Home with the POPS."
PASADENA SYMPHONY PODCAST
In Conversation with Adam Schoenberg
This week's podcast features Emmy-Award winning and Grammy-nominated composer
Adam
Schoenberg
. One of the top 10 most performed living composers by U.S. orchestras, Schoenberg discusses upcoming works as well as
Orchard in Fog
, a commission he wrote for Anne Akiko Meyers that had its Los Angeles premier with the Pasadena Symphony in 2019. The full podcast series is now available on their
website
.
MAESTRO'S PLAYLIST
Take a break from your daily grind and give a listen to
Pasadena Symphony & Pops principal conductor
David Lockington'
s Spotify playlist.
The Live Series: Songs of Summer
Rediscover some of Bruce's performances on 'The Live Series: Songs of Summer.' This perfect seasonal soundtrack features live versions of Bruce's best summer songs,
all streaming for the first time
. Hear all your favorites like "Girls In Their Summer Clothes," "Out In The Street" and "4th of July, Asbury Park (Sandy)."
___
Archived from various vaults / made available for the pandemic
Grammy Museum
The museum in downtown Los Angeles has launched
Museum at Home
, a program that has made videos of previously unreleased concerts and interviews available. Shows including a 2018 performance by Brandi Carlile and a 2019 set with Billie Eilish and Finneas went online in March, while April releases included Andrea Bocelli and Common. MORE is due this month.
Henry Miller Memorial Library
The landmark
Big Sur
cultural hub has an extensive
archive
of clips from performances held at its outdoor stage beneath the redwoods. Among the highlights are a 2011 video of the Red Hot Chili Peppers playing "Californication" and a 2010 clip of the influential Jonathan Richman, dubbed "the Godfather of Punk," singing an ode to Rolling Stone Keith Richards.
More Bruce, long-form live...
You don't have to go anywhere to experience the magic of
Bruce Springsteen in concert.
From New York City to London and beyond,
some of Bruce's biggest concert films are now streaming in their entirety on YouTube and Apple Music
.
___
Participate or just watch...
PYSO AT HOME
Check out the
PASADENA YOUTH SYMPHONY ORCHESTRA
's
Youtube Channel
for virtual music lessons from their
All City Orchestra
coaches as part of the "PYSO at Home" initiative. Lessons updated continuously, with flute and clarinet coach
Emily Kubitsky
giving a lesson on note reading this week.
___
Friday's MUSIC-ON-TV & other recommended fare
Fri, May 15 on TV:
7 pm Pacific --
"Color of Covid"
is a second episode of the CNN series hosted by Don Lemon and Van Jones.
Fri, May 15, on tv:
5 pm-6 pm Pacific --
"COUNTRY'S FAMILY REUNION"
in an episode from January with "The Very Best of CFR." Repeats 9-10 pm. On RFD TV.
___
Fri, May 15, on tv:
7:30 pm-8 pm Pacific --
"THE STATLER BROTHERS"
in a show from 1991. On RFD TV.
___
Fri, May 15, on tv:
8 pm-8:30 pm Pacific --
"BLUEGRASS UNDERGROUND"
from 2019, brings KEB' MO on the concert show from a Tennessee limestone cavern concert hall. On KLCS.
___
Fri, May 15, on tv:
8 pm-8:30 pm Pacific --
"COUNTRY LEGENDS: GRAND OLE OPRY STARS OF THE '50S"
is a modern compilation of old footage from 1953. On RFD TV.
___
Fri, May 15, on tv:
8:30 pm-9 pm Pacific --
"SUN STUDIO SESSIONS"
from 2013 brings Texas Troubadour DALE WATSON to the Memphis studio where Elvis started. On KLCS.
___
Fri, May 15, on tv:
9 pm-11 pm Pacific --
"GREAT PERFORMANCES"
brings a new 2020 edition, "LEONARD BERNSTEIN MASS." Repeats 2 am-4 am tonight. On KOCE, aka PBS SoCal.
___
Fri, May 15, on tv:
9 pm-10 pm Pacific --
"AUSTIN CITY LIMITS"
brings HERBIE HANCOCK in an episode from 2017. On KLCS.
___
Fri, May 15, on tv:
9 pm-10 pm Pacific --
"COUNTRY'S FAMILY REUNION"
in an episode from January with "The Very Best of CFR." On RFD TV.
___
Fri, May 15 on TV:
9 pm ET & Pacific --
"Bravery and Hope: 7 Days on the Front Line,"
is a new hour-long CBS special about how Montefiore Medical Center in the Bronx is handling the pandemic.
___
Fri, May 15, on tv:
10 pm-11 pm Pacific --
"FRONT AND CENTER"
from 2017 brings GARY CLARK JR. in a show from 2017. On KLCS.
___
Fri night/ Sat early AM, May 15/16 on tv:
2 am-4 am Pacific --
"GREAT PERFORMANCES"
brings a new 2020 edition, "LEONARD BERNSTEIN MASS." On KOCE, aka PBS SoCal.
___
Wither goest th' tee-vee...
They can't make new episodes of ongoing series,
or assemble a crew for a pilot, so...
T
he
L.A. Times
is out with a special package exploring how "TV is the medium of our coronavirus plague year." TV editor
Matt Brennan
introduces the story, which is told in six parts by the entertainment staff... (
LAT
)
___