.
.
Dispatch from hiatus... Wednesday, July 29th quickie...
Mars "Perseverance" lander launch is Thursday,
July 30, 2020 at 4:50 am PDT
Online Participation opportunities are today and Thursday.
L
aunch is bright and early tomorrow! Be sure to log-on a bit early to catch the countdown and make sure all your systems are go.
The broadcast will start at 4:00 am Pacific and is available here:
https://go.nasa.gov/2EXB6dx
There's still time to catch some of today's interaction opportunities and ask questions live or watch the replays here:
https://m.youtube.com/playlist?list=PLStC43yAV6zRVKejB_gW-eGb5W6yoRo6P
Get access to more, share with friends, family, or your nerdy space enthusiast pals you haven't seen face-to-face since March. NASA tells us, "We're happy to have them. Just forward them the Virtual Guest web page to start."
That link is:
https://go.nasa.gov/2OpRpGA
___
The size of an automobile, this lander incorporates improvements from lessons learned
-- plus it has its own helicopter!
Think drone scenes over concerts are cool, and you're a fan of the "Aerial America" tv show?
Wait'll you see aerial Mars, courtesy of Perseverance's own helicopter!
Thursday morning is the launch, and this is what it will produce when
Perseverance reaches the Red Planet. Pretty sophisticated A.I. eh?
___
See why it's a big deal? And a hopeful escape from excruciating times?
See ya when the countdown goes to internal power.
___ ___ ___
A dispatch from hiatus... Sunday, July 26th:
Fed paramilitary forces in Portland and other city streets -- illegal, period?
T
he Trump administration placed armed paramilitary federal agents in the streets of Portland, Oregon, where they fired tear gas, smoke grenades, and rubber bullets into crowds of protesters who were exercising their Constitutional rights -- Freedom of Speech, Freedom of assembly -- and attacked reporters there covering the story, depriving them of their Constitutional right to cover the developments.
People who were peacefully protesting have been hauled away -- seemingly arrested -- in unmarked rented vans. The mayor of Portland was tear gassed.
There has been widespread outrage at these developments, and a White House threat to send more camo-clad, assault weapon armed agent/troops into more American cities.
Uninvited Fed robocop agent in a scene his presence helped to create in Portland, Oregon.
24 hours earlier, the city's mayor was teargassed by these paramilitary agents.
Photo is in this morning's Washington Post.
Still, with US Attorney General William Barr, a Trump devotee, as the nation's head law enforcement officer, who will stop it?
___
_
___
Kris Searle, American singer-songwriter
___
___
___ ___ ___
Dispatch from our continuing hiatus, Saturday, July 25:
Covidology 101 update -- money edition
by Larry Wines
T
here have been 52 million unemployment claims filed in the US since March 20.
Today the "extra $600" per week of federal unemployment benefits expires. Democrats in the House of Representatives passed the Heroes Act weeks ago, with its provision to extend the $600 through January 2021. But it remains stuck
in the Republican-controlled Senate, along
with dozens of pieces of other legislation the House has passed.
Prior to shutting down and leaving for the weekend, some Senate Republicans were considering several of their party's own proposals for a
partial
reinstatement of
lesser
amounts for a
shorter
time.
Republicans are obsessed with their own notion that $600 a week is more money than somebody can earn by working, and the lazy are cashing-in by doing nothing.
One GOP idea calls for
no
unemployment support, but a $450/week "return-to-work" payment in addition to whatever the job pays. As if everyone could simply go back to work despite the continuing reason they were laid-off in the first place.
That fantasyland
seems intended as an
interlocking corollary with the Trump administration's demand for prompt full reopening of public schools. Since most American parents rely on schools as free daytime child care, returning to work requires someplace to dump the kids.
Meanwhile, with the positivity rate for kids in Florida in the double-digits, many large urban school districts nationwide have already announced they will resume instruction only as distance learning this fall. Meaning students will remain at home. The Trump administration counters with threats to withold unspecified federal funding from any state that refuses full physical return of all students to classrooms.
Anger, frustration, and desperation are rising for those who want to know right now how they will feed their kids and keep a roof over the family without the extra unemployment benefit. Today begins a drop from the expired federal $600 per week plus an amount from their state that typically varies from $118 to $224.
As of today, only the latter, smaller, amount is there. And in some states, it, too, is expiring, based on the number of weeks of eligibility.
Along with that, many recipients began in a hole because the flood of applicants overtaxed unemployment compensation systems and it took weeks to get logged into application filing to establish qualification for benefits. Remember, the agencies who determine and process eligibility were universally using, and some still use, employees who were shifted to work from home. That means working in blind parallel, rather than together in offices where they were each others' support, information, and backup systems, and urgent claims could be hand-carried to cashiers' windows.
That's not all. Federal protections for suddenly unemployed renters are also expiring. Once again, that's because the Senate is not acting on extensions passed by the House. Renters who couldn't pay were protected from eviction if the landlord received any federal money for his rental property, like Section 8 housing funds for low income tenants or those with disabilities.
In the 2008 financial crises there were 860,000 foreclosures and homelessness permanently rose. This time, 13 million Americans face imminent eviction, with more of the 52 million unemployed being added each week.
America needs an FDR New Deal. Instead it gets a pile of legislation trapped in the limbo of Mitch McConnell's desk, a sudden dramatic drop of finances needed to pay rent, a necessary shift to eating ramen noodles, and an eviction notice posted on the door.
All flying in the face of a proven myriad of medical findings that psychological and emotional stress, inadequate shelter, and inadequate nutrition harm the body's immune system and greatly increase the likelihood of getting sick.
In the middle of a deadly pandemic. Where low income people have proven the most susceptible to infection.
___
On this day
Our thanks to
Garrison Keillor
for all three items of today's history, which appear in his daily "Writer's Almanac."
It was on this day
in 1788 that
Wolfgang Amadeus Mozart
entered into his catalog the completion of one of his most beloved works, Symphony Number 40 in G Minor
(sometimes called "The Great G Minor Symphony"). It was written in the final years of Mozart's life, when things were not going well. An infant daughter had died a few weeks earlier, he had moved into a cheaper apartment, and he was begging friends and acquaintances for loans. But he wrote his last three symphonies, in the summer of 1788: Symphony Number 39 in E-Flat, Symphony in G Minor, and the
Jupiter
symphony. It is not known for sure whether Mozart ever heard any of these symphonies performed.
It was on this day
in 1897 that
Jack London
,
(
books by this author
)
21 years old, set off for the Klondike Gold Rush
. He developed scurvy and severe muscle pain, and he didn't make any money. But he was inspired by the adventurous lifestyle and wrote about it. Five years later, his book
The Call of the Wild
(1903) made him suddenly famous.
On this date in 1956
,
the
SS Andrea Doria sank
off of Nantucket Island.
The Italian ocean liner was a source of pride for Italy, still trying to rebuild itself after World War II. The ship was bound for New York; at about 11 p.m., she collided with the eastbound Swedish-American ship, the SS
Stockholm
, while traveling in a fog bank.
___ ___ ___
Friday, July 24: latest dispatches from hiatus...
A couple nights ago,
Stephen Colbert
opened "A Late Show" with a very funny parody music video. No word yet from
Dolly Parton
.
Check out "Karen"
https://m.youtube.com/watch?v=AdUEUXKl-S4&feature=youtu.be
___
So, what music genre would you call this?
TAYLOR SWIFT
just did a middle-of-the night debut -- a few hours ago -- of a music video for her surprise new CD and vinyl release album, which is titled
"Folklore."
In fact, the vid opens with imagery that's about as deep backwoods roots folk genre as you can get. But just when you expect to hear fiddle and mandolin and banjo? Well, you be the judge of
what you get
instead.
Visually you get a trip Through the Looking Glass to see Rose after the
Titanic
sank, with truly "flowing" piano and sylvan green fantasy along the way. It already had over 3 million views in its first five nocturnal hours.
Likewise out in the middle of the night as Thursday had vanished into Friday, was a missive from Brian Stelter, who talked about the album and the vid just before it was available for him (or anybody else) to hear it. His piece is just below:
Covidology 101 quickie:
New York Times reporter Lauren Leatherby charts the countries with
the worst known coronavirus outbreaks now
. The top five: Oman, Bahrain, Panama, South Africa, and the U.S.
_
W
ith shockingly awful numbers going vertical off the top of the graph (see yesterday's entry) the Trump administration is playing an extreme version of his favorite game:
Divert and distract to take attention away from what you deny.
Thus, we get...
Benghazi on the Willamette
Uninvited Fed robocop agent in a scene his presence helped to create in Portland, Oregon.
24 hours earlier, the city's mayor was teargassed by these paramilitary agents.
Photo is in this morning's Washington Post.
___
ONLINE WATCHABLE
, word from this morning's New York
Times
...
_
Thursday, July 23: a few dispatches from hiatus...
Major League Baseball's opening day schedule is here
ESPN will carry the
Yankees at the Nationals
at 4 pm Pacific and
the Giants at the Dodgers
at 7 pm Pacific.
Check out the full broadcast schedule at the link

here

.
Why are WE the ones bringing you a link for all the schedules? Well, the ballpark's organist might be the first live music performance you've heard in months, unless you play an instrument or sing in the shower. We don't know if someone will sing the National Anthem live before the game, or lead the at-home singing of "Take Me Out to the Ballgame" -- perhaps with appropriately modified lyrics.
Dodger fans paid for seats to make themselves virtually present at the ballpark.
Photo: cronkitenews.azpbs.org
At Dodger Stadium, lifesized cutouts of fans will adorn the stands, and cameras will get zoom-in shots of players arrayed in the first few rows, since crowding together in dugouts is definitely out. C'mon, it'll be historic to see these pampered millionaire athletes not spitting all over the landscape. Though we doubt they'll refrain from their other dugout pastime of scratching their crotch.
"Thursday's games will take place in a nation hungry for normalcy. And while this truncated season is not 'normal' at all, it is like a gift basket for millions of people who want to see live sports back on TV," notes CNN's Brian Stelter.
Wait. Stelter isn't a sports reporter. No, but he is the guy who examines what the media is doing. And the big bucks, no-spectator, broadcast sports back story is THE entertainment biz news.
So we are sending this note from our hiatus with the news that he sent us. Stelter says:
"The MLB is the latest league to resume play with lots of covid-related adjustments."
Right away, Stelter asks whether there really is "Pent-up demand?"
"TV networks have high hopes for a mostly homebound audience. Ratings for the recent preseason games were strong. 'Nobody knows if a pent-up demand of sports viewers actually exists, but MLB advertisers are banking that it does, and have been flocking to the regular season at an unprecedented pace,' SBJ's John Ourand
wrote Wednesday
.
"Fox Sports said that ads in its regular-season package are 90 percent sold out already. And Disney Advertising Sales described 'high demand:' A spokesman said 'we are sold out of inventory for the opening week and the rest of the regular season.'
"A caveat in Brian Steinberg's story
for Variety
: 'Advertisers continue to worry over whether the leagues will be able to guarantee player health and complete their seasons. Once teams get on to the field, however, sponsors seem eager to play...'
Stelter singles out some "Great advice."
"Per Ourand's subscribers-only newsletter, 'MLB Network President Rob McGlarry had one main message when he met with his channel's on-air talent this afternoon, on the eve of Opening Day. "We're already in the middle of the season," McGlarry said. "We don't have time. We have to hit the ground running. We only have 60 games."'
"McGlarry's advice can apply to all of us, pandemic or no pandemic: 'Do as much as we can in the limited time that we have.'
Of course "limited" time isn't the way a lot of folks see things right now. For most people these days, it's been a question of what to do with all this time off. Though we, here at the Guide, are willing to bet that when this whole corona'd epoch is behind us all, there will be a lot of folks lamenting how they used, so poorly, all that never-to-be-had-again time. And that'll give rise to a new thing -- rationalizing about all the reasons why you couldn't learn a new language or learn to play a new instrument. There are imposed limitations and there are self-imposed limitations. Just sayin'...
Great L.A. dichotomy: in gluten-free, vegan-obsessed Southern California, an absolute favorite
cuisine is the Dodger Dog. Any fan of the Blue Crew will hasten to add, go to the vendors
that broil 'em, not boil 'em. Of course that trivia is moot this season. Except to unemployed


folks who make their livings as techies, support staff, ticket takers, security, and vendors at




all the events and concerts that aren't happening in 2020. And all the idle venue operators.

Back to baseball. Stelter also notes this miniaturized season brings "Limited access for reporters."

"'As U.S. team sports prepare to resume,' the AP's Joe Reedy

wrote

recently, 'journalists are facing the same reckoning that their colleagues who cover politics and entertainment have encountered -- coming up with new approaches despite reduced access.'

Reedy noted

, 'Many journalists worry that less access can mean less oversight...'"

Boy, do we get

that

concern. When you can't confront your subjects, they do tend to do wacky things as if they can just get away with 'em. Like sending camo-clad storm troopers into your town to tear gas your mayor. (Ask Portland. Of course asking is something the feds did

NOT

do. And how come the Trumpist conspiracy theory addicts aren't looking for the black helicopters

NOW

, when those are the only things missing? See why we're on hiatus?)

Gad-effing-zooks, play ball. Enjoy your peanuts and Cracker Jack -- if you're at home where you can drop the mask to eat 'em. And since we continue to be on hiatus, we might actually have time to watch a ball game -- and enjoy the ballpark organist's performance -- too.

Our thanks today to Brian Stelter.

___

Covidology 101 quickie:

It has taken only 15 days for the US to go from 3 million infections to 4 million infections.

More than 3 months elapsed for the number of cases to reach its first million. Here are the milestone numbers and how many days elapsed, since the previous event, to reach the next one:

Days: Millions of US COVID-19 cases:




99 1




43 2




28 3




15 4

R

esearchers from several studies are finding that extreme narcissists are the ones most likely to refuse to wear masks AND to hoard all the toilet paper and hand sanitizer. They may even be the ones who hoarded the N-95 respirator masks that front line health care workers needed. Even though they refuse to wear masks. Some people need to be slapped up 'side the head. Seriously.

T

here were more than 71,000 new cases overnight in the US. That one-day number for newly-detected infected Americans is more than the total cumulative numbers for some countries to date, since the virus arrived.

413,000 cases are in California, as the Golden State rapidly closes on New York State's all-time number which has climbed very slowly from its peak in April.

___

While we're here with you...

_

Happy birthday today to

Ronny Cox,

American actor, singer-songwriter, guitarist. (Great trivia question: He is the "Star Trek " captain of the

Enterprise

that nobody ever gets...)

Ron Sarfety

, American concert series and music for charity events presenter, videographer, and music vid producer.

___

On this day

Today in 1903, the Ford Motor Company sold its first car, a two-cylinder Model A. It was bought by a Chicago dentist for $850. The world has struggled with the blessing and the curse of the automobile ever since, with its attendant curse of oil addiction, pollution, suburban sprawl, and gridlocked roads and freeways.

___

THOUGHTS FOR TODAY from one born on this date

"The most durable thing in writing is style, and style is the most valuable investment a writer can make with his time. It pays off slowly, your agent will sneer at it, your publisher will misunderstand it, and it will take people you have never heard of to convince them by slow degrees that the writer who puts his individual mark on the way he writes will always pay off."

And,

"At least half the mystery novels published violate the law that the solution, once revealed, must seem to be inevitable."

~ Raymond Chandler,

American writer (born July 23, 1888, died in 1959). in 1939 he published his first novel, The Big Sleep. In addition to his short stories, he wrote seven novels that were all narrated by a wisecracking private eye named Philip Marlowe.

___

One more. This just in...

___

Back to our hiatus.

Stay sane, stay healthy, don't be a Maskhole, stay away from maskless aggregations of Branch Covidians, and be careful out there.

___ ___ ___

Wednesday, July 22 -- a quickie from our time on hiatus

L

ast two nights (Wed & Thu) to see the comet before the Moon gets too bright. It's in the vicinity of the Big Dipper, a bit below it. You'll need a dark sky, without urban "light pollution."

Here's the report from ESA:

22-07-2020 01:40 PM CEST

Video: 00:06:01




In this video, ESA Research Fellows Rachana Bhatawdekar and Sandor Kruk share their experience and explain how to observe and image the comet in the sky. Next, ESA Research Fellow Charlotte Götz tells us more about comets and their tails, and how ESA's future Comet Interceptor mission, to be launched in 2028, is going to wait for such a 'great' comet that has not been discovered yet. The spacecraft will sit in a parking orbit around the Lagrange point L2, 1.5 million kilometres away from Earth, until an interesting 'pristine' comet visits the inner Solar System. It will then intersect the comet's orbit to study its nucleus, gases, dust, and plasma environment.

Image credits: Rachana Bhatawdekar, Sandor Kruk, Mark McCaughrean, Kai Noeske (2020)

Preview image: Courtesy Mark McCaughrean, 12 July 2020 (Wassenaar, The Netherlands)

___

Comet images...


These are from "EarthSky"
Long exposure images show even more details:
___
While we're here...
THOUGHT FOR TODAY from one born on this date
"Life is not lost by dying; life is lost minute by minute, day by dragging day, in all the thousand small uncaring ways."
~ Stephen Vincent Benét,
American poet (1898-1943), best known for his
Pulitzer Prize winner for Poetry,
"John Brown's Body," a long poem he wrote while in Paris in 1928. It's an epic in eight sections and tells the story of the Civil War, beginning with John Brown's raid on Harper's Ferry and ending just after Lincoln's assassination. He also remains remembered for his short stories "The Devil and Daniel Webster" and "By the Waters of Babylon."
"Between the years 1928 and 1943, Stephen Vincent Benét was one of the best-known living American poets, more widely read than Robert Frost, T.S. Eliot, William Carlos Williams, or Wallace Stevens and as well respected in book review columns. He was a rarity among 20th-century authors, a poet whose books sold in the tens of thousands and who was honored in the poetry workshops and lecture halls of prestigious universities." ~ from his Poetry Foundation
listing
.
And now, back to our much-needed, well-deserved hiatus.
___ ___ ___
We've previously sneaked these "extras" to you from our otherwise ongoing time off...
July 20th...
We are still on hiatus, though we have shared a few posts on major events over the weekend just past. Today will be the first time in years that we have not advocated for a "National Space Day" holiday on this date. But with the idiotic militarization of space over the past year, things now require contextualization before that advocacy can continue.
EXTRA
: posted Sunday, July 19th, from beyond our continuing hiatus...
"Sing Gently as One" Eric Whitacre's virtual choir of 17,000+ global voices
Premieres Sunday, July 19th on YouTube
Stunning music vid goes up at 10:30 am PDT, at:
https://m.youtube.com/watch?v=InULYfJHKI0#
Eric Whitacre is the Grammy-winning composer who, in 2010, created what's considered the very first virtual choir, amassing, to date, 6.4 million views. But THIS one, written in April 2020 for choir and piano -- and attracting over 17,000 performing voices -- sets the world record for participating singers, by far.
The exact numbers? 17,572 singers, ages 5–88, in 129 countries, who individually recorded and submitted their vocal solo (soprano, alto, tenor, and bass) videos, and one piano track recorded by Sam Glicklich, a student at the Colburn School in Los Angeles -- all combined to form "Virtual Choir 6," with collaborative participation from the Colburn School and the NAMM Foundation. All during the COVID pandemic.
Portraits of every one of the 17,572 singers, plus the pianist, are stunningly grafted together
into maplike images along their joinable edges, forming islands, continents, even rivers along
the lines where sections meet. (Image: DC Metro Theatre Arts)
Whitacre was inspired to write the piece by the breadth of the pandemic and its effect on society, turning him, and what became many thousands of paeticipants, to music as solace.
"Together, they found strength in the simple, collective initiative of the project and saw it as a way to not only replenish from within but also to offer hope and relief for the sadness and suffering of others... 'Sing Gently' marks Whitacre's largest Virtual Choir to date since his first more than ten years ago. The film will include videos from each of the participants, unified in a unique collection, which serves as a testament to diversity, accessibility, and inclusivity to be much more than a musical project, it's a community," writes "
Music & Sound Retailer
" magazine.
"People write to me and ask, 'How do we make one?'" he says. "I say, 'Just don't. Please. Your life will be so much better without this,'" Whitacre said in a
techno geek piece
published June 20.
"Rising to the technical and creative challenge of combining 17,000+ audio and video files is the Tony & Olivier award-winning 59 Productions (filmmakers) and BAFTA-winning, Floating Earth (audio engineers). The copyright is administered by Boosey and Hawkes, and the sheet music will be available from Hal Leonard later in 2020," reports "Music & Sound Retailer."
To mark the premiere, "CBS Sunday Morning" aired a David Pogue segment today, titled "All Together Now: the largest virtual chour ever assembled" about how it was done. The shows promo read: "What to do when choir practice has been cancelled because of COVID-19? David Pogue has the answer and explores the very first virtual choir with its creator Eric Whitacre, just as Virtual Choir 6, the largest of its kind (with over 17,000 singers) makes its premiere after our Sunday Morning broadcast."
The segment is on Whitacre's website, but the traffic load today may result in a lot of time percolating:
https://ericwhitacre.com/news/cbs-sunday-morning-the-largest-virtual-choir-ever-assembled
Pogue's story, in the full episode of "Sunday Morning" -- and all recent editions of the very arts-friendly show -- are available to watch on demand on CBSNews.com, CBS.com and CBS All Access; that includes availability on Apple TV, Android TV, Roku, Chromecast, Amazon FireTV/FireTV stick and Xbox.
There are teasers to hear the "Sing Gently as One" soundtrack without the stunning visuals:
http://smarturl.it/singgently
But the links to all the streaming outlets won't work until the magic moment when the YouTube track goes up.
___
Resource:
"How to Make Your Virtual Jam Session Sound—and Look—Good"
https://techviralnews.com/how-to-make-your-virtual-jam-session-sound-and-look-good/
___
___
SPECIAL ADDITION (Friday night, July 17th) from beyond hiatus, added to our previous edition:
TWO FESTIVALS online Saturday, July 18th. The editor asked us to get this out to readers, even though we are on hiatus:
___
AND, a folk classic...
WoodyFest 2020
___ ___ ___
Also added Saturday morning, July 18th...
Overnight Friday night / Saturday morning...
Within hours, two pivotal people died. Both are giants in American history
.
U.S. President Barack Obama awards the Presidential Medal of Freedom to Vivian in the East Room at the White House in November 2013
(Win McNamee/Getty Images)
Today there is an effort to change the name of that bridge and rename it for John Lewis, who was nearly killed on it. He was born the son of impoverished sharecroppers, and he rose to become one of the most respected members of Congress. Lewis died of pancreatic cancer at the age of 80, but he was still -- until his final days -- vitally seeking to get himself into, as he proudly called it, "Good Trouble."
There is plenty in his words, and those of C.T. Vivian, to foster inspiration. But what really got us was the guest who, immediately after she was introduced, broke into song, belting-out a Civil Rights anthem whose promise still has not been completely fulfilled. That's what put us in tears.
Once again, the power of song transcends all other forms of communication. Here are two renditions of the song she sang live on a news broadcast. Both these performances are backed by historic images that look, hauntingly and powerfully, like scenes of 2020's efforts to finally achieve the promise.
That's the perfect place to look to the larger context.
Heroes need not look like us. They need not share our brief moments of time on this Earth. They need not speak the way we do to speak to us, across time and distance and unfulfilled promise and promises. But what they must do, and what makes them heroes, is very simple: they must act to extend and protect the promise of what each of us must have as a safeguarded guarantee, as our undeniable birthright -- to fulfill our unique gift of potential, and in so doing, to advance humankind.
Because heroes are about brave and selfless acts that give the rest of us a chance. There must therefore be equal access to opportunity. Only then can we -- each of us, regardless of race, religion, ethnicity, creed, or things that make us passionate -- fulfill our individual promise and allow our individual gifts to advance human freedom, human society, and human understanding. Only then can we reach out, together, to expand the frontier into the vastness of the outer, and the complexities of the inner, universe.
And so to C.T. Vivian and John Lewis, we say, thank you for sacrificing to bring us all closer to those elusive goals that our own failings have made contentious. And with that thanks, we humbly add, "Well Done."
~ Larry Wines, editor, 7-18-20
How America saw the marchers on the bridge in 1965.
That's John Lewis in the gray trench coat at the front.
John Lewis being beaten by state troopers with night sticks. His skull was fractured.
Retreating demonstrators, maintaining their nonviolence, were tear-gassed.
Lewis doesn't remember who carried him off the bridge into a church.
He said, "I thought I was going to die on that bridge."
Throughout his long career in politics, John Lewis always spoke of hope and reconciliation,
as he did when returning to the bridge. NBC News photo.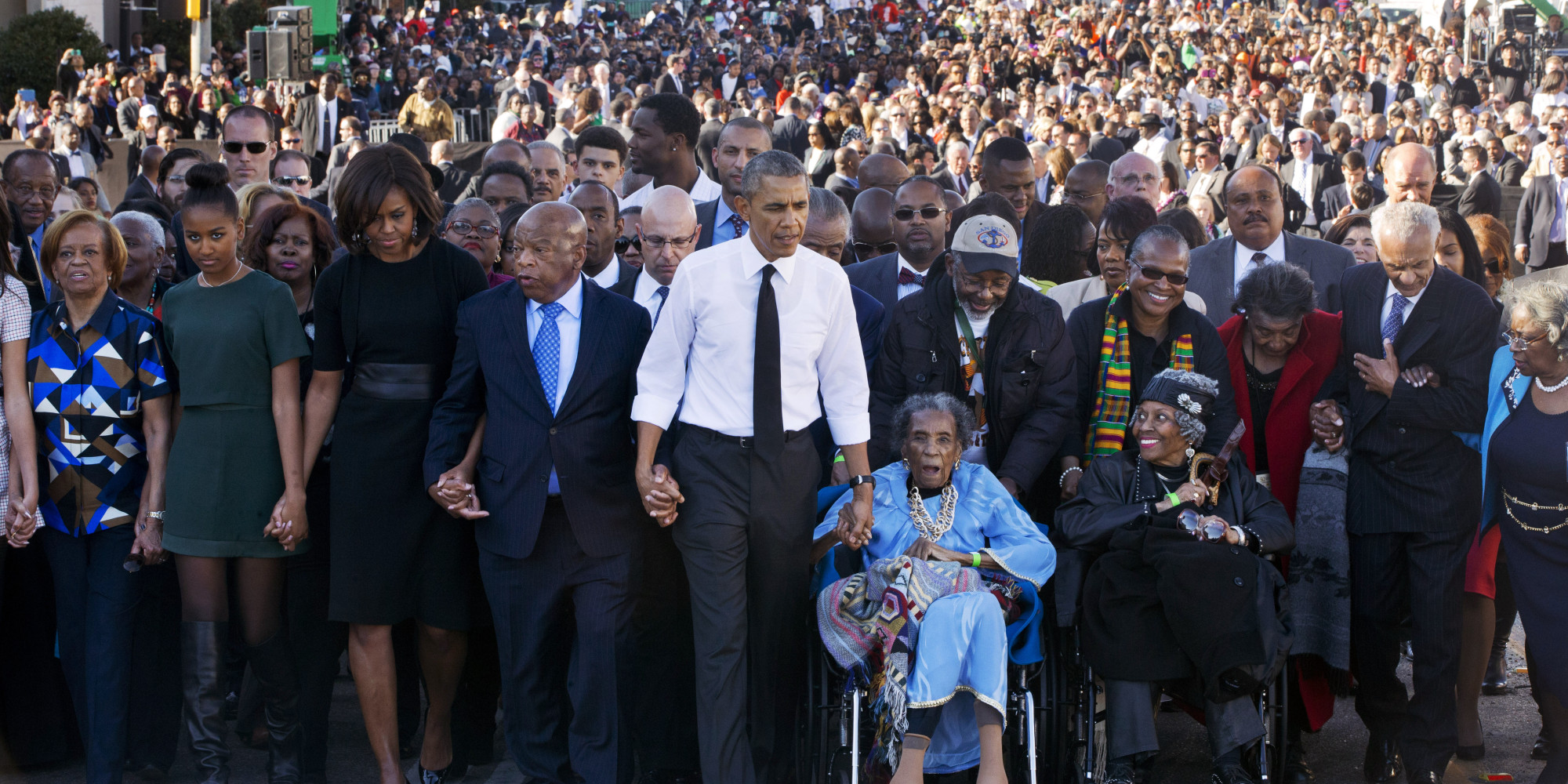 Then-President Barack Obama and First Lady Michelle Obama clasp hands with Congressman
John Lewis as they lead others -- including survivors of "Bloody Sunday" -- for a return to the bridge.
(This feature was picked-up and
ran elsewhere
, too, though without our photo gallery.)
___ ___ ___
♡ ♡ ♡
___ ___ ___
Before the special additions above, here's the last word going into hiatus...
Tuesday's updates include a click-to-see-and-hear musical gallery of songs by tuneful luminaries about Billy the Kid, on this, the date he was killed; and today's update of our "Covidology 101" series; and the news features following the daily bits for Tuesday.
All are here, and are intended to leave plenty for you to peruse and enjoy, as they are the last word for a few days.
We are now on hiatus.
___
Monday's ONLINE EVENTS were updated through the day, and include NEWS OF NEW RELEASES. So take a gander. Or two. Or three.
"Covidology 101" was updated for Monday at 9 am PDT.
___
When this was first published, it went like this...
H
ere's a new edition for Sunday. As we bring you fresh music news herein, please remember that our two most recent previous editions are loaded with news that's still current.
Both those editions are still easy to access.
So don't be bashful. When you have your way with us here, you can still give them a whirl.
■
■
■
■
■
■
■
■
■
■
■
■
■
■
■
■
■
■
■
■
■
This is a new regular feature. It was launched with several detailed entries in our previous edition.
The news of spread, stats that look like vertical lines on the graphs in the majority of states, record-breaking numbers of cases, and the death toll of the virus in the U.S. -- a nation that is supposedly "leading the world in response," can be summed up in one word: awful.
And today the mainstream media is enamored with the Orange Imbecile's first public wearing of a mask -- yesterday, for the first time. Which he clearly indicated may not happen again, and which he described as "a good idea because these wounded troops just had surgery." Always an escapism, denialist rationalization. We're with David Axlerod's comment on that: "A mask? If he's going to Walter Reed [joint military hospitals Walter Reed Army / Bethesda Naval Hospital], he should wear a bag over his head."
We're just too disgusted to add more.
___
___
for Saturday, July 11th, 2020.
• The total number of COVID-19 cases in the US is now greater than the population of 17 states.
• Today's increase in COVID cases is 66,000, including overnight increases in Florida and Texas of 10,000 in each state.
• As Major League Baseball returns to its ballparks for intramurals, the star Yankees closer has been diagnosed with the virus. Aroldis Chapman, a four-time All-Star, has symptoms and a fever. Meanwhile, at least six players of the NBA's New Jersey Nets have tested positive.
___
___
1) On the Big Coronavirus Surge
2) Did Some States Open Too Quickly?
3) Can the Surge Be Blamed on Politicians Not Following Guidelines and People Not Following Orders?
4) How the U.S. is Doing Overall?
5) Does Partisanship Make Things More Difficult?
They tell us:
■
■
■
■
■
■
■
■
■
■
■
■
■
■
■
■
■
■
■
■
■
Monday, July 13...
■
■
■
■
■
■
■
■
■
■
■
■
■
■
■
■
■
■
■
■
■
THOUGHT FOR TODAY from one born on this date
"The man dies in all who keep silent in the face of tyranny."
~ Wole Soyinka
, Nigerian playwright, poet and essayist, Nobel laureate (born July 13, 1934). He was awarded the 1986 Nobel Prize in Literature, the first sub-Saharan African to be honoured in that category.
(our thanks to A.Word.A.Day for the quote)
___
Events...
___
A VIRTUAL CONVERSATION WITH NYSE VICE CHAIRMAN JOHN TUTTLE
MONDAY, JULY 13, 2020
4 pm PACIFIC
7 pm EASTERN
The Ronald Reagan Presidential Library told us Monday morning, "Please join us for a virtual conversation with New York Stock Exchange Chief Commercial Officer and Vice Chairman John Tuttle. Mr. Tuttle will be discussing how the NYSE handled the onset of the COVID19 pandemic in March, including temporarily closing the trading floor, as well as the market outlook for the rest of 2020. This event is free and will be livestreamed on our YouTube channel." (
YouTube.com/ReaganFoundation
).

John Tuttle leads the NYSE's global listings, capital markets, and exchange-traded products businesses. He also manages the Exchange's relationships with more than 2,200 NYSE-listed companies and with the investment banking, private equity, venture capital, and legal communities.
___
Online concert tonight at 5 pm, new video today from Cidny Bullens
The former Elton John guitarist continues a socially relevant solo career
C
idny writes, "TODAY is the official release of the first single from my forthcoming album Walkin' Through This World, 'The Gender Line.' The track will be available on all digital platforms (Spotify, Amazon Music, iTunes etc) to listen to and to buy.
The video of
'
The Gender Line'
is now on my Youtube and it's starting to get some great reviews."
■
■
■
■
■
■
■
■
■
■
■
■
■
■
■
■
■
■
■
■
■
News feature stories
■
■
■
■
■
■
■
■
■
■
■
■
■
■
■
■
■
■
■
■
■
Acoustic Eidolon's recent "Drive Up Car Concert" brings a mini documentary
Entertaining small successes as lessons in our creative world
H
annah and Joe, the (usually) touring duo that is
Acoustic Eidolon
, is making focused use of online shows. In their latest email, they tell us, "We seem to have a car theme going... because we miss all our days spent touring and traveling... so in addition to the Drive Up Concert link, here are
some 'Concerts in our Car' for you in these recent months
."
It's innovative, attention-grabbing, and the kind of thing that creates a quasi-quarantine trademark.
Take a look.
Acoustic Eidolon's recent Drive Up Car Concert...a mini documentary
_
It really is a clever theme.
F
or this next one they say, "Welcome to
Episode 4 in our "Concert in the Car" series
! It's time for 'One Old Wreck' in our Toyota Sienna minivan... as well as some general banter as we play this old fave!" The link, so you can share easily, is https://youtu.be/UYZI-d6mbbQ
Concerts in the Car - Acoustic Eidolon's "One Old Wreck" Episode 4
_
H
ere's
Episode 3 in their "Concert in the Car" series
. Hannah says, "Let the music take you away... to Hawaii with this Acoustic Eidolon original tune."
Concerts in the Car - Acoustic Eidolon's "Ala Makai" Episode 3
_
I
f you've seen 'em perform, it won't surprise you that their
delightful acoustic rendition of Led Zep's "Stairway to Heaven"
was
Episode 2 in their "Concerts in the Car" series
.
Concerts In The Car - Acoustic Eidolon's version of "Stairway to Heaven" - Episode 2
_
Hannah tells us, "...we miss traveling in our tour van," which plenty can say.
These two are a model for using the time off.
F
irst, she says, "The silver lining of our quarantine is that we're deciding to embrace this time as a sabbatical, and are recording our 13th CD. It's a cello-heavy CD, with a warm scattering of brand new vocals and pieces that take you from the Faroe Islands to Utqiagvik (Barrow), Alaska, and through our lives in between. We can't wait to share some of this brand new music with you all soon!"
Yeah, well, they're hardly the only ones to cut a new record in the midst of pandamania.
But what about that when she adds this:
"We get to take LOTS of walks as we stay home in these crazy times. We're also taking bike rides and kayaking, playing music and brainstorming more ways to get our music out to all of YOU.
"We've found that reaching for our creativity and each other has helped us hold onto hope and light and moments of peace in these times."
Damn. Here at the Guide, nobody's escaped to go kayaking. Or even done enough long bike rides (okay, the last part isn't appealing because it's just too hot).
You've gotta love the spirit of these two. They close with, "Stick together, stay healthy and keep listening to music! We'll weather this together... and we'll see you on the other side of all of this."
Y
ou can check-out and subscribe to
Acoustic Eidolon's YouTube Channel
(you know the drill: if you hit the little bell next to the subscribe button, you'll receive notifications of new vids when they post):
https://www.youtube.com/user/acousticeidolon
Their full site is: www.acousticeidolon.com
■
■
■
■
■
■
■
■
■
■
■
■
■
■
■
■
■
■
■
■
■
30th Quarantine Livestream for California duo happens today
Andy & Renee, who lead award winning Hard Rain & host "Dylanfest," still delight with online shows
Youtube Sunday, 5 pm PDT / 8 pm EDT; Facebook Live on Wednesday, July 15th, 7 pm PDT / 10 pm EDT is # 31
"C
an you believe we've been doing the Livestreams since March 19th?" asks Renee Safier, half of the always exciting duo with the encyclopedic catalog. She adds, "Well, be have reached a milestone! It's our Youtube Livestream # 30!"
Sunday, 5 pm Pacific.
• Watch at: https://youtu.be/UzAeKNjnAs4
She adds, "As you know, our 'In-Person' gigs have been cancelled for the last several months. We turned to doing Livestream shows to make a living and deliver the music to you. The shows are FREE TO WATCH, but the option to tip us is there (for those who are in a position to do so) if you are enjoying the music."
You can tip at:
• http://www.andyandrenee.com/store.php
• PayPal: paypal.me/andyandrenee
• Or Venmo: www.venmo.com/Renee-Safier
"A portion of the proceeds goes to the Los Angeles Midnight Mission.
We are sustained by the generosity and support of the fans who love the music, and who tip as they are able," says Renee. She continues, "If you haven't tuned in to one of our live-streaming shows, we hope you will soon. They are a lot of fun, and you can interact with the other viewers in the 'Chat Room.' Put the show on your Smart TV or watch on your computer, phone, or tablet!"
Plus, who else offers THIS, with such a deep song mine in which to dig:

Make requests from their list of 470 songs
, and they get to as many requests as possible.
See the list HERE, and send your requests to reneesafier@hotmail.com before the show.
On-demand...
Catch up with their "Canada Day" show, recorded July 1st, with all songs written by Canadian artists.
"Dylanfest 30 -- The Virtual Edition" marked the 30th year of the best tribute festival around. If you missed it or want to give back in, watch any or all of the Dylanfest 30 Videos HERE.
The entirety of the 3 Live shows is there, all free to enjoy, including (or plus) the 6 Hard Rain videos, the 40 individual performer videos, and the Dylanfest Historical videos. Enjoy these wonderful performances on-demand.
As Bob Dylan said, "Always do for others, and let others do for you". Peace.
■
■
■
■
■
■
■
■
■
■
■
■
■
■
■
■
■
■
■
■
■
Austin roots music mainstays
Hot Club of Cowtown 20-year member departs
W
ell, there WAS that hiatus, a few years back, when Elana took off to be the fiddle player for
BOB DYLAN
's very lengthy 'round-the-world tour. And there were the days when Whit returned to New York City to lead an impossibly big band. But the bonds among the three members of the
HOT CLUB OF COWTOWN
had always seemed as tight as the none-better music they've brought the world, including live performances in more countries than you can count.
Until word came July 9th from Elana James & Whit Smith -- two-thirds of the classic trio that has made music for twenty years with Jake Erwin. They tell us:
"First and foremost, we have heard from Jake that he is going to be moving forward into his own new adventures.
"As you are -- and have been for decades in some cases! -- our loyal fans, we wanted to share this news with you first, here, today, and will soon of course make it public as well.
"This is certainly the end of a magnificent era, but by no means the end of the band."
Here's a note from Jake:
"Hello Dear Hot Club of Cowtown Friends and Fans!
"This is Jake Erwin, your long time bass player and backing vocalist, and I'm writing now to say goodbye to you all.
I've been with this mighty band for about 20 years now and after much consideration, I have decided to leave the stage professionally and take a new path into the future.
I count myself very fortunate and am truly honored to have been a part of what I believe is a unique and special group in the world of the musical arts and entertainment.
I will always cherish my memories of traveling the world and playing for all of you wonderful folks and I Thank You very sincerely for all the many years of kind attention and enthusiastic support.
I hope that I will get to see many of you again from a smaller stage perhaps or in some other regard altogether but for now, I wish the band and all of you my very best and hope that we all may have a healthy and happy future!

- Jake Erwin 07/06/2020"
Here at the Guide, that threw us for a loop. After all, the trio had planned a very full summer tour schedule together. But as we all know, this contemplative time is bringing many of us to choosing changes, including life-changing and hopefully life-affirming ones.
Elena and Whit commented, "

What more can we say? The nature of life is change! Jake has given us two decades of his life and we have only gratitude for that. You can leave a note for him or us in our

Guestbook

, on our

facebook page

, or even respond directly to this email (we will forward any and all replies or messages directly to Jake)."
But there is still their incomparable hybrid of Western Swing, Bob Wills, and Djangostyle Gypsy Jazz. Which brings us to their latest LIVE SET
And their assurance, "
Today marks the 120th day of our unexpected sabbatical!
But the show goes on! And to that end, you can find
our recent live set from a few weeks ago here
where we are joined by the wonderful Kevin Smith on bass (Willie Nelson's, High Noon and Heybale) and Damien Llanes (Marcia Ball, Hot Club of Cowtown:) on drums.
"We wanted to quickly share with you today are our recent
one-and-only facebook live set
(a work in progress!), in case you'd like to grab a cold drink and join us in Elana's backyard for an hour from a few weeks back.
They add, "If you are compelled to donate to our facebook live set, we would be thrilled.
The best link is here
or you can copy and paste this link: https://www.paypal.me/hotclubofcowtown
"We'll likely do another live set in early August and will keep you posted about that and would love to have you join us in real time. In the meantime, you can always log onto
Whit's facebook page
and
Elana's facebook page
as we continue to experiment and broadcast our own stuff, if you'd like to join us there for whatever we come up with!"
Screen shot from the trio's live set "teaser" of Right or Wrong. Click to watch
Click here to watch their one-hour live set from Elana's backyard.
You can also contribute to the cause here: https://www.paypal.me/hotclubofcowtown
Click here to watch Elana's 20-minute solo set from home for Dustbowl Revival's Sway at Home Festival from a few weeks back. And because some of you have asked!.....
https://www.paypal.me/elanajames

https://paypal.me/elanajames?locale.x=en_UShttps://paypal.me/elanajames?locale.x=en_UShttps://paypal.me/elanajames?locale.x=en_US
Collector alert...
They have partly re-done their website with a new gift shop page. And hidden in their word about that is a chance to grab a surefire collectible. Check it out:
"...we finally moved all our merch over to a
new format and website
, where there is a TON of autographed stuff, as well as at least one thing we've never been able to sell online: our limited-edition,
signed "White Buffalo" poster
. So please come and visit our new Gift Shop and let us know how you like it. We have also pulled
Wild Kingdom
from the created world for now and will re-release it once we are able to tour again. That said, there are still copies available at our new merch store—and they are signed by all three of us!"
Personal reflection...
There were a couple of late night chats with Jake, in addition to their live performance on the L.A. broadcast radio show with web simulcast that we hosted. And there was the deliciously memorable jam that brought the three of them to join a piano player we knew, an astounding musician whose repertoire featured a couple thousand of the same songs they knew... making for one night of musical valhalla into the wee hours in the California desert.
And thus, to Jake, we wish you the sincerest Happy Trails. And to Elana and Whit, we'll be seein' ya up around the bend, pards!
■
■
■
■
■
■
■
■
■
■
■
■
■
■
■
■
■
■
■
■
■
The Alternate Root magazine offers new tunage
___
The Band
0
■
■
■
■
■
■
■
■
■
■
■
■
■
■
■
■
■
■
■
■
■
FRASER & HAAS. Photo by Irene Young.
Alasdair Fraser
has long been regarded as one of the greatest Scottish fiddlers playing today. His duo with Californian cellist
Natalie Haas
has helped reconstruct and revive the Scottish tradition of playing dance music on violin and cello, incorporating driving rhythms and improvisation into their interpretation of Scottish melodies.
Fraser has a concert and recording career spanning over 30 years, with a long list of awards, accolades, radio and television credits, and feature performances on top movie soundtracks, including
Last of the Mohicans
and
Titanic
. In 2011, he was inducted into the Scottish Traditional Music Hall of Fame.
Haas, a graduate of the Juilliard School of Music, is one of the most sought after cellists in traditional music today, and has performed and recorded with Mark O'Connor, Natalie MacMaster, Irish supergroups Solas and Altan, Liz Carroll, Dirk Powell, Brittany Haas, Darol Anger, Laura Cortese, and many more.
Together, the duo of Fraser & Haas has toured internationally for over 18 years, to great acclaim at festivals and concerts worldwide. They have released five critically acclaimed and award winning albums. Though they are physically separated for now, they will play together for Homegrown through the magic of technology.
HOMEGROWN CONCERTS: Homegrown at Home



A free noon concert series (Eastern time) presented by the

American Folklife Center

and the

Music Division

of the Library of Congress. Due to the COVID 19 pandemic, the 2020 concerts will stream on the

American Folklife Center's Facebook page

, Wednesdays from June 24-September 30. Artists will be present in the chat area to say hello and answer questions during the concert and for a few minutes after it ends. Video will also be posted online here and on the

Library of Congress YouTube channel--

NO TICKETS REQUIRED.
WATCH HERE: https://www.loc.gov/concerts/folklife/fraser-haas.html
■
■
■
■
■
■
■
■
■
■
■
■
■
■
■
■
■
■
■
■
■
.