.
.
Ahh, the the return of MUSIC FESTIVALS (this weekend) and CONCERTS (this weekend) and joy of reopenings -- tempered by dangerously high temps and record regional drought and worsening climate change that all combine to make fireworks a really dangerous idea in a whole lotta places.
We have in past years offered a comprehensive guide to firework-fueled, musically-narrated, Fourthian revelry. This year, we're presenting only a few recommendations -- partly because gas is horrendously overpriced and roads are jammed with people desperate to go somewhere (anywhere) after 16 months of quasi-quarantine.
BUT THERE'S GOOD NEWS: music options are available without subjecting you 'n yours to all that stress, so we say let the road trip wait 'til things calm down. PBS and CNN both offer music-propelled events all evening on the 4th, Macy's 4th of July Fireworks Spectacular starts at 8 pm Eastern / Pacific on NBC, and you can take part in that time-honored institution, the 4th of July barbecue!
Of course we feature music news beyond that, too.
So in no partic'lar order: here ya go, and let's get started!
- - -
☆ LATE additions: (in the mix, so look for 'em!)
♡ Idyllwild Songwriters Festival, July 31st
♡ Take a virtual tour of the Statue of Liberty (inside places visitors never see!)
♡ Live from Austin, Texas: Albert & Gage, July 4th AND 5th
♡ Spend the 4th with Lee Camp ("Redacted Tonight") and Eleanor Goldfield: 4 pm PDT, online
♡ Missed the Clearwater Festival 2021? All 12 hours are here for you to replay!
☆■☆■☆■☆■☆■☆■☆
Why fire scientists want you to skip the fireworks this year

Feature story in
Academic rigor, journalistic flair
Stacy Morford, their Environment and Climate Editor, writes:
"Here's how easily a wildfire can start when it's as hot and dry out as the West is right now: A tractor mowing grass in the heat of the day set off a spark in my neighborhood last week. Within minutes, a wildfire was racing toward homes up the hill. About a dozen homes had to be evacuated while fire crews fought to contain the blaze. By the time they got it out, the fire had burned nearly 40 acres.
"Most of the U.S. West is that tinder-dry right now, and we're headed into a holiday known for people playing with fire. That's why over 150 wildfire scientists are urging Westerners to forgo the fireworks this July Fourth weekend. They explain in an article this week why the record-hot, dry west is so susceptible to burning right now and how human activities, the cause of most fires in populated areas, spike every year on July 4. As the authors write, there are better ways to celebrate. My local fire crew recommends a glow-stick dance party."
Here's the link to their feature story, and the author list of scientists who wrote it.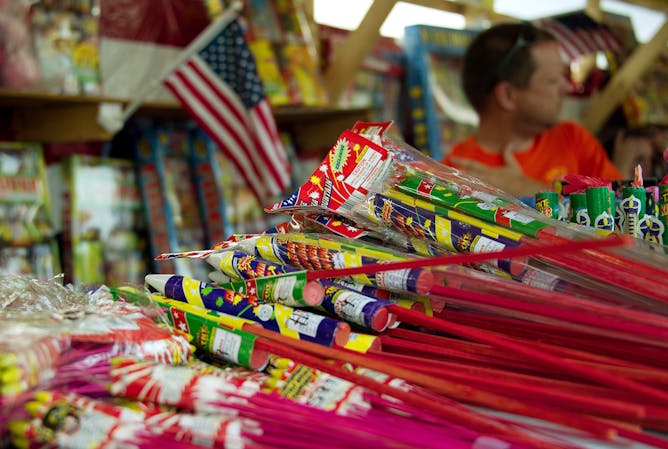 Skip the fireworks this record-dry 4th of July, over 150 wildfire scientists urge the US West
Click the link. It's a sobering look at what's ahead, not just for the Fourth.
☆■☆■☆■☆■☆■☆■☆
Greenwich Village Folk Festival
☆■☆■☆■☆■☆■☆■☆
Tune into the Opry this Weekend
Saturday night the Grand Ole Opry features performances from Darin & Brooke Aldridge, Janelle Arthur, John Berry, John Crist, Charles Esten, The Swon Brothers, Jeannie Seely, and Bobby Osborne & The Rocky Top X-Press. The show starts at 4 pm PDT / 7 pm CDT on 650 AM, WSMonline.com, and the WSM app. It also airs and REPEATS SUNDAY on Circle TV.
☆■☆■☆■☆■☆■☆■☆
Live online from a real gig...

"4th of July Eve"

Andy & Renee livestream their House Concert, concentrating on songs that celebrate our country.

Saturday, July 3rd, 7-9 pm PDT

Watch on Youtube:

https://youtu.be/QF1jR4Wf-QM
☆■☆■☆■☆■☆■☆■☆
SUNDAY, JULY 4 -- live online

Ken O'Malley Live: "Happy 4th of July"

One of our very favorite Irish transplants brings his superb voice and multi-acoustic instrumental wizardry to a celebration of the Irish experience in America.

2 pm Pacific / 5 pm Eastern / 10 pm UK and IRELAND

Tune in to see the FREE, 60 minute show at

https://www.facebook.com/kenomalleyirishmusic/live

You can watch even if (as is the case with us, you are NOT on Facebook).

The link, with lots more info, is also on Ken's website, at www.kenomalley.com

Ken's tip jar:
Venmo: @kenomalley
Paypal: paypal.me/twlord

☆■☆■☆■☆■☆■☆■☆
From our friends at Downbeat Magazine (https://downbeat.com/)
This weekend: The Creole Tomato Fest and Popup Porch Fest, live from New Orleans, & more
Cha Wa performs at the Creole Tomato Fest. (Photo Courtesy of Cha Wa)

What to Stream, July 3 & 4
July 3: Jaime Branch: Fly or Die at Constellation (Chicago)
July 3: Dee Dee Bridgewater Live at the Jazz & Heritage Center (New Orleans)
July 3: TKQ —Ted Baker, Kris Funn, Quincy Phillips at An die Musik Live!
July 3: Jared Rabin at The Sanctuary (Chicago)
July 4: Anaïs St. John & Harry Mayronne at the Popup Porch Fest (New Orleans)
☆■☆■☆■☆■☆■☆■☆
Enjoy the Holiday Weekend at Music's Home, the GRAMMY Museum
It's the Fourth of July weekend at the GRAMMY Museum. Newly extended hours offer visitors more time to browse through engaging exhibits celebrating Marco Antonio Solís, Dave Matthews Band, and Motown. While advanced reservations to visit the Museum are no longer required, it is still recommended to reserve tickets in advance.

Reserve your timed tickets for the holiday weekend today.



Funding Awarded For Exciting Music Research & Sound Preservation Projects

Earlier this week, the GRAMMY Museum's Grant Program announced that $220,000 in grants will be awarded to 12 recipients in the United States to help facilitate a range of research on a variety of subjects, as well as support a number of archiving and preservation programs.

Funded by the Recording Academy, the program provides annual grants to organizations and individuals to support efforts that advance the archiving and preservation of the recorded sound heritage of the Americas for future generations, in addition to research projects related to the impact of music on the human condition.


LEARN MORE



TRENDING ON COLLECTION:LIVE



☆■☆■☆■☆■☆■☆■☆
Get tix while you can
☆■☆■☆■☆■☆■☆■☆
A must-share from Folk-Americana's master storyteller...
GK: The truth of the Fourth:
a minority report
by Garrison Keillor
Nobody gives Fourth of July speeches that I'm aware of because what can you say about beer and barbecue except (1) take small helpings and (2) stay out of the sun and (3) watch what you say and whom you say it to. This is not a united country and the divisions may well extend into your own family, a beloved uncle may cling to cherished ideas that qualify him for full-time supervision lest he spread them to your children. Any speech you'd give about American democracy would consist of four vague generalities wrapped in platitudes and frosted with mythology.
In our country today, a considerable minority of our fellow citizens believe that the 2020 election was stolen in plain sight by left-wing mathematicians in Venezuela who devised algorithms to rig voting machines to overturn a landslide Republican victory and elect a senile Democrat and his communistic base to run the government who want to confiscate your guns and make everyone ride bicycles and live on tofu and kale and who invented a fake Chinese influenza so they could force immunization with a vaccine that makes people passive and accepting of state control, which allows vampires to move freely and drink the blood of small children, but in August, when the rightful president is reinstated and our borders are secure, we can breathe freely again and make America great.
I take no position on that. Strange things happen every day. I am only an observer; I don't make the rules. As I have said on so many occasions, "You kids work it out among yourselves."
The history we were taught in school was far from complete. The Revolution of 1776 was held up as a heroic struggle for democracy in the face of tyranny, whereas it was more like a battle of one privileged class against another privileged class. And it could easily have turned out otherwise. The French once held a large piece of the Midwest and Canada where their explorers had penetrated and fur traders followed, but the French didn't care that much about fur and their northern territory, they cared more about the sugar from their Caribbean colonies, and when, in 1763, they lost the war for the interior, Louis XV was relieved to cut his expenses and Voltaire said, "All we lost was a few acres of snow." But still, the French were not averse to taking revenge on the English, and a decade later, when the English colonies rose up in rebellion, France encouraged them, and when the Revolution came down to a deadlock, France threw in on the rebel side and blockaded the English from rescuing Lord Cornwallis at Yorktown, and that is what turned the tide. Had the French held onto the interior, they wouldn't have bothered, and the East Coast would be New England and the West would be New Spain and Detroit wouldn't be Motown, it'd be Ville du Moteur and Fox News would be Nouvelles de Renard. My ancestors in Rhode Island and Connecticut would not have fled to Canada, as they did, and lost all their property, but would have prospered here and our ancestral mansions would be visited by tourists and I would've gone to Yale and I'd be a breeder of thoroughbreds and ride to hunt foxes and half the Vermeers and Van Goghs at the Met would have my name on a little brass plaque underneath.
It could easily have gone that way. Plenty of people were opposed to independence. They didn't do opinion polling in the 18th century because they wanted to think well of their neighbors and not know how ignorant and benighted they were. In 1776, plenty of people waited to see which way the wind was blowing before they committed themselves.
Am I bitter that my family was driven out of the country when our only offense was to stand up for law and order? No, not one whit, not a speck, not a jot or tittle. It was unjust, and the Constitutional Convention was a gigantic scam, and when documents we have in our possession are made public, we will be reinstated and our stolen fortune returned to us with interest and a great deal of Connecticut and Rhode Island will be rightfully ours and Britannia shall rule, love it or leave it, down with the stripes and up with the Union Jack, and God save our gracious Queen.
- - -
Mr. Keillor adds...
Join us in "The Back Room" where we will post this weekend:
-18 versions of our "National Anthem" written in the style of some of the greats including Emily Dickinson, T.S. Eliot, Charles Bukowski, Billy Collins and many more.
-16 Dreadful Jokes
-A video segment of Letter excerpts from Walt Whitman's brother, George, to his Mother with music by the U.S. Navy Band, Sara Watkins, Sarah Jarosz and Aoife O'Donovan.
-Video highlights from our APHC 40th Anniversary performance - "40 Years, 40 Songs"
-Meanwhile, enjoy this charming gem...
"When My Morning Comes Around" 
From the live performance of "A Prairie Home Companion," July 2, 2016, at the Hollywood Bowl – Garrison Keillor and Aoife O'Donovan:


https://m.youtube.com/watch?v=8e9hE38ECF0


This feature: © 2021 Garrison Keillor
☆■☆■☆■☆■☆■☆■☆
From our friends at the Americana Music Association...
☆■☆■☆■☆■☆■☆■☆
Idyllwild Songwriters Festival
FREE, July 31st



There's news here for music lovers and music makers...

Registration is open now for quarterly Songwriters Retreats in Idyllwild, where you can experience a week of 'Community Through Co-Writing' in this beautiful high mountain arts community two hours from Los Angeles, above the Palm Springs area. Dates are:
July 25-31 * October 10-17 * January 16-22 * April 24-30

Each retreat finishes with an Idyllwild Songwriters Festival presentation where participants have the opportunity to debut selected co-writes from the week, as well as join in a stellar line-up of seasoned songwriters.

Take a look at who's performing July 31st:



All proceeds from the Idyllwild Songwriters Festivals go to support the Idyllwild Help Center, providing essential supplies and services in the community for those most in need.
☆■☆■☆■☆■☆■☆■☆
This is fun...
Take a virtual tour of the Statue of Liberty

We go way back with Lady Liberty. We once added an extra coast-to-coast round trip to a summer Amtrak odyssey, just so we could be there for her re-dedication -- which came with the (then) largest fireworks show EVER in the history of the Western Hemisphere. (And from our vantage point on the Jersey side of the Hudson, we saw fireworks reflect from the black glass sides of the World Trade Center's Twin Towers. Yeah, bittersweet and poignant memories...)
Let's move on.
- - -
The folks at the nonprofit National Park Foundation have a treat for the Fourth. This feature is © 2021, National Park Foundation.
☆■☆■☆■☆■☆■☆■☆
More music on the 4th (and more on the 5th, too)...

Albert & Gage, live from Austin, Texas

Aka Chris & Christine: Two marvelous acoustic multi-instrupimrntal music makers who will soon be back to playing 'round the globe...
☆■☆■☆■☆■☆■☆■☆
Now, if reality just doesn't allow you to go all patriotic rah-rah...

Spend the 4th with Lee Camp ("Redacted Tonight") and Eleanor Goldfield

"Eleanor Goldfield, you say? That name seems familiar." Indeed it does! We reviewed her first-rate album (well, it's an EP) of new protest songs in a May edition!

The two are livestreaming tonight, covering the week's important news and taking your questions as only they can.

4 pm PDT at:

YouTube.com/MomentofClarity
or
Rokfin.com/LeeCamp
*** this gets a profanity warning, and moreover, a "sensibilities" warning must be issued to the hidebound, narrow-minded, hopelessly partisanized, and anyone who believes the corporatocracy is our friend.
☆■☆■☆■☆■☆■☆■☆
A dozen-hour delight...
Watch the Replay!
Missed the Clearwater Festival 2021? That's the one founded by the late PETE SEEGER, to build public support for cleaning up the Hudson River. Many Folk-Americana musicians have played it, and some have even served as crew members aboard the recreated Hudson River sloop, Clearwater, which continues to sail, taking its environmental message to school children and adults every year.
You can catch the replay at ClearwaterFestival.org, on Youtube & Facebook.
Lots of great music and sweet friends, including Holly Near, David Amram, Guy Davis, Noel Paul Stookey and many more.

The set by Emma's Revolution, debuting the video for their new song, "Clearwater Tune" plus a new version of "Kilimanjaro" with the extraordinary Vicki Randle, starts just before the 7 hour mark of this 12 hour show.
We hope you enjoy it and that you'll support Clearwater's environmental work!
☆■☆■☆■☆■☆■☆■☆
youbloom Live Shows just announced for SEPTEMBER 2021. Apply to Play!

In these Cities:

Washington DC (USA)

Calgary, Ottawa (Canada)

Dublin (Ireland)

Coventry, London, Bristol (UK)


The Opportunity
Hosted by local youbloom (CityRep) Promoters
Compensation: 25% of Ticket sales split between 3 acts
Grow your Fan Artist Requests and Play in more Cities!

The Artist/Band
All international artists and genres are welcome
(youbloom will offer you Artist Matches)

The Shows
3 Acts x 30 mins sets

Apply to Play
Apply by July 12th 2021 for September 2021 Shows
Get notified by July 26th 2021
☆■☆■☆■☆■☆■☆■☆
COMING UP IN THE GUIDE
Last edition (just as it does nearly every time we publish) we ran up against those publishing paradigms imposed by Google since it did a Borg assimilation of the platform we use to bring you The Guide online.
So we told you then: we must wait to do a "Part Deux" for more on our comprehensive look at the state of the media. Our upcoming resumptions of the topic will give particular regard to how media, in all its current forms, influences and impacts artists and the arts, ttogether with driving public perception of what's "popular" and what gets dismissed as "niche audience" music and art -- and who makes those decisions.
- - -
'Til then, RELIABLE SOURCES published this:
Holiday weekend reads
-- To kick us off, here is a fun oral history of "Independence Day" from THR's Aaron Couch, complete with this line: "You can't actually blow up the White House..."
Lisa Respers France reports an Elvis Presley streaming channel is coming next year...
-- "Jason Miller says a new, free-speech-focused social-media platform he is leading has received financial backing from a foundation tied to fugitive Chinese businessman Guo Wengui," Keach Hagey and Brian Spegele report... (WSJ)
-- "Is Facebook a monopolist?" It's a simple question, but a "judge rules there is no simple answer..." (Economist)
-- "Big Instagram and TikTok changes mean you'll see longer videos, fewer friends," reports Tatum Hunter... (WaPo)
-- "Downloads of Clubhouse are surging again after months of freefall thanks to its long-awaited launch on Android," Rob Price reports... (Insider)
-- Identity crisis? "Tech giants are scrambling to figure out how to stay competitive in a world that's now dominated by dozens of networking apps, all catering to different interests," Sara Fischer writes... (Axios)
-- The New Republic's Jacob Silverman writes about the "marriage of convenience" between Tucker Carlson and Glenn Greenwald: "The mutual benefit is clear: By platforming a decorated journalist once associated with the left, Carlson is implicitly rebutting charges that he's a right-wing ideologue, while Greenwald gets to burnish his own supposed iconoclasm and raise his profile..."
-- Georgetown Institute for Technology Law and Policy exec director April Falcon Doss writes that Carlson's NSA stunt "provides a textbook example of the disinformation techniques that fuel conspiracy theories – and illustrate what makes them so dangerous..."
-- Talia Lavin details for New York mag "the making" of "MAGA Martyr" Ashli Babbitt: "Days after the storming of the Capitol on January 6, an image began spreading widely across the encrypted chat app Telegram and other bastions of right-wing digital conversation..."
-- The NYT's Vanessa Friedman, Elizabeth Paton and Jessica Testa have a great read about how "the imperial editor" has gone the "way of the dodo..."
-- University of Virginia media studies professor Siva Vaidhyanathan wonders in Wired what happens if regulating Facebook fails: "What if nothing works? What if, after years of scholarship and journalism exposing the dominance, abrogations, duplicity, arrogance, and incompetence of Facebook, none of the policy tools we have come to rely on to rein in corporations make any difference at all?"
-- Harvard computer science professor Jonathan Zittrain writes about how "the internet is rotting" in The Atlantic...
-- The Verge's Makena Kelly conducted an interesting interview with popular Twitch commentator and former Young Turks journalist Hasan Piker. They discussed the problem with YouTube debate culture...
-- Amaris Castillo explores for Poynter how UFO's, "once consigned to conspiracy theories, have landed in mainstream American journalism..."
-- Vox's Carlos Aguilar writes about how the lack of diversity among critics is hurting movies, TV, and music...
-- NY Mag's David Wallace-Wells writes about "how to live in a climate 'permanent emergency'" and how to cover it...
-- Not what you want to read on Independence Day weekend: "I've been asking foreign scholars of democracy how the fights over the American political system look to them," Ezra Klein says. "These conversations have been, for the most part, grim..." (NYT)
-- An interesting editorial from a Kansas paper: "The world is, most of the time, exactly as it appears. There are no giant secrets, no great conspiracies. ... Yet over the past half-decade, encouraged by an ex-president deluded by ego and will to power, everyday folks — including Kansans just like us — have begun believing nonsensical things...." (Topeka Capital-Journal)
- - -
Happy 4th, adieu and toodles.
☆■☆■☆■☆■☆■☆■☆